Take this with a giant hunk of salt as there's little to go on with this one but some speculation from a random blog, but Nintendo might be working on a new Diddy Kong Racing. The person behind these rumours makes claims that can't be verified of course, but they also make some interesting points that could hint at a new version of the N64 classic being in the works.
According to WiiUDaily's source on this one, Nintendo was actually working with Donkey Kong Country makers, Monster Games, on a sequel to Diddy Kong Racing back in the late 2000s for the Wii, however after poor sales of Donkey Kong Country Barrel Blast and the DS version of Diddy Kong Racing, it was shelved.
Ultimately, the rumour is that the game became Excitebike Trick Racing, which came out on the Wii in 2009. Now though, a new Diddy Kong Racing is apparently in the works, having gotten a boost as a genre from the strong sales of Mario Kart 8. Supposedly Nintendo originally planned to show it off at E3 this year, but held back in-case it cannibalised the sales of the new Mario Kart.
If it does appear, it's expected to show up sometime in 2015.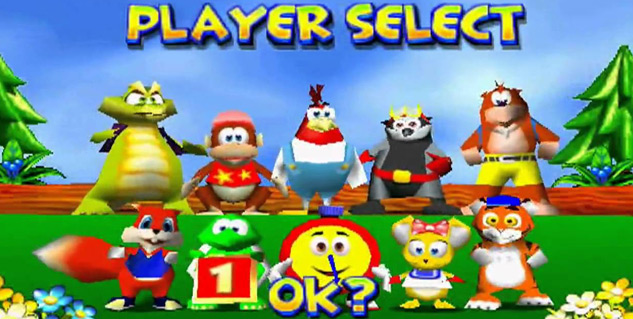 Which characters would you want to see return? My favourite was always Bumper.
The plan is said to be an essentially updated version of the original, with a hub world adventure segment, as well as online and local cooperative and competitive play for races. The premise of the game is said to be all of Nintendo's lesser known characters, fighting out to see who's the best. Perhaps then they could be upgraded to join the ranks of the Mario Kart roster, alongside all of Bowser's children that nobody cares about.
Of course, which characters are present, will depend on whether Microsoft wants to sell the rights to its roster. Conker for one, is owned by Microsoft after Rare was bought up by the software giant in 2002.
KitGuru Says: If you want to jump straight to the source on this one, it's KevinCallahanGames, which is a brand new blog featuring just this post, but there's no ads anywhere so unless he was just hoping to stir up controversy as an experiment, it doesn't seem to be particularly worthwhile making all of this up.
What do you guys think?