Telltale games has been working on point and click adventures for some time now, expanding some of the most well beloved universes of games, movies and TV. But it took things to a new level when it made the Walking Dead episodic series. It felt like a whole new kind of conversational simulator, rather than the classic combining items + snappy dialogue that many adventure games are built around. That's what Tales from the Borderlands is all about too, as well as bringing in a little bit of gunplay and loot generation to the table, and it's available to buy now.
You won't be able to play it until a little later today, but when you do, you'll step into the shoes of con-artist Fiona and data-miner Rhys, both of whom have a part to play in the future of the Borderlands, which at the time of the game, is still reeling from the death of Handsome Jack, orchestrated by those that played through Borderlands 2.
[yframe url='http://www.youtube.com/watch?v=eOPmNBM3Yew']
Fiona and Rhys will meet up at the "end," of the game and will look back over their times together and apart, to tell the story in reverse.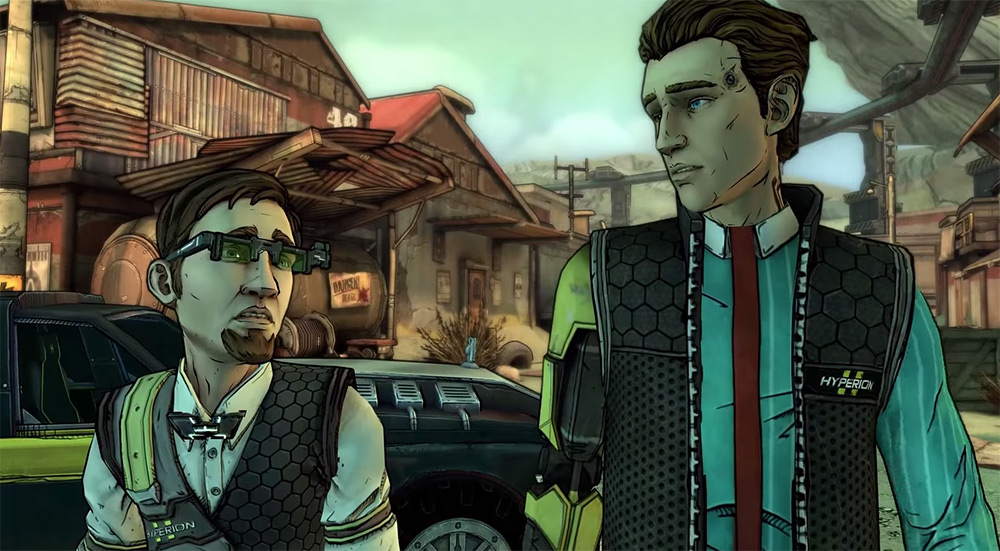 Hey look, they made a pre-laser surgery me
Tales from the Borderlands is a Gearbox, Telltale and 2K Games co-development project, which will be available later today on PC, PS4 and PS3. The Xbox One release takes place tomorrow, with an Xbox 360 debut in early December. A PS Vita version is slated for release sometime before the end of the year.
This isn't the only game Telltale is working on at the moment though. A look into the world of a Song of Ice and Fire, called Game of Thrones, is also coming in December to all major platforms.
Discuss on our Facebook page, HERE.
KitGuru Says: I'm a little more excited by the Game of Thrones game personally, but Tales from the Borderlands looks to capture the humour of Pandora without as much loot grubbing. I'm down for that.