It turns out that pledges for games on Kickstarter are on the decline as new statistics are suggesting that crowd funded games are making half as much as they did in 2013. Based on data from the first half of this year, analyst firm, ICO, is expecting to see $27,023,480 poured in to gaming projects this year.
$27 million sounds pretty good but its actually pretty low compared to last year's $57,934,417. There are multiple reasons for the supposed Kickstarter gaming decline, we've seen some very high profile projects canned, such as the Yogsventures project. Another reason could be the rise of Steam Early Access, which allows developers to release very early concept and prototype versions of a game for whatever price they think people will pay.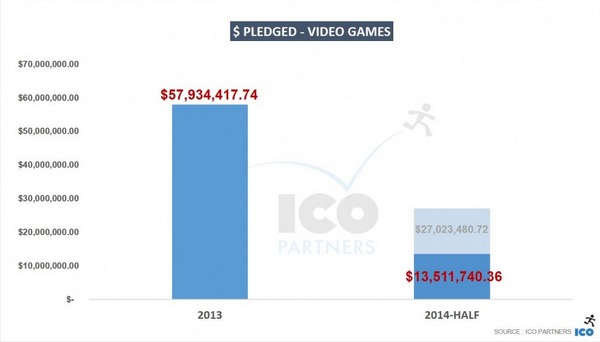 Additionally, we've seen around a 20 per cent drop in gaming projects on Kickstarter, last year, 446 games were successfully funded, while this year we're only expected to see 350. ICO analyst, Thomas Bidaux, explained why he thinks Steam Early Access has had an impact on crowd funding:
"The vast majority of the Kickstarter video game projects are PC-based and when you consider the amount of work required to get a project funded on Kickstarter, compare it to the relative ease to go to Early Access in comparison, and add to that the fact that on Early Access the funding doesn't stop after one month, I suspect a lot of Early Access successes skipped the crowd funding phase to go directly to alpha funding."
"I cannot fault them – Early Access is a great opportunity for developers as well. Not entirely incompatible with a crowd funding campaign, it can still prevail because the amount required is not as important."
Discuss on our Facebook page, HERE.
KitGuru Says: Early Access does seem to be much easier than a crowd funding campaign and consumers get something to play immediately rather than having to wait so it makes sense that more developers are going down that route. Do you guys think Kickstarter gaming projects will continue to decline? Have you ever backed anything or brought an early access title?