I really wanted to be a big fan of the Seagate Wireless mobile storage unit, but it had a few unfortunate issues that made using it a little frustrating.
I liked many of the features, such as the ability to automatically back up photos and video. This makes it a great tool for those who like to create their own media. The ability to stream media to a mobile device or laptop means it would be very handy to take on a trip with you somewhere where there may be limited entertainment access.
Sadly we would class overall performance as sporadic. There were several problems that forced me to reset my phone. Some of the app's settings could not be changed without a reset and the software itself felt a little finicky at times, producing strange errors that were difficult to get around without disconnecting and reconnecting, or rebooting.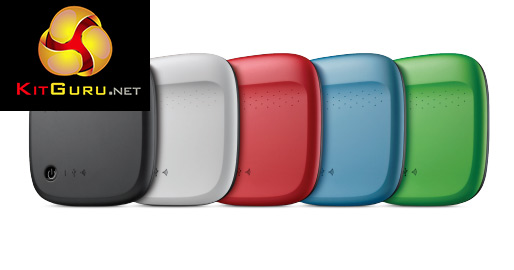 The drives come in a number of different colours
Fortunately then when it is working playback is excellent, though I would not suggest connecting through your local router's WiFi connection, as that severely impacts the performance. You can connect several devices at once without any real issues, though skipping around through movies can cause some lag as the internal drive struggles to catch up to what you are doing.
Usually the wait is not much more than 10 seconds, but it does leave you wishing for an internal solid state drive, even if the storage capacity would likely be much smaller (or the price tag that bit higher).
Overall, the Seagate Wireless 500GB mobile storage unit is a worthy companion to bring on the road to expand a media library and offers some nice backup functions to make sure important files and folders are stored somewhere else locally. It just lets itself down with some problematic software issues and a slightly laggy internal HDD.
The Seagate Wireless mobile storage drive can be purchased at Amazon for £101.
Discuss on our Facebook page, over HERE.
Pros:

Compatible with all popular mobile operating systems
Direct and WiFi throughput connections possible
Has automated back up features
Provides media play back on the move
Range is reasonably good
Cons:

App has a few connection and usability issues
Connecting over your local WiFi is slow (though direct connect is fine)
Internal hard drive struggles when loading large files or skipping through movies
KitGuru Says: Great backup and streaming features feel a bit let down by a problematic app, but the Seagate Wireless 500GB is still a fine choice for those that want media storage on the go.