If you own a quad-antenna wireless router, regardless of its brand, the Asus PCE-AC88 is simply a no-brainer. Its cheaper than buying a second router, it's incredibly fast and much easier to set up. Plug in and away you go with ultra fast wireless speeds.
The benefits of 1024-QAM are also clear to see.
It's no coincidence that multiple Asus networking products support these faster 1024-QAM speeds, so while you'll get the speed advantage of 4×4 wireless with the Asus PCE-AC88 when using a router from any manufacturer, it will work at its best using Asus kit throughout your network, at least, until other manufacturers support the standard with their routers too.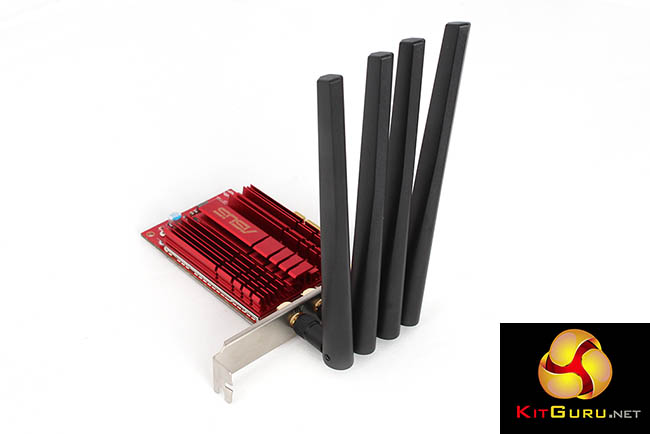 With results like these, we'd be surprised if they didn't.
We'd love to see a 4×4 802.11ac USB 3 adapter bring these kind of speeds to laptops. If there's just one disappointing aspect of the PCE-AC88, it's the confinement to desktop PCs. In a world where there are plenty of 2×2 USB 802.11ac adapters around, but nothing faster, with any luck, Asus (or someone else) is beavering away on a 4×4 USB version right now.
There's not a great amount more to say on the matter. Asus has created the fastest 802.11ac adapter by a huge margin.
It even slightly changes the economics of wireless technology. Without the need to purchase a second router, 4×4 802.11ac networking just became a lot cheaper.
With any luck, the follow-on effect will mean more manufacturers support both 1024 QAM and quad-antenna configurations with new router models. And really, there's now no need for power line networking, or arguably, even wired networking in the home is under threat from the march of wireless performance.
Perhaps it could even be argued, if you need a desktop adapter and plan to upgrade to a 4×4 router, this card is one the one to go for, given it has some form of 'future proofing'.
Discuss on our Facebook page, over HERE.
Pros:
Record breaking performance at all ranges over 802.11n and 802.11ac.
Negates the need for a second router to use 4×4 802.11ac.
Choice of external antenna unit or direct connection.
Cons:
Limited to desktop PCs only.
1024-QAM requires compatible client hardware.
Kitguru Says: This unassuming small red PCI card is the first of its kind. It delivers on its performance promise, and is the perfect companion to any 4×4 802.11ac router.