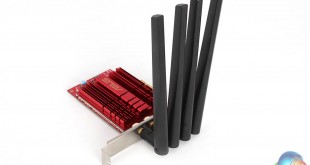 Asus is now the first company to bring a 4×4 802.11ac Ethernet adapter to market, in the form of the dual-band PCE-AC88. A small PCI-Express card, it's intended for use in desktop PCs and is capable of the same fast 802.11ac performance that's possible from 4×4 routers, with even faster speeds for any router that support a 1024-QAM configuration.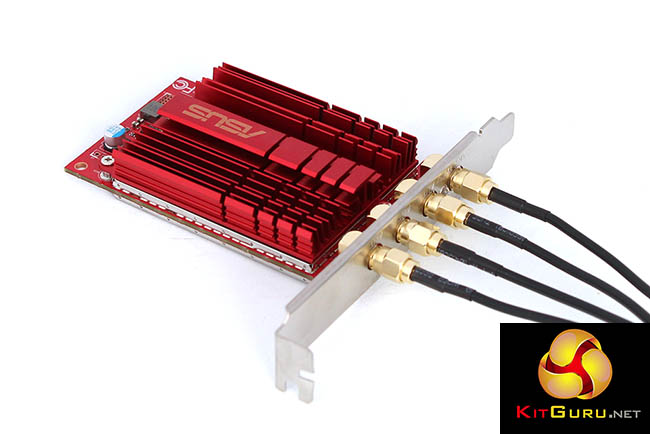 If you have a wireless router that supports quad-stream 802.11ac wireless networking, so far, the only way to take advantage of that extra speed and seeing its full capacity and performance has been via the purchase of a second router, using it in bridge mode, with it functioning like a massive wireless adapter. You then connect wired devices to it, relying on the link between the two routers for data transfer.
Until now, that is. The launch of the Asus PCE-AC88, a PCI card for desktop PCs, marks the first standalone 802.11ac adapter that supports 4×4 wireless speeds.
Having a PCI card in your PC is a whole lot simpler and more convenient than using a second router. You don't need to mess about with network cable, adjust too many router settings or keep it plugged in to a power socket.
And it's a lot cheaper too. Quad-antenna routers are generally more expensive than standard routers that only support 3×3 802.11ac configurations. Very roughly, those can be picked up for under £150, but a 4×4 router can run up to almost £300. And to use those speeds, you'll need to buy two of them.
That kind of expenditure means only people that are willing to fork out for the absolute best wireless performance, or the fastest speeds over the longest distances, are likely to consider such an investment.
But at £89.99, while the PCE-AC88 is indeed a bit pricier than your average wireless adapter, it does a lot more than any other product on the market, with the promise of 1024-QAM over both 802.11n and 802.11ac, for a total throughput of up 2167 Mbit/sec over 802.11ac and up to 1000 Mbit/sec over 2.4GHz 802.11n.
QAM, or Quadratic Amplitude Modulation, refers to the number of possible bit values that can be represented with a single pulse on a wireless signal. The more bit values, the more data can be squeezed down the line. 256-QAM is the standard for 802.11ac.
Supporting this faster QAM rate makes it a rather unique product then.
Over the next few pages we'll take a look at the Asus PCE-AC88 and how it performs.