Normally, when we test routers and other networking kit, we use a pair of Macs, with the excellent WiFi Perf software which establishes a direct connection between two computers, without relying on a file transfer, where storage could become a bottleneck.
But since the Asus PCE-AC88 is a wireless adapter for desktop PCs, we can't use Macs, and instead, measured performance using a file transfer between two PCs in Windows 10.
We averaged out results from both reading and writing a 13.7GB movie from one PC equipped with the Asus PCE-AC88 to another connected via Ethernet to a high-end Asus RT-AC88U router, which supports similar 1024-QAM 4×4 802.11ac wireless speeds.
We made sure both PCs were equipped with SSDs, one of which was a PCI-Express M.2 drive, so there's little chance of storage speeds becoming a bottleneck. We also used the external antennas base rather than attaching the antennas directly to the card.
But there's another potential bottleneck, the Gigabit Ethernet connection between the PC and the router. Although Gigabit Ethernet is adequate for 99% of computer users, it's now an ancient standard, having been around for about two decades.
Unfortunately, faster 10GBE seems in a perpetual state of being unaffordable and mostly unavailable, with the majority of switches being big, clunky and expensive. It's not something you ever find on a consumer-grade router.
In the absence of any laptops with built-in adapters that support 4×4 802.11ac wireless speeds, it's now becoming hard to push wireless speeds from just a single router, and it seems, with the advent of 1024-QAM, from desktop PCs too.
We first tested the PCE-AC88 over 802.11n. Initially, the results were nothing spectacular. We got about 240 Mbit/sec, which is typical of the capability of a mid-range 5GHz 802.11n router. It's not what we should see from 1024-QAM though.
One quick change in the settings of the RT-AC88U router fixed it, forcing the 40MHz option, instead of the usual 20/40MHz setting.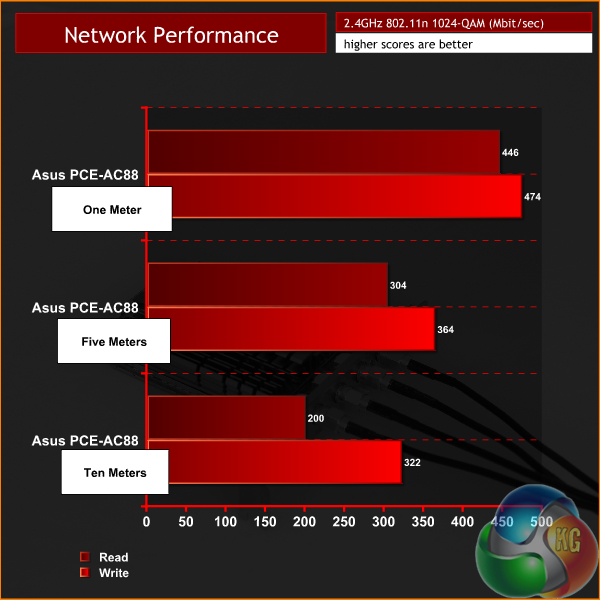 And the short-range results were the fastest 802.11n speeds we'd ever recorded, by some margin, with reasonable long-range results too. Very impressive.
And then, onto 4×4 802.11ac.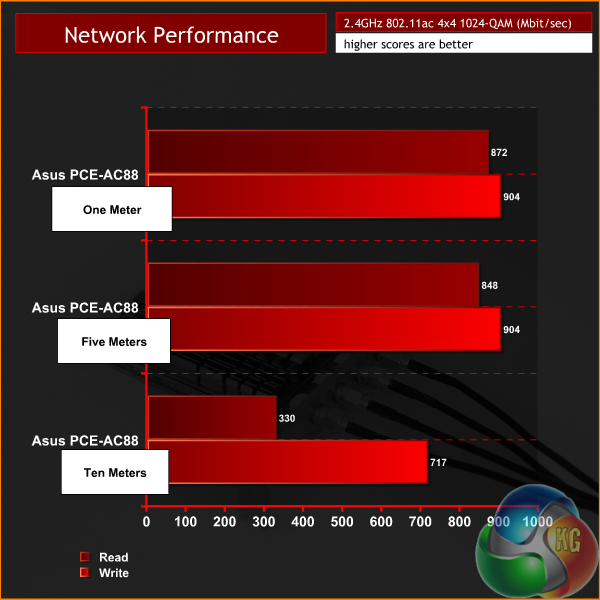 As we explained above, there is clearly some bottlenecking going on. It's unlikely to be either of the SSDs in the PCs, which can transfer data much quicker than this, but is roughly around the real-world limit of Gigabit Ethernet. That's quite incredible to think wireless speeds now eclipse wired.
Only at long range is there any kind of drop off with the write speeds, and even then, given it's 10m distance, it's still fairly reasonable, while the write speeds still break records at this distance, as they do at short range.
It's also worth noting the lack of any drop-off during the tests at short range. The connection is as solid as it is over an Ethernet cable, at these distances.