The days of a home NAS being just a box on the network that you stored files on have long gone. These days they are feature rich hubs for a home entertainment system. This is something that the Asustor AS3104T is ideally suited for with its 4K playback support, HDMI port and a multitude of multimedia and streaming apps in App Central.
If you use the Asustor Portal app, there's also the added bonus of being able to use it without the need of a PC being powered up.
Like the AS3102T, the AS3104T comes with a good chunk of memory for a NAS aimed at home use. Although the 2GB of memory cannot be upgraded, it should be more than enough for most purposes in the home and the smaller office.
The tool-free design is a great idea and it certainly speeds up getting to the drives, but because of the AS3104T's design the drives are not hot-swappable. We really can't see this being an issue within a home environment.
More of a problem, however, is the head scratching placement of the power button on the rear panel. Most of the time a NAS is either stuck on a shelf or placed in a cupboard, so having a power button on the back of the unit is inconvenient to say the least. It's even more puzzling when there is seemingly enough space on the front bezel to have it put there.
To make using a NAS as painless as possible, you need an easy to install and use OS. In the ADM (Asustor Data Master) OS, Asustor has one of the better NAS operating systems around. It helps that the OS is continually improved and updated, even if that's to only add one or two more apps to the very impressive list in App Central.
You can buy the Asustor AS3104T 4-bay NAS from Amazon for £339.99 inc VAT.
Discuss on our Facebook page HERE.
Pros
Overall performance
Tool free design
Amount of memory as standard
Low power consumption.
4K playback support
3 year warranty
Cons
That rear power button
Drives not hot swappable
RAID 6 read performance is a little weak
Kitguru says: A very capable four-bay NAS that has the home entertainment environment at its heart.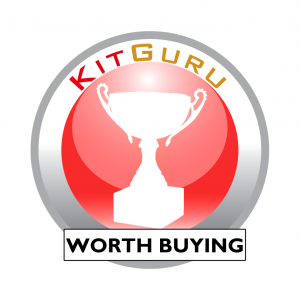 Be sure to check out our sponsors store EKWB here