Asustor's AS6 series are the first to market using Intel's Braswell CPU technology together with dual channel memory support and the AS6104T shows the advantage of having both of these as it was regularly performing operations at 100MB/s plus throughout our testing. Although the performance is very strong in most of the arrays tested, we did see a fall off in RAID 6 performance in some of the tests with both 6TB and 4TB drives.
With its 4K playback support and HDMI port plus the host of streaming Apps that are available in the Asustor App Central it would make a powerful home mulitmedia center and the ability to be used in this guise without needing a PC to be booted up is a bonus.
Although it sits under Asustor's Home to Power User banner it would also make a very useful workhorse for a small office. The two LAN ports not only bring Link Aggregation support but also redundancy and the dedicated hardware encryption engine would be more useful in this environment as would the MyArchive technology.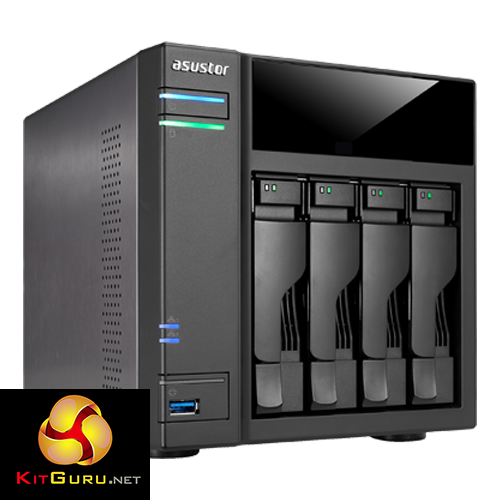 Various collections of data can be stored on different drives and locked away and as it now supports AES 256-bit encryption, the data can be properly protected on the drive as well.  The AS6104T can also form the base of a quite a sophisticated surveillance system by using the Surveillance Center App and by adding the AiSecure mobile App you can always keep an eye on the camera streams from wherever you are.
Asustor's ADM OS has always been one of the better NAS OS around and it gets ever stronger with each release. The software is quick to install, easy to use and navigate through although some form of drop down menu on the opening page may make it a little easier and faster to get directly to the feature you are looking for.
The AS6104T is well built and is pretty compact for a four bay NAS so finding a place for it in a home or office environment shouldn't present too many problems and with support for the latest 8TB discs, it offers huge amounts of capacity to go with very good all-round performance.
You can buy from Red373 for £388.43 inc VAT HERE
Discuss on our Facebook page, over HERE.
Pros:
Latest Intel Celeron processor
dual channel memory support
ADM 2.6 OS
Support for 8TB drives
Generally very strong performance
Cons:
RAID 6 performance is a little weak in some areas.
KitGuru says: The Asustor AS6104T uses the latest Intel processor to good effect and would make a powerful and feature rich addition to both the home and office environments.