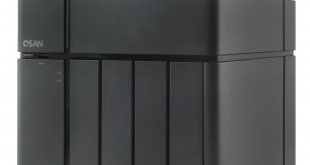 You may not be familiar with the name QSAN, but the company have been supporting the enterprise sector with FAS, SAN, NAS storage products since they were formed in 2004. The XN5004T is aimed more towards the SMB sector and is the entry level model in the company's XCubeNAS XN5000 series, a model line-up that includes rackmount systems as well as tower NAS designs like the XN5004T.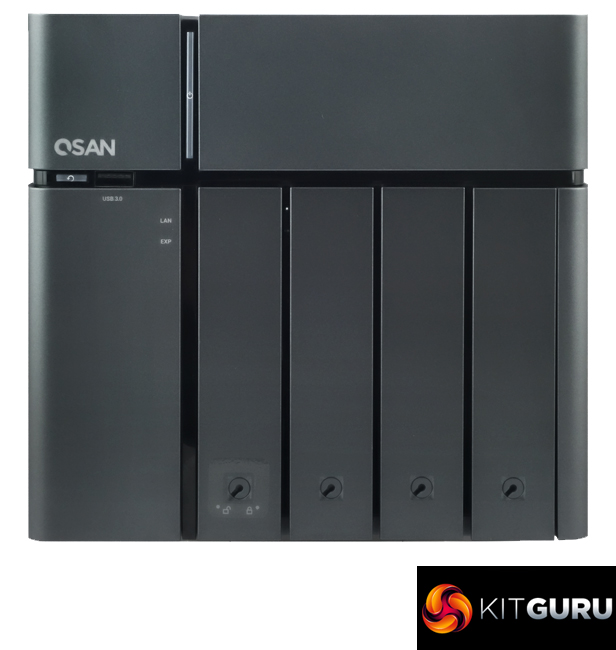 From the outside, the XCubeNAS XN5004T looks like a stylish 4-bay NAS but in fact it is a 4+1 bay design, as it has a surprise up its sleeve in the shape of a hidden 2.5in drive bay. This bay can house an SSD drive to provide improved performance through SSD caching, meaning that none of the main storage capacity has to be lost to provide this function.

There are a number of tower units in QSAN's XCubeNAS range offering different CPU and memory options. The XN3002T (2 +1 bays) and XN3004T (4 +1 bays) use an Intel Celeron 2.2GHz quad-core processor and come with 4GB DDR3L memory. Next up is the XN5000 series. The XN5004T (the unit we are reviewing here) and the XN5008T (8 +1 bays) use a 2.9GHz dual-core Celeron backed with 8GB of DDR4 memory.
The XN7000 series, the 8+1 bay XN7008T and the 4+1 bay XN7004T use Intel's Core i3 3.9GHz dual-core processor backed by 8GB DDR4. And finally, the sole XCubeNAS tower (the rest are rackmounts) member of the flagship XN8000 series, the XN8008T (8+1 bays) uses an Intel Core i5 2.7GHz quad-core processor, once again backed by 8GB DDR4.
Although the specification sheet for the XN5004T doesn't state which dual core Celeron is being used, the drive compatibility matrix for the NAS has it sitting under a Kaby Lake heading, which would make the processor in the unit, by our reckoning, an Intel Celeron G3930. Out of the box the XN5004T comes with 8GB of DDR4 memory installed in the shape of two 4GB DDR4-2400 modules in the two SO-DIMM slots. If you feel that you need more memory, it's not a problem, as the unit supports a maximum of 32GB via the two slots.
The XN5004T comes with a single PCIe Gen3 x8 slot which supports 10/40GbE networking and Thunderbolt 3 add-in cards. In our review sample this slot was filled with a 2-port 10GbE RJ45 card.
Physical Specifications
Processor: Intel Celeron G3930 dual-core (2.9GHz).
Memory: 8GB DDR4-2400 (expandable up to 32GB).
Gigabit Ethernet Ports: 4.
Rear panel connectors: 4 x USB 3.0, 1 x HDMI.
Front panel connectors: 1 x USB 3.0
RAID support: RAID 0, 1, 5, 6, 10, JBOD.
PCIe slot: 1 x Gen3 x8.
Cooling: Active – 1x120mm.
Drive Bays Supported: 5  (4 x 3.5in, 1 x 2.5in hidden).
Maximum hard drive size supported: 16TB.
Maximum Capacity: 64TB
Internal File System support: ZFS.
Dimensions (D x W x H): 235 x 190 x 177mm.
Weight: 3.6kg.