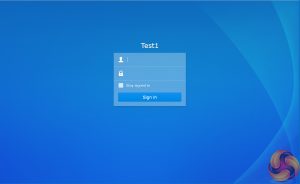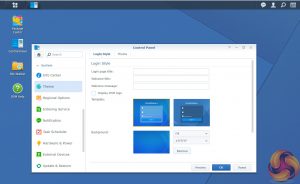 We reviewed the DS1817+ with the very latest version of Synology's DSM (DiskStation Manger) OS, version 6.1 (6.1.3-1552 update3). DSM has always been one of the top NAS OS around and Synology keeps updating it at regular intervals to add more features and apps.
The log on screen can be customised via the Login Style page. Here you can add text titles, show or hide local time information, select a template scheme, change the page background or add a logo.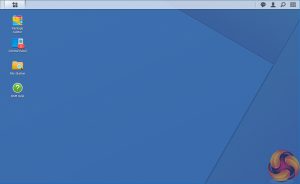 DSM has a graphically rich interface with all the major features of the OS clearly listed. The basic start page just lists four items; Package Center, Control Panel, File Station and DSM help. Clicking on the left-hand top tab opens a small window with more advanced menu choices than the basic one. Clicking on the furthest right-hand icon at the top of the window opens the System Health and Resource Monitor widgets.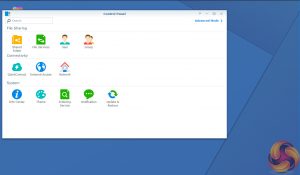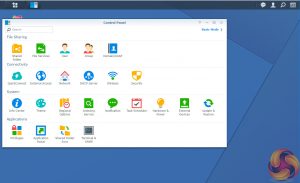 There's a choice of control panels, Basic which displays the features most people will want to get to grips with while the Advanced option offers plenty of scope for those that want to delve deeper into the system.

At the heart of DSM is Storage Manager. Storage Manager looks after RAID setups, volume creation (choose between the default Btrfs or ext4) and all other disk management duties.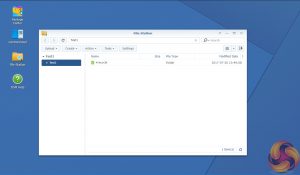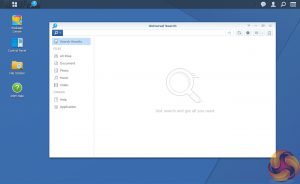 File Station is a multi platform file manager supporting Windows, Mac and Linux PCs as well as Android, iOS and Window Phone mobile devices. With it you can access and share your files on the DiskStation from anywhere. By using Dropbox, Box, Google Drive and Microsoft OneDrive mounted to File Station you can access remote data in the same way as locally stored files etc.
Synology Universal Search is a new search tool that includes multimedia files and apps and offers previews of metadata and contents of files with just a mouse click. USB Copy 2.0 Auto copies data to a from a USB storage device and can be configured to set backup destinations, copy mode and any file filters.

Package Center is where you'll find all the add-in apps and there is an extensive list to choose from, 123 to be exact, allowing the DS1817+ to be customised to your own requirements. One of the updates 6.1 brings is Package Center auto repair to fix apps that might have been broken by a DSM update.

The Resource Monitor has had a major facelift, becoming a more comprehensive and easier to use tool to keep an eye on the DiskStation's resources. With it you can monitor CPU usage, memory usage, disk utilization and network flow in real time or historically.

Helping to keep the NAS safe is Security Advisor. As you might have guessed from the name, Security Advisor scans the NAS providing detailed reports on any security problems it finds.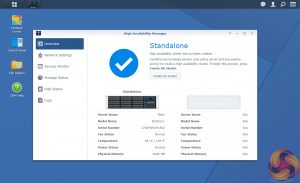 To help protect business users from potentially damaging service distruptions there is Synology High Availability. SHA allows two Synology NAS servers to be combined into a single high-availablity (HA) cluster with one NAS acting as the active server while the other acts a standby passive server. All services and data requests are handled by the active unit with real time data mirroring being handled by the passive unit.
Features
Btrfs file support
File Station
Photo Station
Audio Station
Video Station
Download Station
Cloud Station, Cloud Station Backup, Cloud Station ShareSync and DS Cloud.
Synology Universal Search
Note Station
Web Clipper
Spreadsheet
USB Copy 2.0
Snapshot Replication
Active Directory Server
Hyper Backup
Synology High Availability
Virtual DSM Manager