GAME has faced a number of troubles across the years, with the UK retailer hitting bankruptcy in 2012 and bouncing back in 2015 with its acquisition of Multiplay. Fast-forward to 2017 and the company is hitting another financial low, this time blaming low profit margins on the lack of Nintendo Switch stock and slowing sales of the Xbox and PS4.
Another set of bleak financial results are expected to hit GAME this year, as its profits are "substantially below previous expectations", reports GamesIndustry.biz. It seems that GAME put all of its eggs in one basket in hoping that the Nintendo Switch sales would save its 12-month total, however the company notes that while the demand for the Switch has been "very strong", supply has been "lower than expected". More blame has been attributed to the "continued softness" in its "core Xbox and PlayStation markets" as sales are continuing to slow down on the four-year old consoles.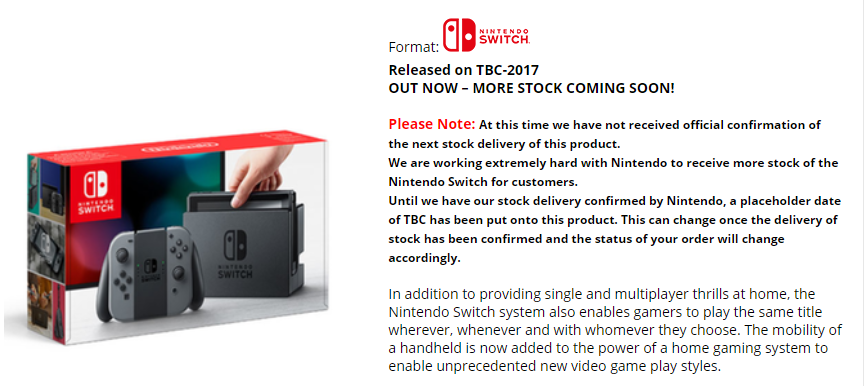 Console shortages near launch aren't uncommon, with Nintendo's bestselling console, the Wii being out of stock for most of the console's first year and Sony struggling to keep up demand for its PlayStation 4. It's not only brick and mortar retailers suffering from the lack of Switch sales, with online traders such as Amazon UK also sitting with none left.
With all of this in mind, it's difficult to see where GAME's expectations are coming from and even stranger that the company makes no mention of the impact its own (pricey) initiatives such as the new Elite Rewards scheme have made.
More information will be revealed following the full financial results next month, with stock having fallen almost 30% after the original statement was made. In the meantime, the retailer is looking ahead, hoping for the Xbox One X, high profile games like Red Dead Redemption 2 and more Switch stock to change the tide.
KitGuru Says: I can see the frustration across all retailers and especially fans with Switch stock being so low but whether it is entirely to blame for low profits is another thing altogether. What are your experiences with the GAME store? Did you manage to get hold of an elusive Nintendo Switch?