Go back just a single decade and you would find many high end gaming PC's with 80GB boot drives or some with even smaller 36GB Raptor drives – for added performance. Today multi-terrabyte drives aren't something we bat an eyelid at and most modern smartphones ship with tens of gigabytes of storage space. But what if you need a bit more than that? You can always upgrade the internal micro-SD card, but that's a bit of a hassle and can get expensive, especially if you don't need that storage permanently attached. That's where the Voyager Go from Corsair comes in.
It's a 64GB, micro-USB (B) flash drive, that also has a full 3.0 connector on the other end, so you can easily transfer files from a PC/laptop to your phone and vice versa. Corsair say it is designed to be convenient, portable and affordable, but whether it ticks those boxes while offering decent performance still remains to be seen.
Available in three different sizes: 16GB, 32GB and 64GB, the Voyager Go we're looking at today is the biggest and baddest of the lot. Priced at £39 it's also the most expensive too, but it comes with a five year warranty so it should last long enough that by the time you upgrade it, 64GB will be considered tiny.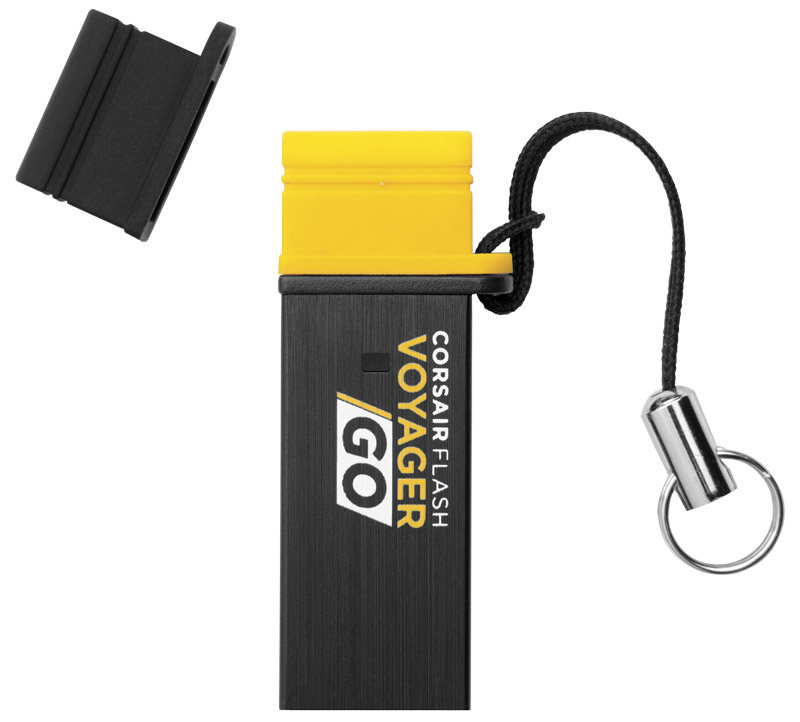 Features
Designed for Android with USB On-The-Go
Dramatically boosts your mobile device's storage capacity
USB 3.0 speed with USB 2.0 compatibility
Plug and Play, with no driver or app necessary
Includes extra caps and a lanyard for a personalised look and handy access
Five year warranty
Phone Support
HTC Butterfly
HTC Butterfly S
HTC New One
HTC One X
Samsung GALAXY NOTE (GT-N7000)
Samsung GALAXY NOTE II (GT-N7100)
Samsung GALAXY NOTE III (GT-N900)
Samsung GALAXY R (GT-I9103)
Samsung GALAXY S2
Samsung GALAXY S3
Samsung GALAXY S4
Samsung MAGA 6″3
SONY SONY XPERIA S (LT26i)
SONY SONY XPERIA Z (C6602)
SONY Xperia TX LT29i
Xiaomi 2S
Tablet Support
Tablet PC Acer ICONIA A1-810
Acer ICONIA_Tab A700
ASUS MeMO Pad ME302
ASUS MeMO Pad 10 ME102
ASUS Transformer Pad TF-100
Fujitsu LTE F-01D Y Android 3.2
Huawei MediaPad S7-301u(P)
Lenovo A3000
Samsung Note 8
SONY SGPT111JP/S
SONY SGPT112TW/S
SONY SGPT211JP/S
Toshiba AT700/35D