Microsoft's big Windows 10 Fall Creators Update launched today and along with it brought the company's answer to virtual reality. Competing with HTC and Oculus, Windows Mixed Reality headsets are now available to order from a variety of developers including Acer, Dell, HP and Lenovo among others.
To quell any confusion, the first wave of Mixed Reality headsets are currently only capable of Virtual Reality experiences, with Microsoft expecting those experiences to eventually collide with augmented reality for an entirely new, mixed experience.
The primary difference between both kinds of headsets is that unlike the HTC Vive and Oculus Rift, MR headsets don't require separate sensors to function. This is achieved through inside-out tracking via built-in cameras, ridding the need for external sensors to be placed around the room. This boosts the platform's portability, but can struggle to register movement from behind the headset itself.
Most of the headsets available sport the same 2.9-inch LCD display at 1440 x 1440 resolution with 90Hz refresh rate, aside from the Samsung HMD Odyssey which is packing a bigger 1440 x 1600 resolution per-eye. Further differentiation comes in each device's field of view, sitting between 95 and 110 degrees.
Samsung, ASUS and most recently Fujitsu have all announced their own headsets, each coming in at a later date. The Samsung Odyssey headset with high-resolution Super AMOLED displays is set to arrive on November 6th, while ASUS won't debut its polyagonal designed headset until 2018.
Fujitsu is the latest newcomer to this, with MSPowerUser reporting that its headset will release on December 14th, with a retail price of ¥50,000 in Japan, translating to approximately £335/$445.
Windows Mixed Reality boasts a lower hardware entry requirement, meaning it is far more accessible than virtual reality. To get a minimum of 60 frames per second, users will need to have the Windows 10 Fall Creators Update installed as well as a setup housing an Intel Core i5-7200U processor or better, 8GB of DDR3 RAM or better, 10GB of free disk space, an Intel HD Graphics 620 or DX12-capable GPU, and HDMI 1.4 or DisplayPort 1.2, alongside a USB-3.0 port and Bluetooth for the motion controllers.
To get the preferred 90 frames per second or check for the AMD-equivalent minimum hardware, Microsoft has prepared an accessible image for reference.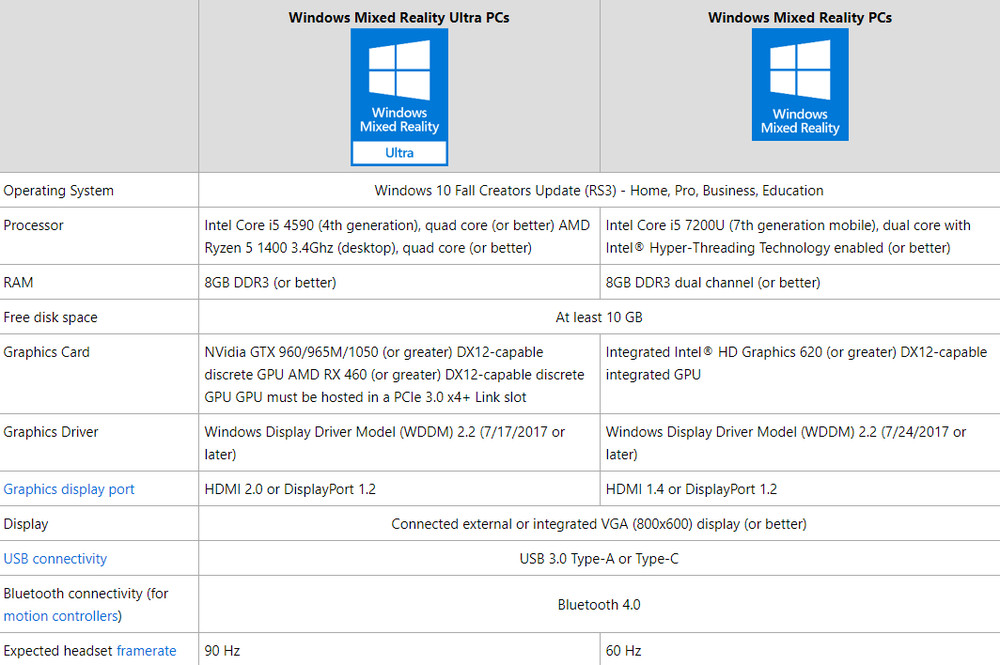 So far, Windows Mixed Reality is limited to the Microsoft Store, which might restrict what is initially available until SteamVR support arrives for the platform in the near future. Otherwise, headsets can be used to run desktops in the virtual environment, browse the web using Microsoft Edge or access the current games  and movies on the store, such as Halo Recruit VR and Arizona Sunshine.
KitGuru Says: Currently the platform is still in its infancy but with so many fingers going into the pot, the platform is sure to find its feet quicker than VR originally did. Still, early adopters be warned that content is likely limited for the time being. Are you interested in a Windows Mixed Reality headset?