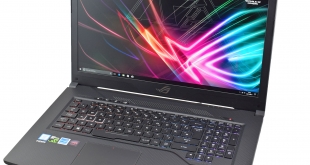 ASUS ROG's Strix Scar laptop is aimed squarely at first person shooter gamers. It boasts GTX 1060 graphics, an i7-7700HQ processor and 16GB of DDR4 – but most impressive is the 120Hz Full-HD display and its 5ms response time. As with most ROG products, though, it does not come cheap – priced at £1599.99 here in the UK, the Scar is a pretty serious investment. Is it one worth making?
In the words of ASUS itself, 'ROG Strix SCAR Edition was built with special attention to FPS gamers looking for a competitive edge. Strix SCAR Edition is powered by the latest Intel Core i7 processors and NVIDIA GeForce GTX 10 Series graphics. The display on Strix SCAR Edition has a super-fast 5ms response time and 120Hz refresh rate that work together to deliver smooth and accurate visuals and to eliminate motion blur. Strix SCAR Edition also comes with a desktop-style keyboard layout, fast-actuation keys, and N-key rollover to provide absolute precision during the game.'
Clearly, the marketing team is on form with this one, but how does the Strix Scar fare in the real world?
Watch via our VIMEO Channel (below) or over on YouTube at 2160p HERE
If you are unable to see the gallery above then disable your ad blocker as they can interfere with our display code
Specification
Screen: 17.3′, 1920×1080, NTSC:94%, 5ms response time (grey to grey), 120Hz
CPU: i7-7700HQ
RAM: 16GB
HDD 1: 256GB M.2 SSD SATA
HDD 2: 1TB 5400RMP
GPU: GTX1060 6GB
Wireless: 802.11ac+Bluetooth 4.1
Keyboard: Illuminated Chiclet Keyboard 4-Zone RGB
MSRP: £1,599.99
First of all, it is actually worth taking some time to consider the marketing behind the Scar – the idea that is is very much a laptop for First Person Shooter gamers. As an alternative to the Scar, ROG has its own Hero laptop – aimed at MOBA gamers, the primary difference is an i5 instead of i7, and then a 15-in display instead of 17.3-in.
Frankly, I am not convinced – the combination of GTX 1060 and i7-7700HQ (a quad-core with HyperThreading) should be fine for any sort of 1080p gaming, so I am not convinced by the idea that the Scar is a FPS gaming laptop, or that having an i5 instead of an i7 suddenly makes a laptop specifically for MOBA players.
In any case, if we leave the interesting marketing decision to one side, the core spec is good and the laptop is very easy on the eyes. The brushed metal lid is particularly appealing, and at 2.9KG in weight/2.4cm thickness the Scar is not too bulky at all. Republic Of Gamers seems to have phased out its classic red-and-black colour scheme, too, so the Scar is very neutral-looking with the grey/metallic lid and black frame/base.
We'll focus on gaming performance below, but the other aspects of the Scar are solid. The 17.3-in 1080p display does use a TN panel but it is one of the better ones I have seen – it is obviously not ideal for any colour-sensitive work and the viewing angles aren't great, but looking face-on the screen is more than capable. The 120Hz refresh rate is another boon for competitive gamers, as is the 5ms G-to-G response time. G-sync is notably absent, however, so unless you can get your frame rate at or around 120 FPS and turn V-sync on, you are likely to experience some tearing.
Elsewhere, the RGB keyboard is very decent with some appreciable tactile feedback and a fair amount of travel. It is still a laptop keyboard, so you don't get close to the 4mm of travel you would from a desktop mechanical keyboard, but compared to many other keyboards on the market (including ASUS own ZenBook 3), the Scar does well in that regard. It is also an RGB keyboard, with four different zones that can be fully programmed in the ROG Aura Core piece of software. Lovely jubbly.
The last area to cover before moving on to the gaming side is the trackpad. It is a reasonably-sized pad (though not quite at the level of the latest 15-in MacBook Pro) that features integrated left and right clicks instead of dedicated buttons. I did find I would occasionally right-click when I meant to left-click but the pad itself is smooth and responsive, while palm rejection worked well. In any case, any half-serious gaming will be done with a proper mouse anyway, so the Scar's trackpad is definitely more than capable for browsing the web and so on.
Testing
Synthetic tests – notebook results only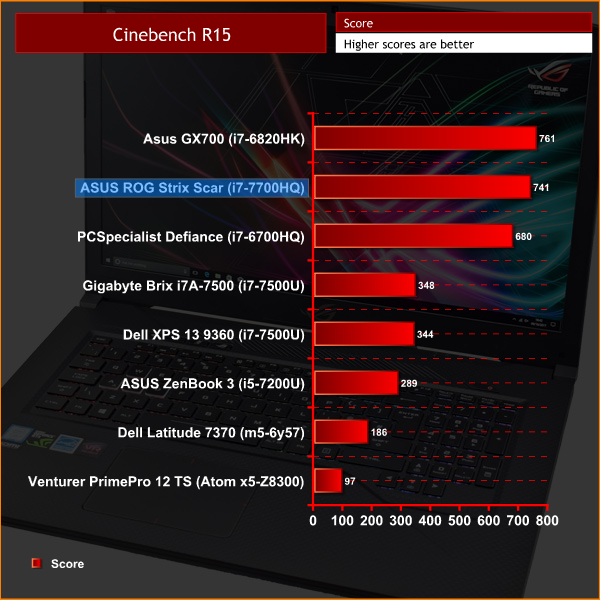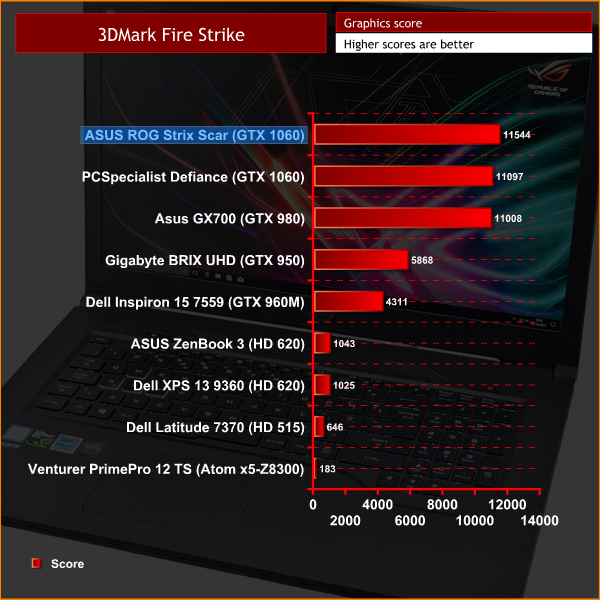 Synthetic tests – notebook and desktop results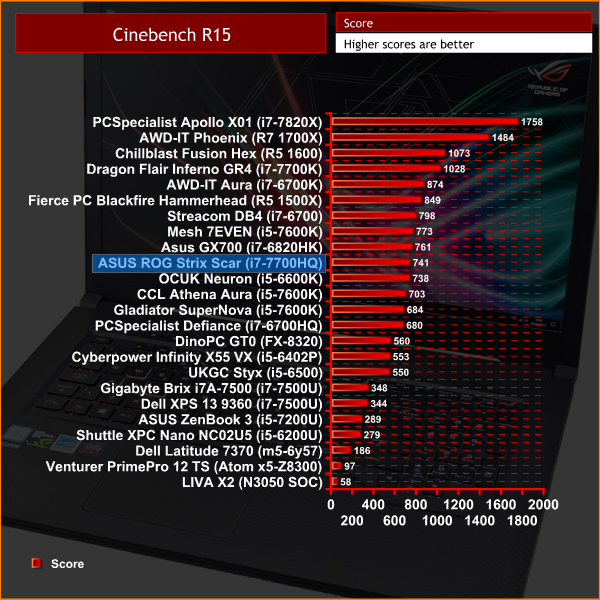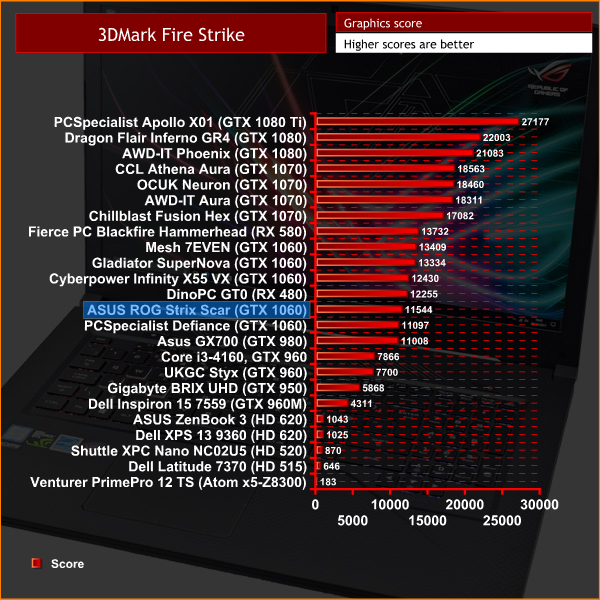 Gaming performance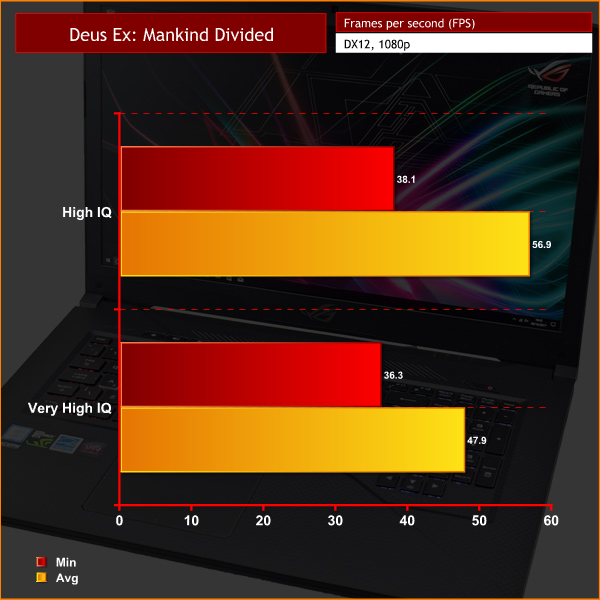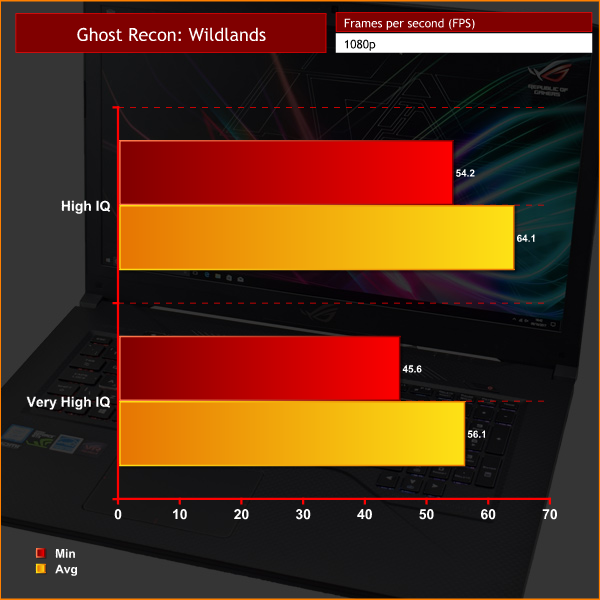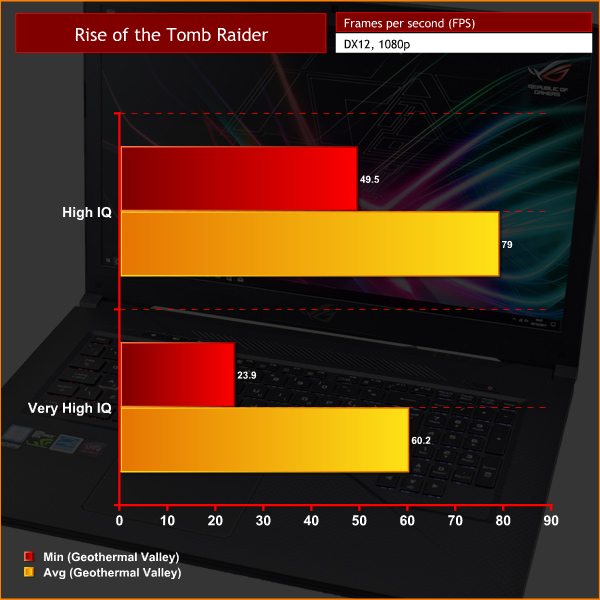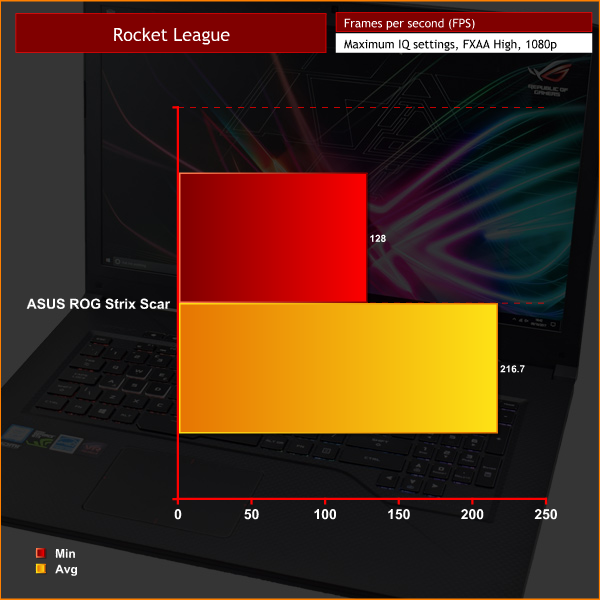 As demonstrated by the figures above, a GTX 1060 won't be able to fully take advantage of the 120Hz display unless you drop the settings considerably. Demanding AAA games are still very playable at 1080p, hovering around the 60 FPS mark, so the overall experience is definitely positive. I do think it is a shame G-sync has not been included, though, as that would help to keep everything extra-smooth and tear-free when the frame rate does drop down.
I've also included Rocket League results to show what sort of frame rate is to be expected when playing eSports titles – games like CS:GO, Overwatch and TF2 will be very easily driven at 120 FPS+. It is only with those demanding AAA titles, which may not be very well optimised, when the Scar can't quite make the most of the 120Hz panel.
Battery life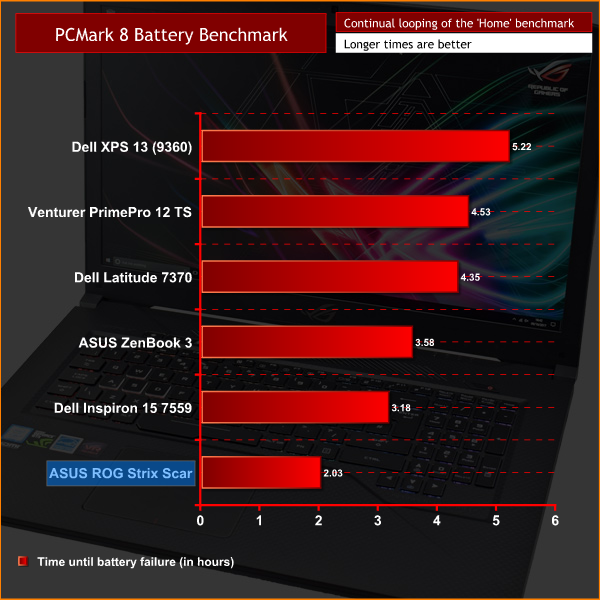 Battery life is not really a strong point for the Scar. At just over two hours in our PCMark 8 test it is decent for a gaming laptop but nothing really to write home about. Best to keep the power brick with you if you will be doing anything intensive.
Acoustics and thermal dynamics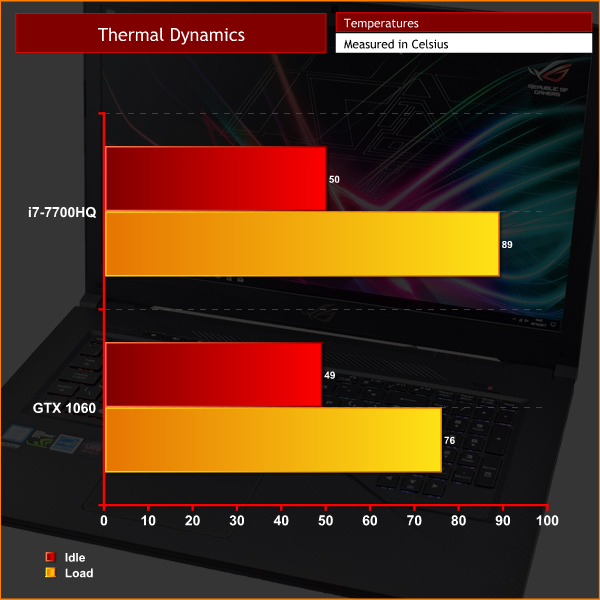 Ambient: 19C
If you haven't watched the video above, we would recommend it as I have included a noise test of the laptop. The Scar is certainly a very loud device, however the benefit of that is the components do stay fairly cool – for a laptop at least. A discrete laptop GPU maxing-out at 76C is superb, even if it is the relatively low-power GTX 1060.
Back to the noise, though, it is certainly not ideal. However, we would imagine most gamers would use a headset while playing anyway, so that does go some way to making the issue irrelevant. Should anyone be in the same room as you, though, they are likely to get a bit irritated.
Closing Thoughts
On the whole, ASUS ROG have created a very decent gaming laptop in the form of the Strix Scar.
The pairing of a GTX 1060 and i7-770HQ is always going to deliver the results, and we think a 1080p 120Hz display is the right choice to get the most out of the components.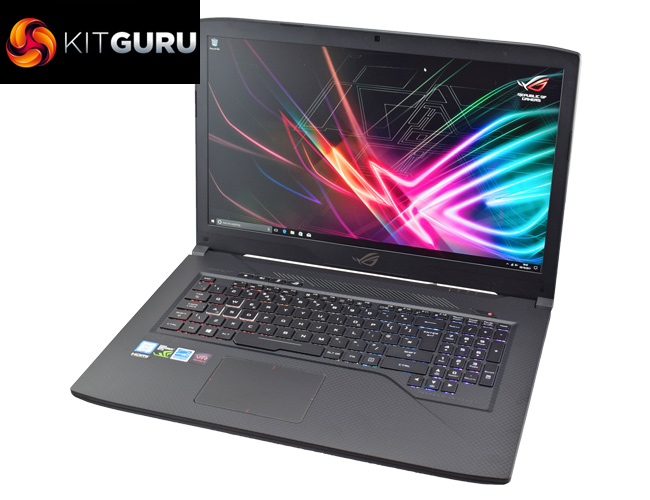 The keyboard and trackpad are also decent and are definitely above average, while we also appreciate that the Scar is relatively thin and light for a 17.3-in laptop.
Aside from the noise, the Scar is overall a very decent product we would recommend to anyone looking for a good 1080p gaming experience.
However, the Scar has definitely suffered from what is known as the 'ROG tax' – £1599.99 for a GTX 1060/i7 does look a bit pricey. To put that into context, in September last year I reviewed the very similar PCSpecialist Defiance III which costs £1349, while a brief look on Overclockers UK tells us that GTX 1060/i7 laptops can be had for as little as £1199.
However, the overall product is very good, with plenty of premium features, good gaming performance, plentiful I/O and an excellent design. It is relatively pricey, yes, but you do get a very solid laptop for the money. Overall, the Strix Scar comes well recommended.
You will buy able to buy the Scar in the coming weeks for £1599.99. It will be available from Currys/PC World, Amazon and Game.
Discuss on our Facebook page with other readers, over HERE.
Pros
Good looking.
Relatively thin and light considering the screen size.
RGB keyboard looks and feels great.
120Hz display.
GTX 1060 and i7-7700HQ deliver the gaming goods.
Very good thermal performance.
Cons
Very loud.
Could do with a price cut to keep it competitive.
KitGuru says: The ROG Strix Scar is a very competent laptop. It is great for 1080p gaming, looks good and is actually pretty portable considering the screen size. We just feel it could do with a slight price cut to bring it in-line with other similar laptops.
Be sure to check out our sponsors store EKWB here