Methodology
Testing the Rock Jaw Audio Resonate earphones first required a 20-hour run-in to make sure they were operating at peak performance. From there I listened to the headphones every day for a few hours to get a feel for how they performed with music, gaming and video viewing and noted down my findings. I considered comfort as well as audio quality throughout testing and also tried out the various configurations of ear tips and tuners.
Audio quality
The biggest consideration with any set of earbuds is their audio quality. Fortunately, the Rock Jaw Audio Resonate earbuds stood up to my testing and more. In a wide variety of musical genres and at various volume ranges, these headphones sound fantastic. There is deep bass with low-end rumble, subtle highs and punchy mids, with clarity throughout the volume range.

One of the big features of the Resonate earbuds is that they come with a trio of tuner options. These offer an even sound (gold), more bassy (green) and more treble (blues). Unlike some of the tuner choices we have seen with other earphones, the effects of these are quite subtle. While that might seem like a detriment and make their options somewhat redundant, I actually really liked that they did not impact the output to a huge extent.
One of the problems I have had with tuners in the past, is that the bassy option would drown out other frequencies and that the treble tuners would kill the bass entirely. Not so with the Resonate. These ones boost the bass a little, or add a bit more clarity to the treble, without drowning out any other part of the mix. While my preference was for the more natural sounding gold tuners, you could easily enjoy the others without feeling like you are missing out.
Rock Jaw looks to cater to the typically bass-heavy crowd of aftermarket headphone buyers by defaulting to the bassier greens when you first use the earbuds, but changing them is a cinch, so it is no bother to try out the alternatives.
Although not exactly designed with gaming in mind, a 3.5mm set of headphones can be used for it, so in testing the Resonates I played a few games on my phone and plugged them into the Wii U for a few rounds of Splatoon and a couple of Monster hunts. I found the Rock Jaw Audio Resonate earbuds rather impressive. They have a great stereo field and thanks to their strong drivers, can deliver all of the varied sounds that can make up different gaming scenarios.
I found that the natural sounding earbuds had the best all-around performance, though the more bass heavy greens were best when the monsters were roaring away.
Comfort
With a tonne of options for earbud tips, finding the right fit for you with the Rock Jaw Audio Resonates is no problem at all. Whether you prefer silicon, foam, or double flange, there is something for you. There are also various size options too, so you should not have any difficulty finding your preference.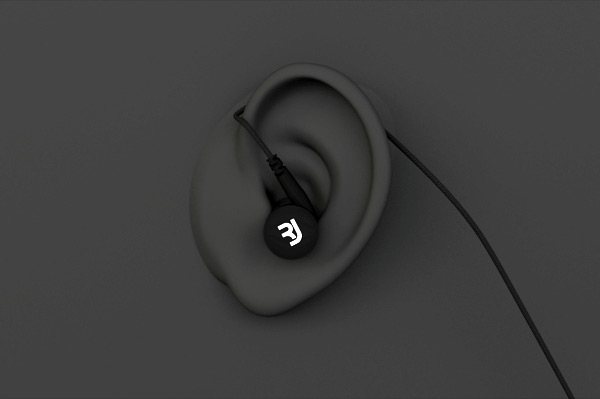 The Resonate earbuds can be used upside down and over the ear too, for better grip and reduced microphonics
I wore the Resonates for hours at a time repeatedly and found them perfectly comfortable when sat still, or when out walking or running. The included clip means they do not fall out easily and if you want some added security, you can always wrap them around your ear before plugging them in, as the cable does not chafe against your skin.
Extras
Although it is not as uncommon with earbuds as it is with over-the-ear headphones, the Rock Jaw Audio Resonates do an excellent job of noise cancelling. With even a little bit of volume going, you will not hear anything going on in the world outside. That is of course, both a boon and a curse. You will need to be careful if in public when wearing these, though they are excellent for train journeys or when relaxing at home.
Microphonics from the cable were almost non-existent. Not quite as good as the Trinity Delta cable in that respect, but not far off.
Speaking of the cable, the fact that it is detachable from both earbuds is a nice touch. Initially I did have some difficulty taking them out, due to what I believe was a slight manufacturing error with the cable. However, upon contacting Rock Jaw I was sent a replacement and it worked perfectly. I was also informed that my issue was the first that Rock Jaw had discovered with the cable so it is not something that consumers can expect to encounter.
If you do though, Rock Jaw's support is excellent, so it will fix any problem you have.
The in-line microphone was also rather effective. It provides clear communication when you are out and about and the in-line volume control was a nice touch too.