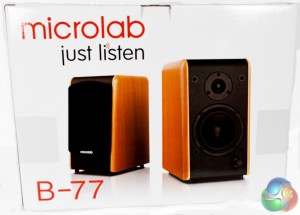 As you can see, the Microlab B-77 speakers come in a fairly large, white box. The same picture is shown on the front and back, with some technical specifications listed on the side.

As you can see, the speaker covers are removable.
The speakers are a little bigger than I was initially expecting. In terms of height, they are much smaller than the Solo 8C's. However, they do have quite a large footprint on the desk. Overall, I like the look, not everyone will want wooden speaker cabinets but they should provide a warmer sound. If you have a light wood desk then they won't look out-of-place at all.
On the back we can see the variety of connections available. To connect the left and right speakers together, we have a terminal cable, which looks quite frail but works perfectly fine. It has a decent length as well, allowing you to set the two speakers quite far apart.
Aside from that, we also have some standard RCA connections. The cable included allows you to plug the speakers in to any 2.5mm input, so these speakers can be used with any device with a headphone jack.
That concludes our tour of the B-77 speakers, now let's plug them in and see how they sound…