The Microlab B-77 speakers have been designed for full range audio reproduction with precise audio positioning, which should make them perfect for high quality music tracks. While the speakers do allow you to adjust the EQ a bit with dials for treble and bass, I will be leaving these settings alone for the sake of our tests.
To test the B-77 speakers, I went ahead and used the same method I would use to test a headset. The speakers became a part of my own setup for a couple of weeks, using them to listen to music, watch movies and play games.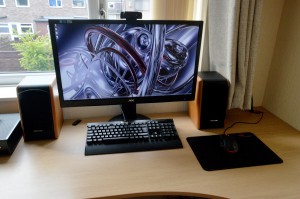 When it comes to games, the Microlab B-77 speakers perform well. I play a lot of Counter Strike: Global Offensive, so I was impressed to find that despite the lack of a subwoofer, gunshots and explosions still pack plenty of punch. In addition, there is plenty of volume to play around with so if you wanted it to sound like you were in an actual war zone, you could achieve that pretty easily.
In addition to that, the speakers perform well in games with more ambient noise, like Alien Isolation. You can hear the low hums of the ship as you sit there stranded in space. The creaks and little noises in the surrounding area are also much more noticeable and clear, which helps with immersion.
Listening to music offers a similar experience. Much like when you listen to tracks through a pair of reference monitors, the different layers of the mix are easily discernible. Vocals come across clear and snare hits pack a nice punch. However, I do feel like there is something missing in the low-end. This is particularly noticeable when listening to songs from the likes of A Day to Remember or D.R.U.G.S.
The slightly weak bass response is to be expected as this is a 2.0 speaker system, rather than a 2.1 system, which would come with a subwoofer to help out with the bass. If you push up the bass dial on the rear of the speaker, then you do run the risk of subduing the mid tones and muddying up the sound a bit so there are some compromises to be made.
That said, for a small pair of stereo speakers, Microlab's latest offering performs admirably and considering they can be had for around £60, the few weak points can be forgiven.