The second product we have seen from 1MORE, I am incredibly impressed with the Quad Driver E1010 IEM.
Things start very well, as the packaging and presentation of the earphone is immaculate. There is a large selection of included accessories, too, including a hard leather carry case, a shirt clip, and no less than nine different pairs of ear tips for you to try out and find which you prefer.
1MORE has also made sure the Quad Driver is very well built, with copious amounts of aluminium used across the design – including with the earbuds themselves, the in-line controller, the right-angled 3.5mm connector and the cable's y-shaped bifurcation. After over a month of (fairly rough) use, the only thing worth noting is a couple of scratches on the earbuds.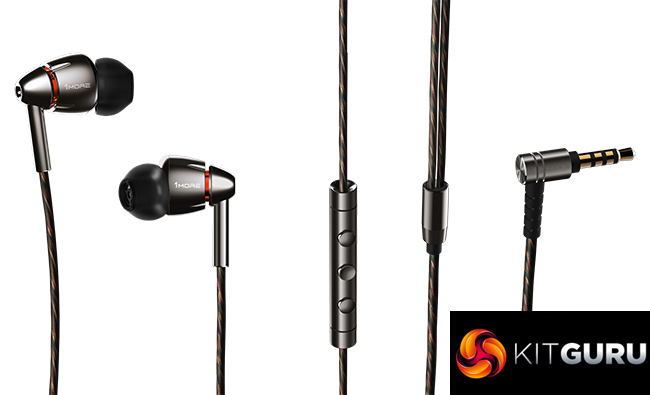 What really makes the Quad Driver shine, however, is the sound quality. I've gone over each aspect of this on the previous page, but the Quad Driver offers a warm and remarkably smooth/laid back sound which is just lovely. Everyone has their own sound preference, but if you are the kind of person who likes the Sennheiser HD 650, you will love the Quad Driver.
With a UK MSRP of £149.99, too, I think the Quad Driver is somewhat of a bargain. It may sound silly saying that for a £150 pair of IEMs, but you can spend thousands on high-end earphones and still come away feeling short-changed. Not so with the Quad Driver.
Touching on the negative points, the way I see it there are only two possible 'cons', and both fairly minor – the cable is not detachable, and the 3.5mm connector is right-angled. The latter is a small annoyance as I have found the connector can catch slightly on my jeans' pocket for instance, but it has been done deliberately to provide extra durability to the 3.5mm jack connection area.
As for the lack of detachable cable – well, it would be nice for sure, but it is hard to say whether or not this is necessary without using the earphones for a couple of years. In any case, as mentioned, the cable feels high-quality and is protected by aluminium in all the key areas, so it would be a touch harsh to criticise the cable.
All in all, then, the Quad Driver E1010 comes highly recommended – I've been using them for the past month and have no intention of switching to any other earphones now. They are a joy to use.
The Quad Driver has a UK MSRP of £149.99, but we found them on sale from Amazon for £166.99 HERE.
Pros
Premium build quality.
Lots of included extras.
Decent in-built mic.
Beautiful, warm sound that is still impressively resolving.
Somewhat of a bargain in the grand scheme of things.
Cons
Cable is not detachable.
Right-angled 3.5mm connector can be a minor annoyance.
KitGuru says: The 1MORE Quad Driver E1010 IEM is a fantastic product for the money. If you want to sit back, relax and enjoy your music, you will be hard pressed to find better earphones at this price.