In classic ASUS ROG style, the Fusion 500 ships in a black box with neon accents. A photo of the headset dominates the left hand side of the box.
Inside, the headset is positioned neatly in a foam surround, while a second pair of ear cushions are sat on the left.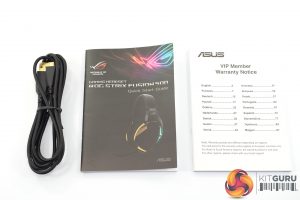 Other than that, the detachable cable, quick-start guide and warranty notice make up the rest of the included accessories.
Moving onto the headset itself, we'll start with the ear cups. The Fusion 500 is a closed back headset, and the cups have a glossy – almost mirror – finish to them. The soft-gold colour is also quite unusual but it looks quite classy in my opinion.
You can see a sticker comes applied to the left-hand ear cup, with various symbols printed on it. This is to show you the touch controls for the left-hand cup – a press in the middle plays/pauses music, a swipe up or down will adjust volume and a swipe left or right will skip to the next/previous track.
Also worth pointing out are the two RGB lighting sections on the back of each ear cup. These are positioned on the far side of each cup.
By default, the Fusion 500 comes equipped with ROG's '100% protein' cushions – faux-leather, in other words. However, as shown above, you do get a second pair in the box which have a fabric top but faux-leather inner walls. This is designed to be a 'best of both worlds' solution as the faux-leather walls can provide superior sound isolation while the fabric top offers enhanced breathability.
Also on the left ear cup, we find the micro USB port for the headset's detachable cable.
The other on-ear control is a virtual 7.1 button – pressing this enables virtual surround-sound, and a red LED will also turn on to let you know the 7.1 has been activated.
Moving onto the headband, the outer band is made of hard plastic with some ROG branding subtly printed onto it.
The inside of the headband, however, is padded with fabric-covered foam. The padding measures about half an inch thick.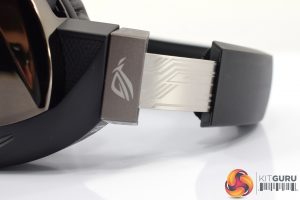 On the topic of the headband, ROG has also fitted a metal slider to allow users to expand the size of the headset. This sports ROG's trademark 'Mayan-inspired' detailing.
Lastly, the mic is capable of being fully stowed-away into the left-hand ear cup. A small plastic hook allows you to pull it down and position it to your liking.
As you stow the mic away, there is a very noticeable 'bump bump' which lets you know the mic has been muted.