The SteelSeries Arctis 7 ships in an attractively designed box, with a photo of the headset itself on full show.
Inside, before getting to the headset, it is worth looking at the included accessories which come in a smaller, wedge-shaped box.

Those accessories are essentially three different cables. From left to right we have: 1x charging cable, 1x 3.5mm cable (for use with a phone/console) and 1x USB wireless receiver (for use with your PC/Mac).
Lastly, there are two included booklets: 1x quick-start guide and 1x support leaflet.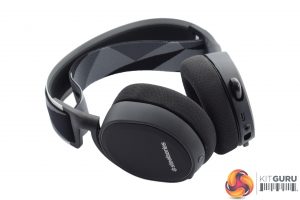 Now, moving on to the headset itself. Above you can see a 'big picture overview' of the headset as a whole, but below we will go in for a closer look at the different features and parts of the Arctis 7. Before we get to that, though, it is worth mentioning we were obviously sent the black Arctis 7, but there is a white version too.
Diving in closer, let's start with the ear cups. As with the majority of gaming headsets, the Arctis 7's cups are closed back in design. The back of each cup is covered with a rubberised matte finish, too, which is surprisingly fingerprint resistant and I think it looks quite smart.
On the inside, as you can see in the image above right, the cups themselves are attached via a rotating hinge so they can be laid flat – great for those who will be regularly transporting the headset.
The foam cushions are also interesting as they are covered by what SteelSeries call its 'AirWeave' material. This is essentially a light and breathable fabric which should hopefully keep your ears nice and cool in use.
The headband is another unique aspect of the Arctis 7. Here, SteelSeries has opted for a ski goggle-esque design, rather than a more conventional style of headband. To loosen the overall fit of the headset, just adjust the Velcro strap.
The metal frame also sports a relatively thin piece of rubber padding so your skull is not making direct contact with the frame itself.
Elsewhere, SteelSeries has added a lot of functionality to the outside of each ear cup, and it is definitely worth looking at all the different features that can be accessed via the on-ear controls.
Starting with the left ear cup (pictured above, left) we find a mic mute toggle, a master volume wheel, and then three different connectivity ports. The first of these is a small port for connecting the optional 3.5mm cable to use the headset as a wired device. After that is another interesting feature, a regular 3.5mm jack which is actually used to 'share' your music – so a friend can plug in a pair of headphones and hear what you are listening to with the Arctis 7. Lastly, there is also a micro-USB connector for charging the headset.
The right ear cup is (thankfully) less busy, with just the ChatMix dial and the power button. ChatMix essentially lets you 'balance' the volumes of both your game and your communication method, but we will talk about it more on the next page.
One thing we didn't mention is the mic. This is also positioned on the left ear cup, and it is fully retractable. Once you have pulled it out, the rubber boom is flexible so you can pull it closer if need be. The mic itself is bidirectional.