When I reviewed the original STRIX Pro last year, I was impressed. It had great sound and comfort and that has only been enhanced in the ASUS STRIX 7.1. This headset sounds better than its cheaper cousin and it is much better at audio positioning. Atmospheric titles are absolutely fantastic with surround sound and this headset does an excellent job of conveying that 360 degree auditory experience. Alien: Isolation is a terrifying game, but when you can really hear subtle noises behind you, it will get the heart pounding.
On top of that, ASUS has fixed the issues I had with the noise cancellation on the Pro headset, by incorporating the mic into the control hub rather than the headset itself. This leads to crystal clear VOIP audio for your teammates and much less background noise for everyone – it is a real win win. The control hub also gives you access to all the settings for your sound without the need to tab out of a game, which depending on the software can be problematic.
Fortunately gaming is not the only thing that the STRIX does well. It is also great for listening to music, with a good representation throughout the frequency ranges. If the volume went a little higher it would score even higher.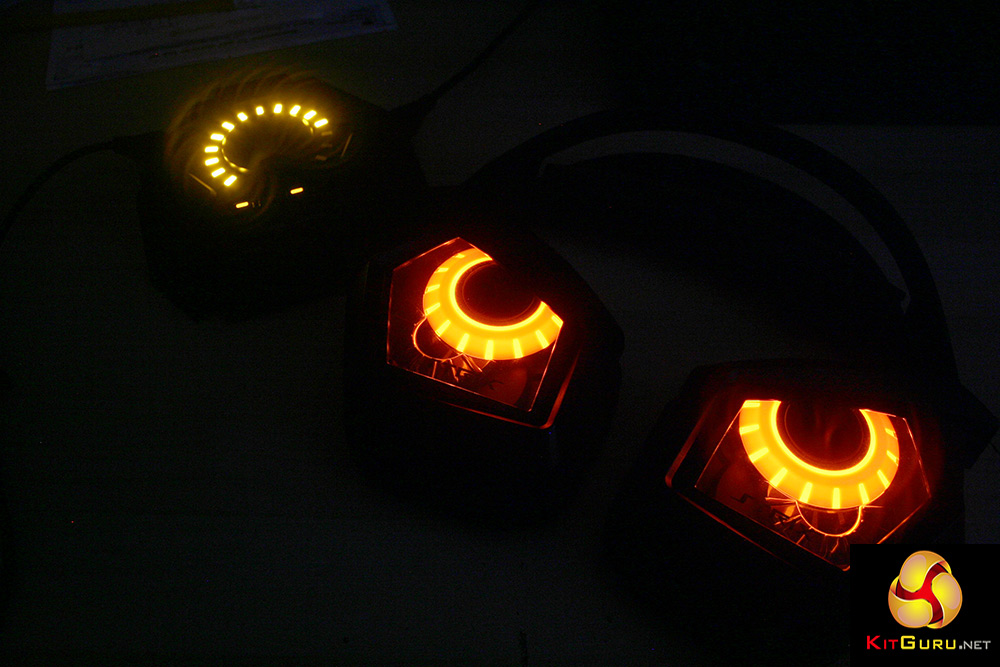 You can set the 'owl eyes' to breathe in and out, or remain solid
Comfort levels are high, I have worn it for hours without issue. The only caveat I will add there, is that memory foam does have a tendency to retain heat, so I think in sweaty LAN party environments this headset may heat up your ears. Probably best to have a fan handy in those cases.
I only have one real complaint about the STRIX 7.1 and that is the creaky frame. It needs to be fixed. This problem was present in the Pro and it is still here. It is not something that is readily apparent all the time, but when using an Oculus Rift, or looking around the room with quiet music playing, it can become irritating.
As we would expect the Asus Strix 7.1 is an expensive product, but it remains competitive in the high end. It is unfortunately out of the reach of most gamers as it is hard to justify spending that much on a headset, but if you do, you will be impressed.
The ASUS STRIX 7.1 is not available yet, but is set to go on sale in the beginning of February at a suggested price of £169.99.
Discuss on our Facebook page, over HERE.
Pros
Fantastic surround sound gaming.
Good for music too.
Control hub handles everything without software install.
Supremely comfortable over long periods.
Lighting looks cool.
Cons
Creaky frame still there from the Pro version.
A few notches extra on volume output would be welcomed.
KitGuru Says: The ASUS STRIX 7.1 is the kind of headset gamers dream of, offering excellent 360 degree sound with great bass. It even lights up on the outside! Expect to pay handsomely for it however.