To kick off the unboxing section of this review, we'll start off with a rundown of what comes in the box, starting with cables/accessories and then moving on to the speakers themselves.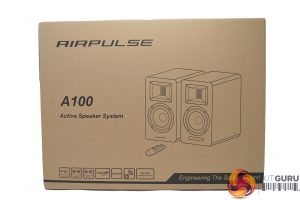 The box itself is quite heavy, these aren't cheap/light speakers after all. On the accessories front, you are immediately greeted with everything you'll need. This includes a thick and long left-right speaker connection cable, an optical cable, a USB cable, a standard power connector and two different AUX cables, one 3.5mm to dual RCA and another 3.5mm to quad RCA for maximum compatibility across different devices. There is also a handy remote so you can adjust audio settings without fumbling around the back of the speakers once they are set up.
Finally, you also get a handy pair of foam monitor stands. If you are using these at a desk, then these will be perfect for eliminating unwanted vibrations.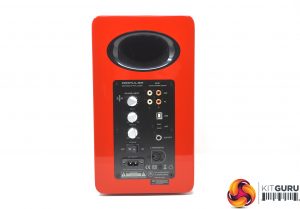 The speakers themselves are built to last. Each A100 cabinet is built with 18mm thick high-strength MDF. Under the hood, the speaker cabinet is lined with waved sound absorption foam in an effort to reduce any 'coloration' of the audio. There is even an oval shaped vent tube to minimise wind noise – clearly, very close attention has been paid to fine tuning the acoustics.
On the back of one speaker you will find your controls for volume, bass and treble, with the latter two giving you +3db and -3db control for those who like to play around with their own EQ.
The AirPulse A100 comes in black and red options. Both are coated in a Piano Lacquer, so expect lots of gloss. You can see in the images above, I did have to battle a bit with reflections while trying to take pictures. I happen to like the glossy look, although I would worry about smudges creeping up over time. If you are after a non-coated speaker, then you'll need to look towards the A200, which comes with a Cherry Wood veneer.
The ribbon tweeters are protected by a metal grill covering them, while the mid-woofer cone has a rather solid aluminium centre. So if you are concerned about someone coming along and damaging your speakers by prodding them in, then you should have some peace of mind.