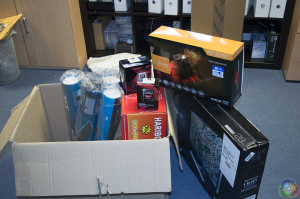 Everyone at the store before half 1 was given a raffle ticket, giving attendees the chance to win several Overclockers UK extra large mouse mats, an Overclockers mug, a range of AMD APU's and CPU's and finally, a Sapphire Tri-X R9 290x. In addition, those who bought a Sapphire product have been entered into a prize draw for a Samsung U28D590 4K monitor- the winner will be announced on the Overclockers forum.
I ended up having a look around behind the scenes and got a sneak peak of an upcoming 8-Pack build.
8-Pack's work space is overflowing with testing equipment and computer parts, there was even some liquid nitrogen knocking around.
There's plenty of nice looking systems around the Overclockers UK workshop, all of the builds come out looking very clean- which is good news for the customers that buy them!
While these 'behind the scenes' builds were impressive, so were the ones on the shop floor.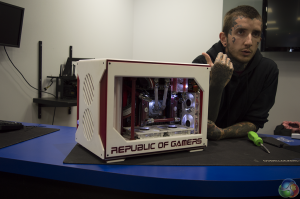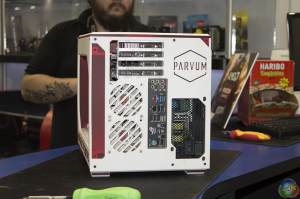 The guys from Parvum cases turned up as special guests to give a talk on their custom cases and brought a show build along to show off just what they can do.
We share a lot of builds over on our Facebook page but Parvum's custom mini ITX case is quite unique. Parvum cases are sold exclusively by Overclockers UK but they are willing to add on any customizations you might want in order to make your PC to really stand out.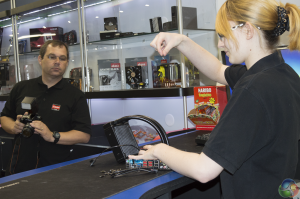 Finally, to wrap up the day we were given a PC building tutorial in the shop which was quite informative- lots of good tips for cable management too.
Here's the final product: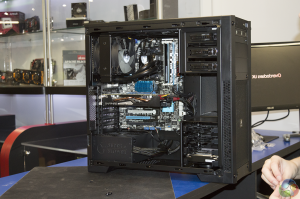 Discuss on our Facebook page, HERE. 
KitGuru Says: If you missed out this time, then I would recommend making the journey next time around, there was a lot of great deals going on and quite a few giveaways too but most importantly, it was fun.