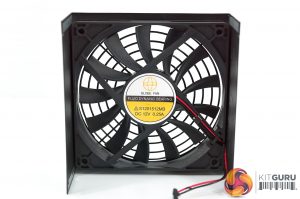 This be quiet! power supply is using a fluid dynamic bearing fan – pretty common in 2017. It is a 120mm Globe Fan (Model S1201512MB) – rated 12V and 0.25A. It should be pretty quite, based on the technology.

Below - a High Resolution Gallery of the internal layout of the power supply.
If you dont see the gallery below, turn off your ad blocker.
be quiet! are using High Power as their OEM partner for this supply. We can see silk screened be quiet! logos on the PCB's so its clear they have a lot of control during the process. I was pleasantly surprised by how good the soldering was on the PCB, its a very clean and tidy looking design.
The High Power design utilises DC to DC converters to generate the +3.3V and +5V rails from the +12V rail. I was happy to see that unlike some of the be quiet! designs, they are using Japanese capacitors (Rubycon and Nippon Chemi Con) in the primary and secondary stages. The main primary Rubycon capacitor is 85C rated, not 105C. Not a huge deal really as Rubycon make great caps, but worth noting.