The be quiet! SFX L 600W power supply has impressed me. Its technically very capable and it doesn't exhibit any glaring faults to raise concern. The price point around £115 seems quite competitive as well, which helps when making a buying decision. These are inherently more expensive than a standard ATX supply.
When it comes to SFX power supplies, the fans are generally very small, loud and intrusive. I find it hard living with an SFX power supply on any level, so have never often used them for any of my own builds. Small 90mm fans are annoying.

be quiet! have extra space inside this SFX L chassis to incorporate a larger 120mm fan, and their choice of Fluid Dynamic bearing ensures that long life, and low noise levels prove to be key selling points.
Efficiency exceeds 80 Plus Gold in our tests, and voltage regulation is without a problem. Ripple suppression is not the best we have seen in recent months, but the figures are low enough to fall well within industry rated specifications. For an SFX based design they are actually very very good indeed.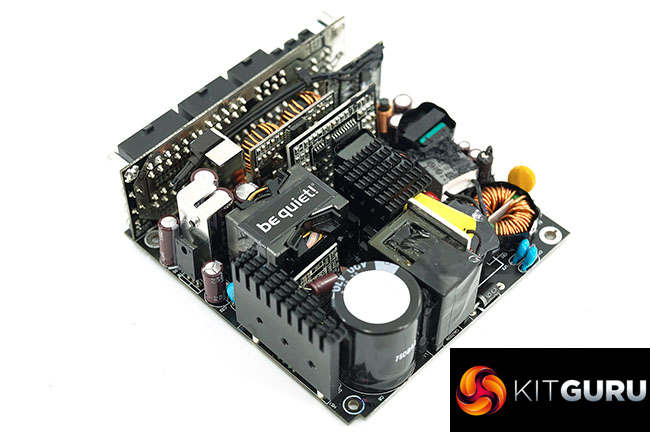 While the OEM partner is High Power, it is clear be quiet! have had a lot of input into the design, their logo is silk screened all over the design and we like the fact they have not taken short cuts. It is fully modular and all the cables are thin ribbon style, ensuring that system builds are as neat and tidy as possible and air flow is maximised.
This particular supply is designed for use inside small form factor chassis but the included ATX adapter gives it added versatility. You may need some cable extensions for this to work properly inside larger cases. be quiet! have kept the cable lengths rather short so bear this in mind.
The only real niggle I have is the very short 3 year warranty offered with this unit. Many power supply warranties now are between 7 and 12 years, so 3 years does raise an eyebrow. Corsair have an SFX L unit available right now with a 5 year warranty for instance, so this might cause a few people to wonder if the be quiet! unit is a good long term investment. be quiet! have thankfully made the wise move to adopt high grade Japanese capacitors in the design, but unfortunately some of these are 85c rated, not 105C – including the primary Rubycon capacitor. Its not likely to be a problem long term, but if you are running a system in a hot climate with limited chassis airflow, it is worth factoring into a final buying decision.

You can buy the be quiet! SFX L 600W power supply from Overclockers UK for £114.95 inc VAT HERE.
Discuss on our Facebook page, over HERE.
Pros:
quality finish externally.
technically very solid.
good ripple.
efficiency exceeds 80 Plus Gold.
fully modular.
quiet.
All Japanese capacitors.
120mm Fluid Dynamic Bearing Fan.
Versatile design – works with ATX via the included adapter.
Cons:
KitGuru says: The be quiet! SFX L 600W power supply is very attractive, quiet versatile and technically proficient. The minimal 3 year warranty is rather poor however.