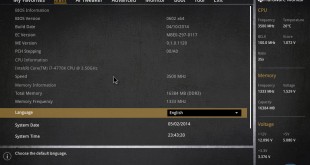 Gamers have long been one of the core consumer groups for the DIY computing industry, but recent months have seen the popularity of gaming-branded components hit a new level. Motherboards are a great example of this; in the eleven months since the inception of Intel's Z87 chipset, the number of gaming-branded parts on the market has increased by a significant proportion. This explosion in demand has been fueled by a full-blooded feature set on Intel's recent mid-range chipsets that allows motherboards once reserved for a richer audience to target more aggressive price points.
MSI received great critical and public acclaim with its Gaming range of motherboards, based on Intel's 8-series chipsets. Aiming to repeat that success with Intel's new 9-series chipsets, we analyse MSI's Z97 Gaming 5 motherboard to see if it can set off where its predecessors left.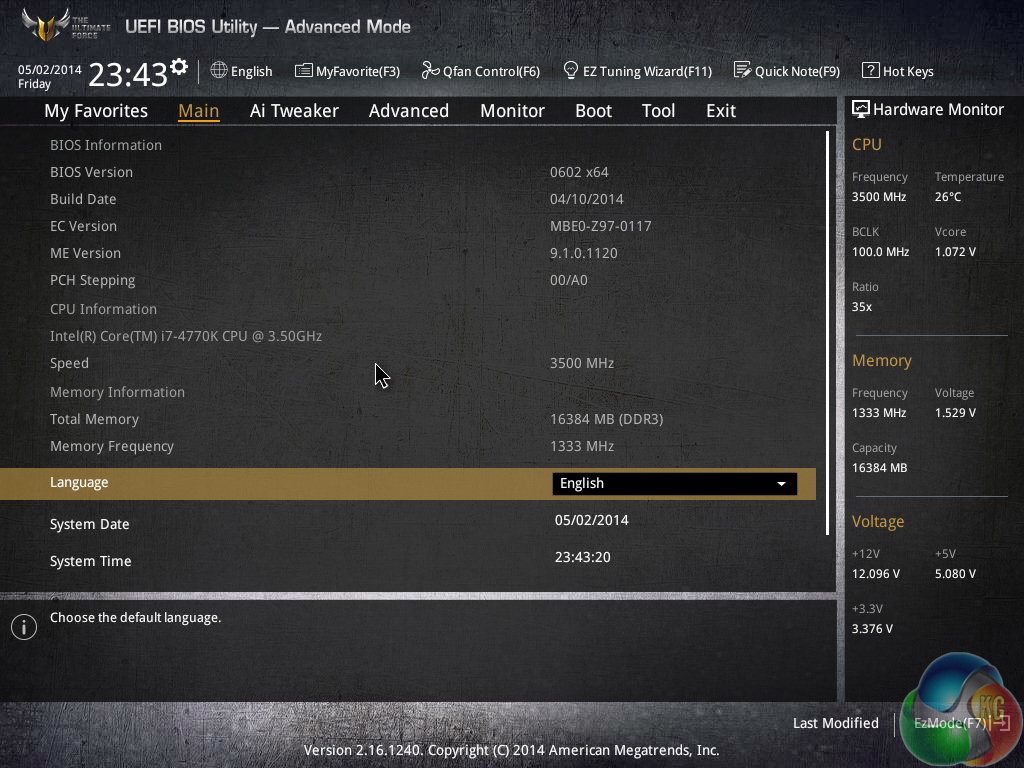 What is it that makes a gaming-branded part so 'gaming'? There's no real correct answer to that question, but there are some points which help justify the moniker.
Some of the main gaming features that find their way onto MSI's Z97 Gaming 5 motherboard include; a Killer E2200 series NIC, Audio Boost 2 based around the Realtek ALC1150 codec, gaming device ports, and SLI and CrossFire compatibility. And let's not forget the 10Gbps M.2 slot for gamers demanding quick loading times.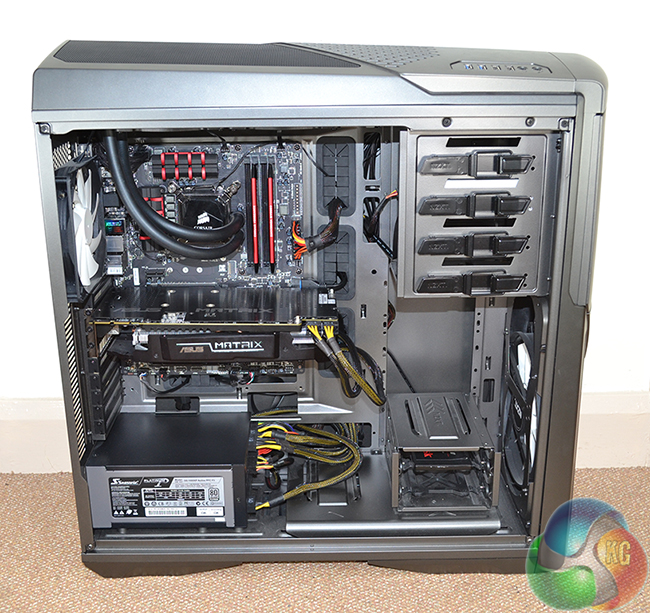 As important to some as the board's physical components is its colour scheme. MSI dresses the Z97 Gaming 5 in a likeable red and black styling, complete with the company's Gaming series dragon branding.
The Z87 era highlighted just how ruthless competition in the gaming motherboard market is. Does MSI's Z97 Gaming 5 have the ability to prove itself as one of the prime candidates in a marketplace bustling with opposition?
The Z97 Chipset
To consumer audiences, the most important new feature that Z97 brings with it is native support for PCIe 2.0 x2 M.2 storage devices with speeds of up to 1GBps. Other features include enhanced security and updated storage support (based around PCIe SSDs).
Features:
Audio Boost 2.
USB Audio Power.
Killer E2200 series NIC.
Multi-GPU support.
XSplit Gamecaster premium 6-month license.
Commonplace for its Gaming series components, MSI ships the Z97 Gaming 5 motherboard in red and black packaging that sports the dragon logo. Key features and specifications are outlined on the packaging's rear side.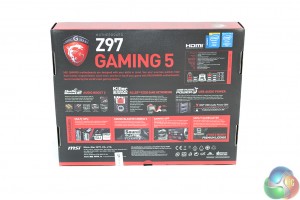 Being a Gaming series part, MSI's Z97 Gaming 5 motherboard is supplied with a 6-month premium license to XSplit Gamecaster. When speaking to MSI representatives a couple of months ago, they told us that they were working on extending the deal with XSplit.
What further parameters MSI is discussing is still unclear. Perhaps we'll see the company providing discounted rates after the 6-month license expires.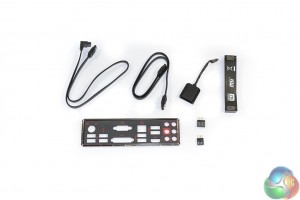 MSI includes only two SATA cables which is a representation of this board's price point. A black IO shield and two convenient M-connectors also make the package. Given its emphasis on appearance, MSI supplies the Z97 Gaming 5 with a black SLI cable which is far better looking than the ugly brown alternative.
The remaining accessory is an adapter that allows MSI to power its audio system with a 4-pin molex connector. MSI says that the additional connector can help to deliver a stronger and more stable stream of power.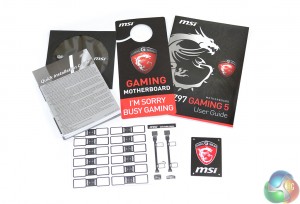 Literature is formed of the usual manuals and drivers CD. MSI also bundles a comical door hanger warning against disturbing one's gaming session.
Labels for SATA cables can be useful for locating the correct connection in a cramped chassis. A sizable sticker sporting the Gaming series badge is also provided.
MSI outfits the Z97 Gaming 5 motherboard with its popular red and black colour scheme. There was an almost unanimous liking of the dark black and vibrant red shades when MSI used them on its Z87 Gaming series motherboards. The company has taken the 'if it ain't broke, don't fix it' approach.
Another positive point regarding the Z97 Gaming 5's appearance is its matte black PCB. There aren't any dull brown cheap-out sections in sight.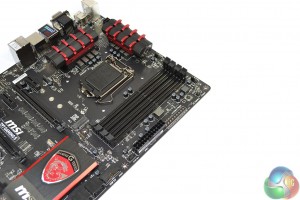 Four all-black DIMM slots hold up to 32GB of DDR3 memory. MSI quotes DDR3-3200 frequency compatibility, although maximum speeds will be tied to a CPU's IMC.
Credit to MSI's designers for using all-black DIMM slots; many competing motherboards of past generations would use white latches which had a negative effect on the appearance.
A 4-pin fan header is located one side of the 24-pin connector, with voltage-check points residing on the other.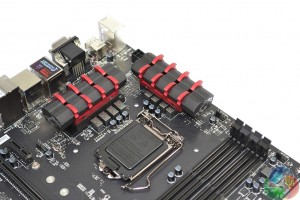 Eight power phases feed an LGA 1150 processor. Super Ferrite Chokes (SFC) and Dark capacitors from MSI's Military Class 4 components make their way onto the Z97 Gaming 5, although I do not spot any of the Tantalum Hi-c capacitors.
A UPI uP1649 controller operates the eight-phase VRM. The controller's 4-phase capacity implies that each lane is used to drive two physical VRM power delivery phases. This move saves MSI (therefore buyers) some cash over opting for a one-to-one controller and physical phase operation.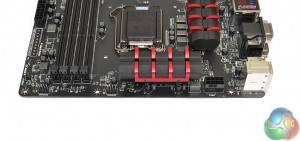 Two 4-pin CPU fan headers and the 8-pin EPS connector are found on the board's upper edge. While it is good to see MSI using two headers to accommodate users with dual-fan coolers, I would have liked to see the secondary CPU fan connection closer to the primary one to make cable management an easier task.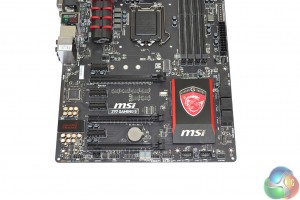 Three full-length PCIe slots are driven by up to sixteen Gen 3 lanes from an LGA 1150 CPU. The lane allocation can be set as x16/x0/x0, x8/x8/x0, or x8/x4/x4 dependent upon the numbers of expansion cards installed.
Three-way CrossFire is supported by virtue of its compatibility with PCIe x4 links, while only two Nvidia cards can be used in SLI due to x8/x8 bandwidth requirements. Installing an expansion card, such as a PCIe SSD, in the lowest full-length slot will disable SLI operation and drop 2-way CrossFire to x8/x4 bandwidth.
Four PCIe 2.0 x1 slots thicken out the expansion options and are useful for low-priority devices. A move that many gamers will not disagree with is the omission of legacy PCI slots whose requirement for an add-on controller can increase the board's cost. I do not think that zero PCI slots will cause major issues for this board's target market.
Slot spacing is as good as it gets for a motherboard of this caliber; two dual-slot cards can be used with a breathing space between them, or a pair of triple-slot boards can be installed.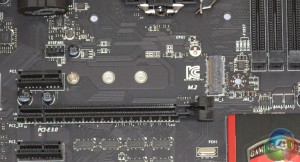 Sitting above the primary full-length PCIe slot, positioning of the board's 10Gbps M.2 connector is pretty much ideal. A user can access the PCIe-based slot without having to remove their graphics card.
MSI's press literature subtly references an M.2 to SATA Express conversion PCB. This will perhaps be available in the future or on other SKUs. Such a device would instantaneously destroy the appearance of a system based around the Z97 Gaming 5. We can think of many sights more appealing than a fat SATA Express cable sprawling across one's motherboard.
We noticed a point of frustration for MSI's M.2 slot implementation. The company decides to use a very small screw whose size makes it incompatible with screwdrivers commonly used in the system building process. I own a strong array of screwdrivers suited to system building, but attempting with even my smallest model (typically reserved for laptops) resulted in the tool's tip barely being able to lock into the screw.
This is an annoying point and one that seems completely needless. It would have been little hassle for MSI to use a larger screw. Instead, many users will be forced to go out and purchase a new, less common screwdriver that could result in a delayed build process.
The internal front audio header is found in its usual location towards the board's bottom-left edge. MSI positions the front panel connectors in a centralised location of the board, making cable management trickier for users without a specific cut-out in their chassis. A two-digit LED is a thoughtful addition for a board of this price.
MSI implements a connector that can provide additional power to the Z97 Gaming 5 motherboard's Audio Boost 2 system. A bundled cable plugs into the header, drawing its power from a 4-pin molex connector attached to one's PSU.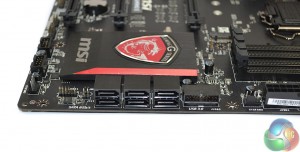 All six of the right-angled SATA 6Gbps connector are fed by the Z97 chipset. SATA ports 5 and 6 are rendered unusable when an M.2 device is installed.
No SATA Express connector is provided, indicating that MSI did not justify the cost implications of re-routing PCIe lanes and implementing automatic switches. This constricts the choice that users are given when choosing their next SSD.
A recent question on our Facebook page suggested that the majority of our audience uses less than six SATA drives, with a large proportion using fewer than four devices. As such, the number of SATA connections provided by the Z97 Gaming 5 is likely to be adequate for many gamers, even after two ports are converted to the M.2 connection.
One of my favourite layout choices on a motherboard is a right-angled USB 3.0 header. MSI tilts the connector by 90-degrees, reducing the complexity of trying to hide the fat USB 3.0 cable.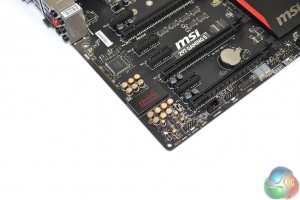 Audio Boost 2 is used on the Z97 Gaming 5 motherboard. MSI employs a discrete PCB, Nichicon capacitors, a pair of Texas Instruments OPA1652 headphone amplifiers, and the aforementioned supplementary power connector as part of its Audio Boost 2 system. The power connector acts to ensure that sufficient voltage levels reach USB headsets and DACs.
Heart of the scheme is Realtek's ALC1150 audio codec, hidden beneath an EMI shielding cover. Between the cluster of capacitors is a switch that operates the audio power adjustment provided by the auxiliary connector.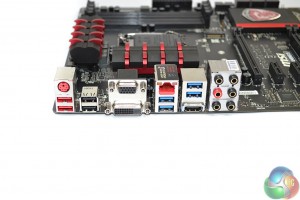 Four USB 3.0 ports reside on the rear IO, each fed by the Z97 chipset. Killer's E2205 NIC powers the gigabit Ethernet connector. Gold-plated audio jacks are used to help minimise signal degradation effects. Assisted by an ASMedia ASM1442K switching chip, three video outputs are present on the rear panel, with quoted resolution support of up to 4K via HDMI.
Rear USB ports are provided with a stable 5.0 volts from the power supply, which MSI says can help deliver better audio quality on USB headsets and DACs. The red audio jack outputs a dedicated amplified signal, according to MSI.
Called Gaming Device Port, the rear panel's red PS/2 and USB 2.0 connectors use triple-plated gold surfaces for additional durability against high in-and-out cycles that gamers may put their peripheral through. The USB connections support 1000 Hz polling rates, while the PS/2 port is compatible with N-Key rollover keyboards.
One complaint I have is the lack of an optical SPDIF connector. Many users may not care for the port, but there are others who do. Personally, I like to game at a desk with a USB or 3.5mm headset, but I also enjoy feeding audio for games, music, movies, and TV through to my optical-powered Samsung home cinema system.
With the Z97 Gaming 5, I would be forced to find a way of tackling the interference-ridden (electrical outlets, phone cable, wireless router) 5m distance with analogue cables. And there isn't a justification for gamers not caring about floor-standing surround sound systems – like many other people, I bought mine to use with consoles and I enjoy playing PC games through it from time to time.
Anodised heatsinks designed around the dragon claw are used to 'cool' the VRM, while the chipset gets an angled (and decorated) block of metal. I use the word 'cool' carefully because, thanks to the efficient PCH and MOSFETs, heatsinks on LGA 1150 motherboards that aren't designed for serious overclocking are more about form than function.
This point is proven by the fin-less design that substantially decreases the MOSFET heatsinks' thermal performance and would have my thermodynamics professor tearing his hair out. MSI deems appearance a more important factor for the design of its Z97 Gaming 5 motherboard, and given Z97's modest MOSFET and PCH cooling requirements, we can't argue against the company's choice.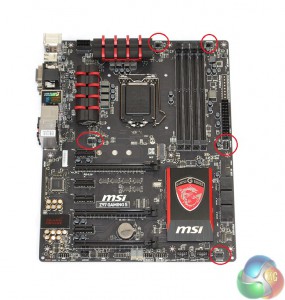 Managed by a Nuvoton NCT6792D+ Super IO chip, five 4-pin fan headers are evenly distributed around the board. Four headers are found within reach of the LGA 1150 socket, and two of those operate via the CPU's PWM channel. The final header is found along the board's bottom edge making it well-suited for a side panel fan.
Being critical, we would have preferred the secondary CPU header to be positioned closer to the upper VRM heatsink, where hiding a cable is far easier. Its current location could result in a cable visibly trailing from a dual-fan CPU cooler.
Firstly, we are pleased to report that our Leetgion Hellion mouse worked to its usual standard in the MSI Z97 Gaming 5 motherboard's UEFI BIOS.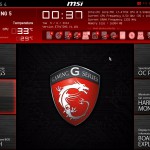 MSI's UEFI is formed of six key sections, all of which are listed on the frame's left and right sides. Basic system information is constantly displayed at the top of the screen.
Boot device priority can be quickly adjusted by dragging the relevant drive into its start-up position. The same easy application is true for OC Genie and XMP modes – simply click the relevant buttons in the frame's top-left corner.
In the Advanced mode, MSI provides plenty of adjustable voltage, frequency, and power settings which give users a good degree of control over their system. The Simple mode features fewer adjustable parameters and is better suited to practising overclockers.
MSI has applied some subtle tweaks over its Z87 iteration of Click BIOS 4, but the layout would still benefit from a clean-up. A number of readouts are still mixed together with input parameters which makes the interface seem more disordered than it actually is.
There are still a few mistakes in MSI's UEFI. For example, there is a parameter that allows users to adjust how OC Genie is implemented. One of the options allows users to select 'By Onboard Button', calling upon hardware that does not even exist on the Z97 Gaming 5.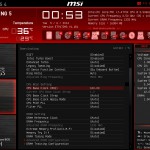 One of the actions that MSI has taken to tidy its UEFI is adding an Info section on the right side. The section is used to display basic information relating to voltages, irrelevant of the parameters that are being tweaked.
Had MSI used this 'add-on' section approach throughout its BIOS, displaying information relevant to the parameter that is currently being tweaked, the interface would have a much tidier feel to it. Some frequency readings would be welcomed too.
DRAM multipliers for frequencies of up to 3200MHz can be applied via the UEFI. Timings settings can also be tweaked.
MSI includes a feature it calls 'Memory Try It!'. The tool allows memory settings to be adjusted by the motherboard, dependent upon a user's selection. While not as heavily tweaked as customised pre-sets configured by in-house professional overclockers, Memory Try It! is clearly more valuable to the Z97 Gaming 5 motherboard's target audience.
Up to six OC profiles can be saved and named. This is a good number to provide as it gives users flexibility when testing out different overclocking configurations. Profiles can also be imported and exported from or to a USB drive for backup and sharing purposes.
Another new feature for MSI's Click BIOS 4 is the Favourites section. Users are free to add some of their commonly accessed parameters to the Favourites profile. The default home page can also be changed.
Toning down its complex monitoring section found on the Z87 series motherboards, MSI employs a fundamentally simpler means of tweaking fan speeds with the Z97 Gaming 5's UEFI.
Four points on a speed against temperature curve can be adjusted to change the fan's operation. For CPU fans, the minimum point can be set as low as 12.5% speed with a 40°C lower threshold. The same flexibility is provided to system fans, although the minimum speed level is increased to 50%.
For users who prefer a static fan speed level, un-checking the Smart Fan Mode box allows a continuous fan speed percentage to be set.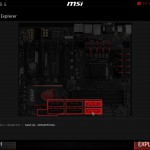 One of the most useful features in MSI's BIOS is Board Explorer. The tool displays an image of the board which highlights the components that are installed. Hovering over the certain sections displays information regarding the connected components or devices.
The tool has great potential as a troubleshooting measure. For example, a faulty memory stick can be easily identified if its function isn't highlighted in the board explorer tool.
The implementation of board explorer on our current BIOS did not work well – many of the readings were incorrect and connected components were not showing up. This is something that we trust MSI to fix with future BIOS updates.
A number of settings, including PCIe lane configurations and the convenient GO2BIOS function, can be adjusted.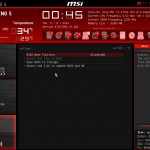 MSI's M-Flash BIOS updating tool continues to refuse to enter folders in a USB flash drive. This is a negative point because users are forced to mess up their flash drive's organisation by putting the BIOS file in the root folder.
Competing motherboard vendors have tools that are able to navigate storage drives and USB memory sticks with ease. MSI is lagging behind in this respect.
MSI's updates to the Click BIOS 4 interface have enhanced to system's ease of use. Novice overclockers are given additional information and assistance as they learn about specific settings, and they can even apply a constricted 'simple' mode if they are worried about applying damaging settings.
The interface still has its issues though, and further updates are required if MSI is to compete with the excellent implementation used by Asus. Some of the layout options still result in a messy appearance and certain parameters that should not be on the board are present.
While many of the issues are small, arguably negligible points, they can add up quickly and have the potential to dampen the experience of using MSI's Click BIOS 4 interface.
Software
MSI's Command Center software is a comprehensive tool that can be used for a surprisingly diverse range of tasks. General overclocking and frequency-related duties can be handled via the software suite, and a RAM disk can also be created.
Additional sections at the bottom of each main page allow users to launch specific subsections. Some of the main subsections include windows for adjusting system voltages and fan speeds, as well as a segment dedicated to configuring one's computer as a media streamer.
We would strongly recommend using MSI's Command Center software for voltage readings. We certified all of its recorded levels with a multimeter connected to the board's voltage reading points and found the software tool's accuracy to be excellent. Third party software can display incorrect readings on MSI's and other vendors' Z97 motherboards.
Eco Center allows users to switch off specific components to cut power usage. Intel's Extreme Tuning Utility gives a more in-depth set of voltage and power parameters than MSI's Command Center suite.
Killer Network manager is one of the key reasons that Killer's NICs are popular choices for gaming motherboards. The software allows users to control their system's network operations so that gaming, or other tasks, can be given priority. This can help to ensure that a sufficient level of network bandwidth is delivered where it is required.
Creative's Sound Blaster Cinema 2 software features a number of audio presets which allow users to quickly optimise their sound system's operation to the relevant task. Settings such as the virtual surround implementation can be adjusted.
We tried to look through MSI's Gaming App but the software did not work for us. We would put this down to incompatibility with our Windows 7 Professional operating system, or early bugs in the software.
Since the introduction of the LGA 1155 Sandy Bridge processors, Intel has steadily been relocating many of a system's features onto the CPU itself, and away from the motherboard or chipset.
Haswell is just the latest architecture to see many of the critical system operations handled by the processor. As such, benchmarking a motherboard becomes more of a test to certify that the part operates correctly and meets the anticipated performance levels.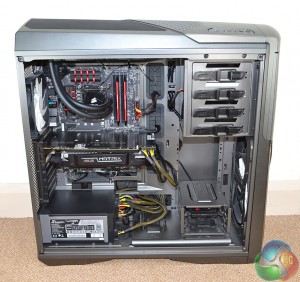 We will be outlining the MSI Z97 Gaming 5 motherboard's performance with the Core i7 4770K CPU at its stock frequency (3.9GHz due to forced turbo). Overclocked performance will be outlined later in the review.
Performance of the MSI Z97 Gaming 5 motherboard will be compared to that of two other Z97 parts. All motherboards are partnered with identical hardware and software, so the results are directly comparable.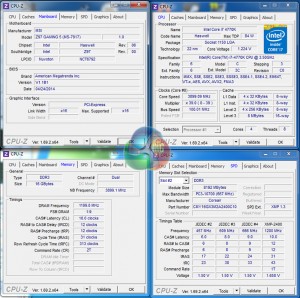 By default, the MSI Z97 Gaming 5 motherboard applies multi-core turbo (MCT) and forces the 4770K to a constant 3.9GHz when XMP is enabled. This will be displayed as the 'stock' setting in the charts.
MSI continues to deploy Intel power saving settings when MCT is enabled. This allows the processor voltage to drop as low as tens of millivolts under low-load operations. Load voltage at the stock MCT frequency is 1.224V.
We worked tirelessly with MSI to gain information regarding voltage reading disparities between different software tools. MSI and CPUID implemented a patch which allows CPU-Z to read MSI motherboards' correct real-time core voltage which can drop as low as tens of millivolts (as we proved with a physical multimeter reading). HWMonitor and AIDA, for example, do not read the correct voltages and can sometimes (incorrectly) display worryingly high levels.
We would strongly recommend using MSI's Command Center software for voltage readings. We certified all of its recorded levels with a multimeter connected to the board's voltage reading points and found the software tool's accuracy to be excellent.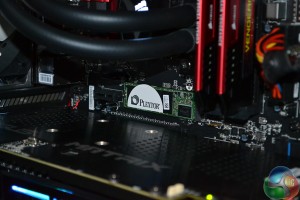 Support for the PCIe-based M.2 storage interface is one of the key features for the Z97 chipset. We use Plextor's ultra-fast M6e 256GB M.2 SSD to test the speed of a motherboard's M.2 connector. We reviewed the 512GB Plextor M6e (and its PCIe x2 adapter card) HERE.
Z97 Motherboard Test System:
Compared Z97 Motherboards:
Asus Sabertooth Z97 Mark 1.
Gigabyte Z97X-UD5H-BK Black Edition.
Software:
MSI Z97 Gaming 5 BIOS v1.1B1 (latest pre-launch BIOS).
Catalyst 14.4 VGA drivers.
Intel 10.0 chipset drivers.
Tests:

3DMark 1.1.0 – Fire Strike (System)
SiSoft Sandra 2014 SP2 – Processor arithmetic, memory bandwidth (System)
Cinebench R15 – All-core CPU benchmark (CPU)
WinRAR 5.01 – Built-in benchmark (CPU)
HandBrake 0.9.9 – Convert 4.36GB 720P MKV to MP4 (CPU)
ATTO – SATA 6Gbps, USB 3.0, M.2 transfer rates (Motherboard)
RightMark Audio Analyzer – General audio performance test (Motherboard)
Bioshock Infinite – 1920 x 1080, ultra quality (Gaming)
Metro: Last Light – 1920 x 1080, high quality (Gaming)
Tomb Raider – 1920 x 1080, ultimate quality (Gaming)
3DMark
We used 3DMark's 'Fire Strike' benchmark which is designed to be used on gaming PCs. We opted for the Normal setting, NOT the Extreme mode.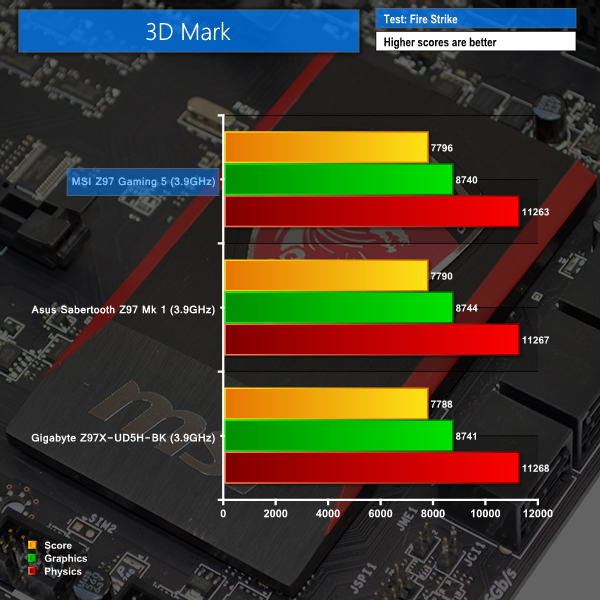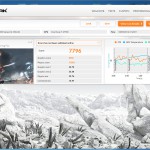 Sandra Processor Arithmetic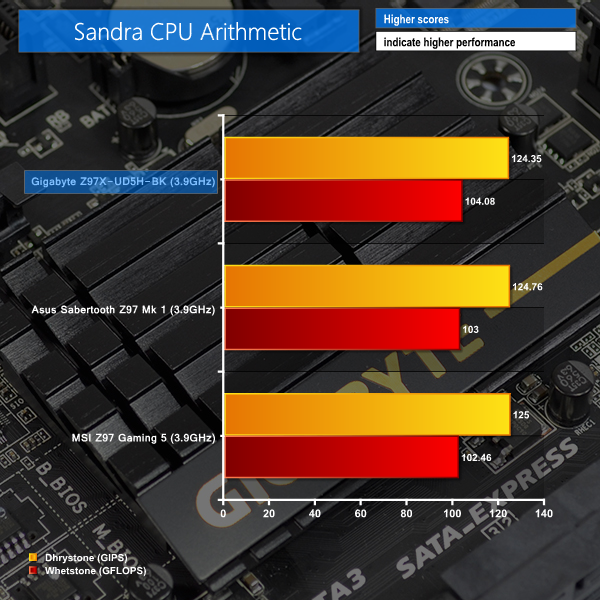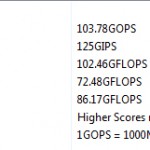 Sandra Memory Bandwidth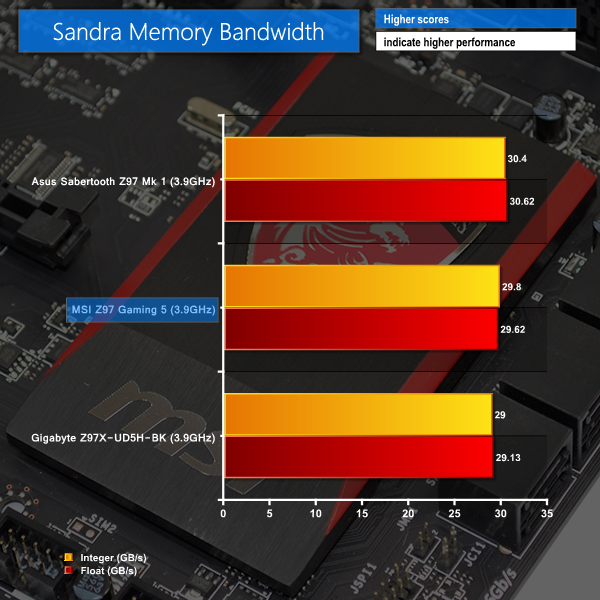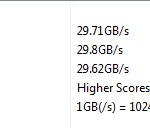 MSI's Z97 Gaming 5 delivers a solid set of system-related test results. The Z97 Gaming 5's performance in the game-simulating 3DMark benchmark is marginally higher than that of the comparison boards.
As is the case with Gigabyte's Z97X-UD5H-BK, MSI's Z97 Gaming 5 can't quite compete with Asus in terms of memory bandwidth performance.
Cinebench
We used the 'CPU' test built into Cinebench R15 64-bit.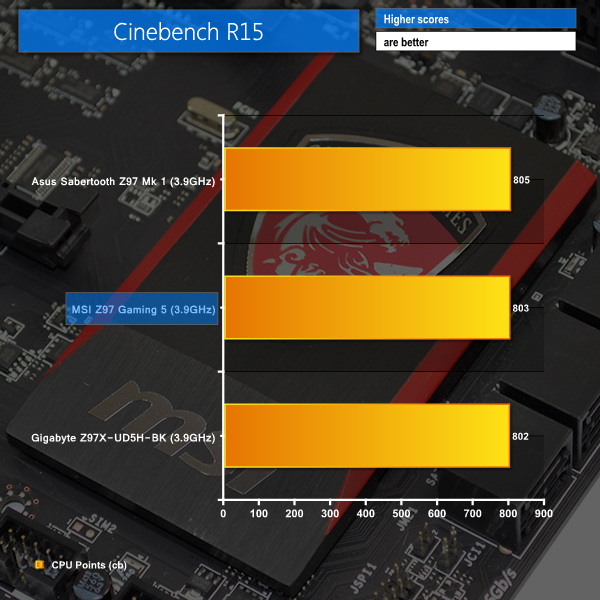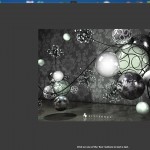 WinRAR
WinRAR's built in benchmark and hardware test can help us outline the performance differentials between each motherboard. We record the amount of data processed after a 30-second run.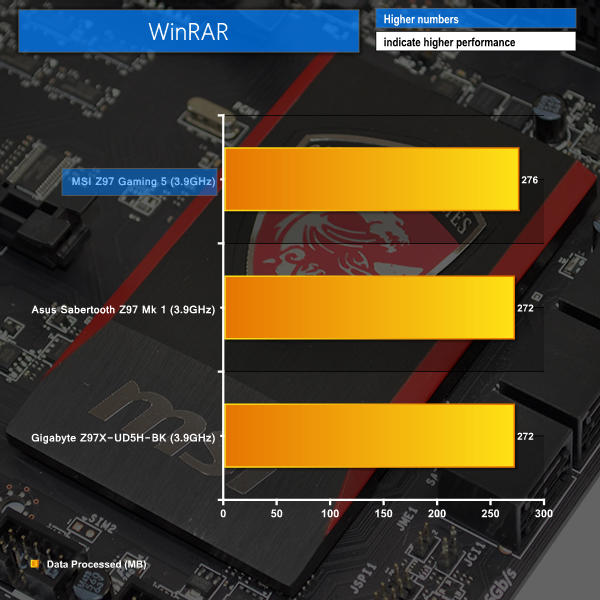 Handbrake Conversion
We measured the average frame rate achieved for a task of converting a 4.36GB 720P MKV movie to 720P MP4 format.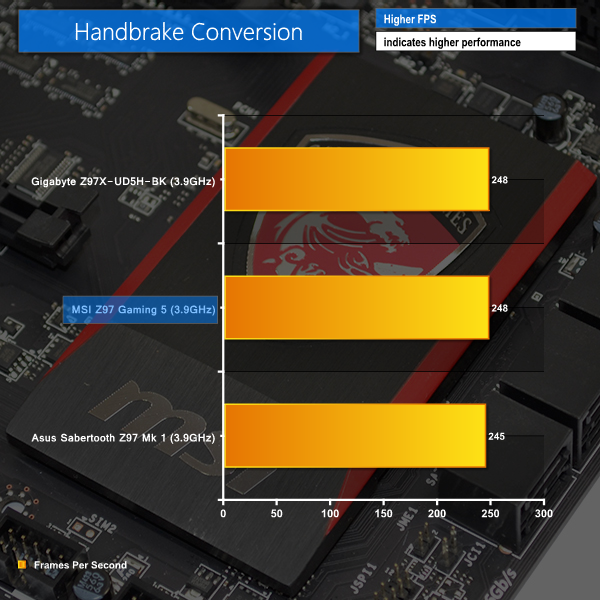 CPU-heavy test results show the MSI Z97 Gaming 5 to be delivering competitive performance.
In our set 30-second WinRAR benchmark period, MSI's motherboard managed to convert an incrementally higher amount of data than competing Asus and Gigabyte boards.
Bioshock Infinite
We used the Bioshock Infinite demanding 'Ultra' setting and a 1920 x 1080 resolution to push today's gaming hardware. Our data was recorded using a section of the game, not the built-in benchmark.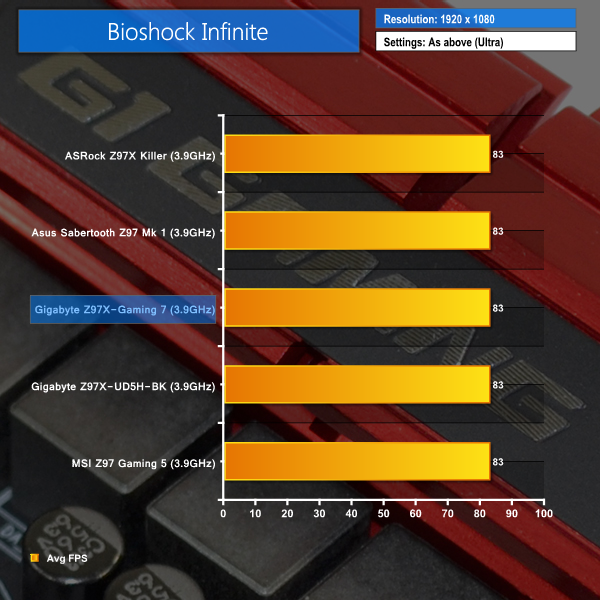 Metro: Last Light
We used a 1920 x 1080 resolution and the Metro: Last Light built-in benchmark set to 'High' quality to offer an intense challenge for the gaming hardware while also making playable frame rates a possibility.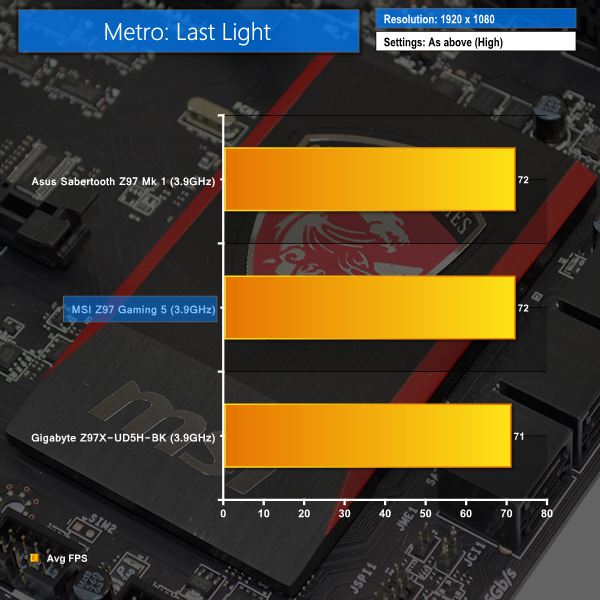 Tomb Raider
We used a 1920 x 1080 resolution and the Tomb Raider built-in benchmark set to 'Ultimate' quality.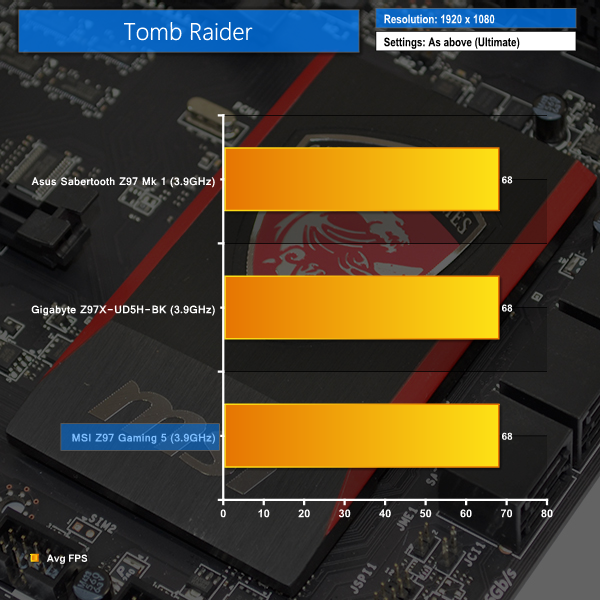 Gaming performance of the Z97 Gaming 5 is as strong as we would expect from an LGA 1150 motherboard.
It's worth noting that MSI's board was able to outperform the Gigabyte and Asus parts by a consistent (albeit very small) margin in the Tomb Raider benchmark. Rounding in our charts does not highlight the consistent 0.4 FPS performance advantage for MSI's model.
SATA
For SATA 6Gb/s testing we use a Kingston HyperX 3K (SandForce SF-2281) SSD.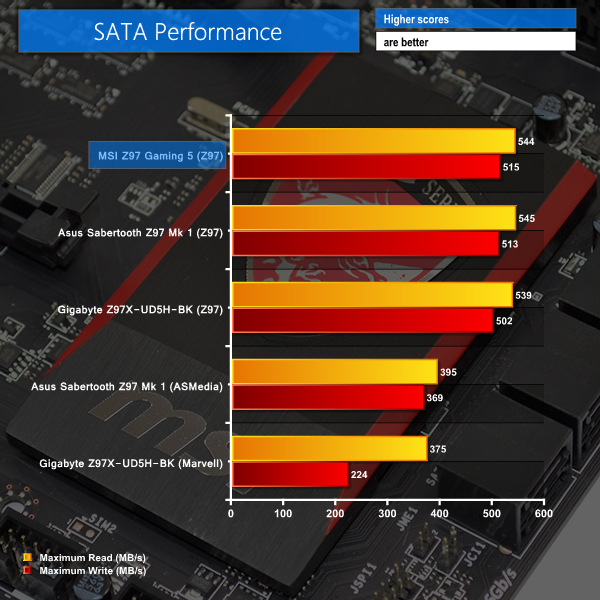 By using ports routed directly from the Z97 chipset, performance of all SATA 6Gbps connections on MSI's board is limitless for modern SSDs operating from the interface.
M.2 connector
We use Plextor's ultra-fast M6e 256GB M.2 SSD to test the speed of a motherboard's M.2 connector. We reviewed the 512GB Plextor M6e (and its PCIe x2 adapter card) HERE.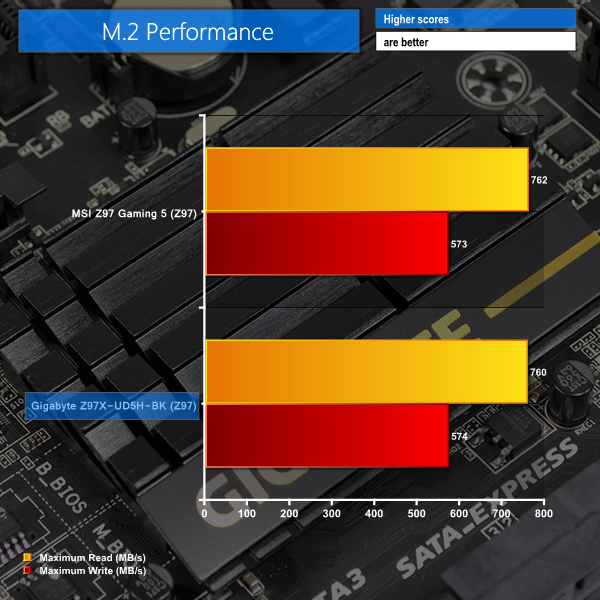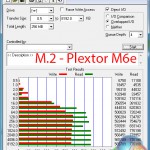 Performance of the chipset-fed M.2 PCIe 2.0 x2 connector is strong. The Z97 Gaming 5 had no problem taking Plextor's fast M6e SSD to its maximum speeds.
USB 3.0
We tested USB 3.0 performance using the Kingston HyperX 3K SSD connected to a SATA 6Gb/s to USB 3.0 adapter powered by an ASMedia ASM1053 controller.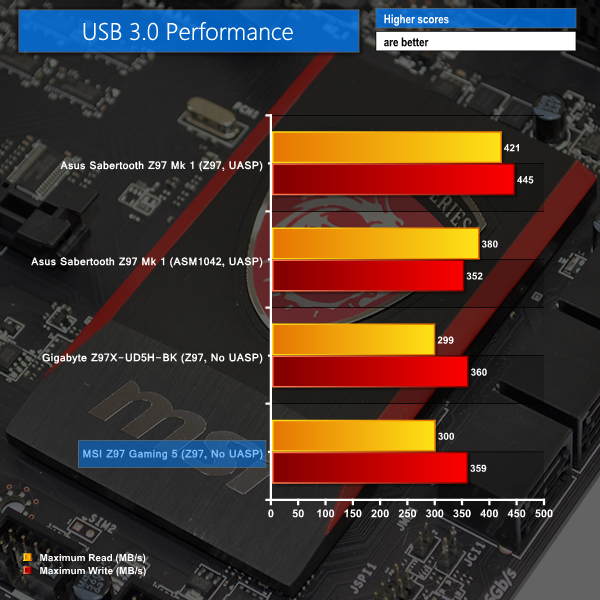 MSI does not provide a UASP-activating tool for Windows 7 users, hence USB 3.0 transfer rates on our test system suffer by a noticeable margin.
Unlike the Gigabyte and Asus boards that also appeal to professional buyers, it is not likely for a user purchasing MSI's budget Z97 Gaming 5 motherboard to be connecting a fast SSD to the USB 3.0 ports. Transfer rates of over 300MBps are perfectly adequate for even the speediest of portable HDDs.
Audio

We use RightMark Audio Analyzer (RMMA) to analyse the performance of the motherboard's onboard audio solution. A sampling mode of 24-bit, 192 kHz was tested.
MSI's Audio Boost 2 comprises a discrete PCB, Nichicon capacitors, and a pair of Texas Instruments OPA1652 headphone amplifiers. Heart of the scheme is Realtek's ALC1150 audio codec, hidden beneath an EMI shielding cover.
We tested the performance of Audio Boost 2 with power being delivered via the motherboard's 24-pin port, not MSI's additional audio power connector. This is because our testing procedure relies upon use of the rear audio jacks and is not sensitive to the voltage being fed to USB ports (as a USB headset or DAC may be).
RightMark Audio Analyzer outlines the MSI Z97 Gaming 5 as having Very Good overall audio performance. Stereo Crosstalk performance of the Z97 Gaming 5 is particularly strong, which is likely to be a result of the shielding and discrete path routing incorporated by Audio Boost 2.
Automatic CPU Overclocking: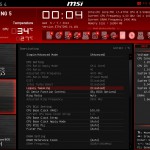 We ignored the option to activate OC Genie via the onboard button (which doesn't exist) and applied MSI's automated overclocking profile via the UEFI graphic.
The OC Genie setting applied a 4.00GHz CPU frequency to our 4770K and opted for a 1.20V VCore. Other settings remaining untouched, with our memory operating at its XMP setting of 2400MHz CL10 at 1.65V.
MSI could have been more generous with its OC Genie configuration. A 100MHz speed bump over the MCT setting isn't really a compelling boost that will fill gamers with gratification.
As MSI did with some of its Z87 Gaming series motherboards (and perhaps higher-end Z97 Gaming series parts), the company could have pushed the boat out a little and provided a secondary profile that operates at 4.2-4.4GHz. Even poor overclocking 'K' chips should be able to reach those frequency levels.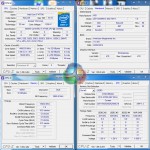 A maximum core voltage of 1.2V is used for the 4GHz frequency. We confirmed this recording with a multimeter reading from MSI's onboard voltage check points.
Manual CPU Overclocking:
To test the MSI Z97 Gaming 5 motherboard's CPU overclocking potential, we first increased the CPU VCore to 1.325V, Ring voltage to 1.275V, and CPU Input Voltage to 1.900V. The 'CPU Ring' ratio was set to 39x. These settings represent levels which we would consider safe for 24/7 usage with a mid-range, or better, CPU cooler.
Despite having some irritating layout styles, overclocking a processor via MSI's UEFI is incredibly easy. We simply increased the CPU ratio, opted for a fixed multiplier mode, and tweaked some frequency settings.
All of the fundamental overclocking parameters were displayed on the same page, meaning that we did not have to sift through a number of sections looking for the relevant setting. Gigabyte's UEFI team ought to take note.
Coloured writing also helps novice overclockers understand when desired operational voltages are reaching high levels.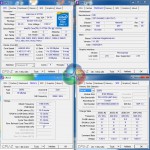 We can confidently say that voltage accuracy of MSI's Z97 Gaming 5 motherboard was not great. We applied a 1.325V VCore, with automatic LLC settings, but our chip was fed 1.36V during load. We certified this value with a multimeter reading and through MSI's software.
A sub-20mV offset when using automatic LLC modes is typical for many LGA 1150 motherboards. However, 35mV extra is a sizeable overshoot, especially in comparison to our increase of only 125mV from the 1.2V stock MCT VCore level.
This issue is almost certainly related to an early BIOS iteration used by our Z97 Gaming 5 sample. We informed MSI's engineers who confirmed that they were working on correcting the overshoot for future BIOS iterations.
Especially when manually overclocking, we must emphasise the point of using MSI's Command Center software to obtain and certify voltage readings. We can already envisage the influx of forum complaints when users record a startlingly high (and wrong) voltage level through third party software.

We will outline the performance increases that can be obtained from using the MSI Z97 Gaming 5 motherboard to overclock our system. Our overclocked processor frequency was 4.5GHz and memory speed was 2400MHz.
As a performance comparison, we have included the overclocked results from two other Z97 motherboards. The maximum overclocked configuration achieved with each board was a 4500MHz (45 x 100MHz) processor frequency and 2400MHz CL10 memory speed.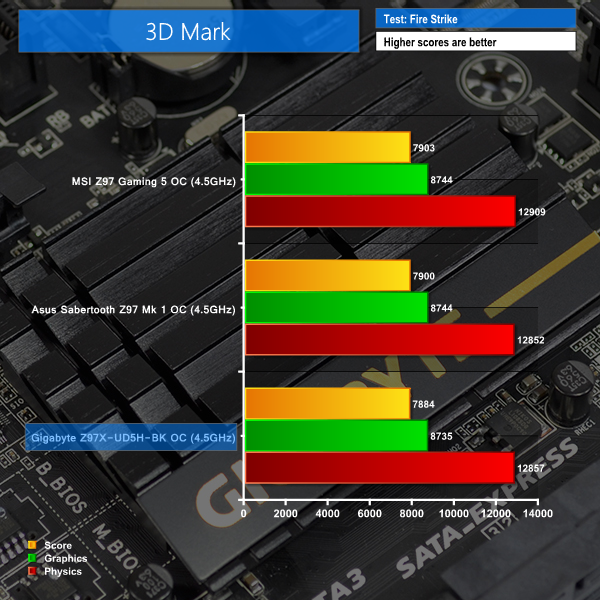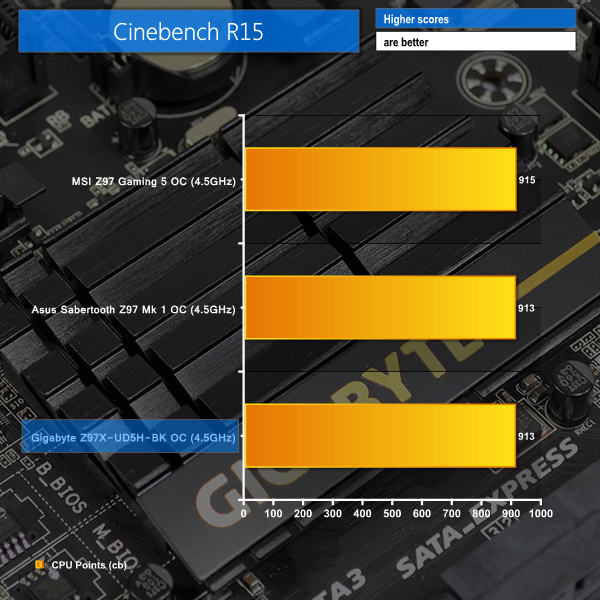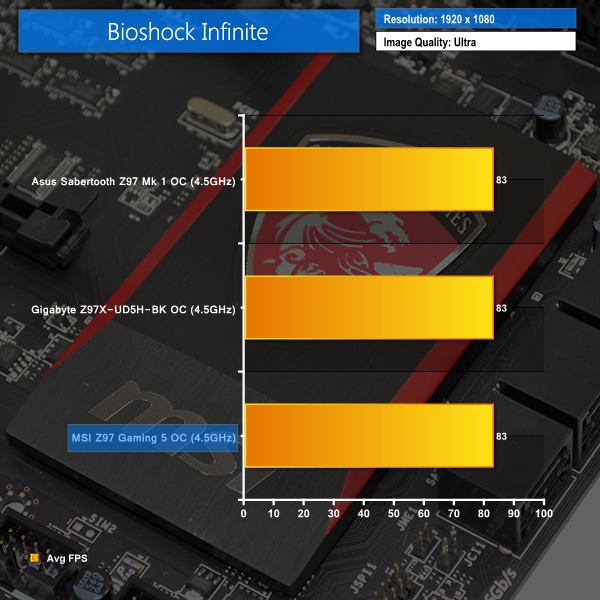 Overclocked performance of the MSI Z97 Gaming 5 is positive. The gaming orientated motherboard manages to achieve top-placed finishes in our overclocked Cinebench and 3DMark tests.
Gaming performance shows no variation between each motherboard using our Bioshock Infinite benchmark.
We measured the power consumption with the system resting at the Windows 7 desktop, representing idle values.
The power consumption of our entire test system (at the wall) is measured while loading only the CPU using Prime95′s in-place large FFTs setting. The rest of the system's components were operating in their idle states, hence the increased power consumption values (in comparison to the idle figures) are largely related to the load on the CPU and motherboard power delivery components.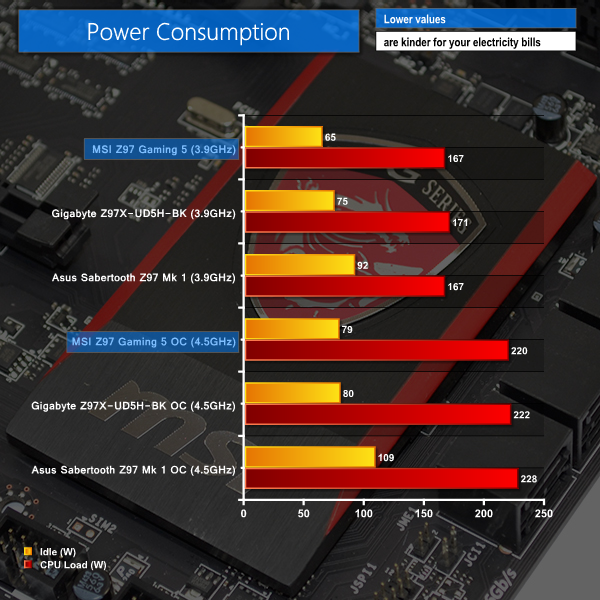 Power consumption is a strength for the low-cost MSI gaming motherboard. Relying largely upon features already incorporated onto the chipset, not provided via add-on controllers, the Z97 Gaming 5 delivers low idle power consumption.
Load power consumption numbers increase to levels set by the controller-heavy Gigabyte and Asus Z97 motherboards.
Given the comparably larger increase in power consumption from idle to load conditions, data would suggest that MSI's Z97 Gaming 5 is either using a low average core voltage at idle, or the power delivery components are not as efficient under load as those used on Asus and Gigabyte higher-end parts.
We do not have the measurement equipment to certify those claims, so treat them as an analysis of data that provides a possible interpretation of the motherboard's operating states and power delivery components.
With its attractive appearance, strong feature set, and alluring price tag, the MSI Z97 Gaming 5 is a strong prospect for gamers wanting a low-cost route to a feature-heavy system.
As we would expect from an LGA 1150 motherboard, performance of MSI's Z97 Gaming 5 is right up there with competing Z97 parts. Overclocking results are strong too, despite inaccuracies in applied voltage levels set by our early UEFI implementation.
Feature-wise, there's not a lot for gamers to dislike about the Z97 Gaming 5. Killer's E2205 NIC and accompanying software are useful for online gaming. Audio Boost 2 delivered strong performance numbers and features optimisations, such as USB Audio Power, specifically intended for gamers. SLI and CrossFire support and a 6-month XSplit Gamecaster premium license are further positives.
There are some not-so-likeable points too. No optical port makes connecting surround sound speaker systems, such as those typically used alongside a TV, a more difficult task. M.2 connectivity, only, may be considered an issue by some gamers. And the 10Gbps connector's needlessly difficult installation procedure was infuriating.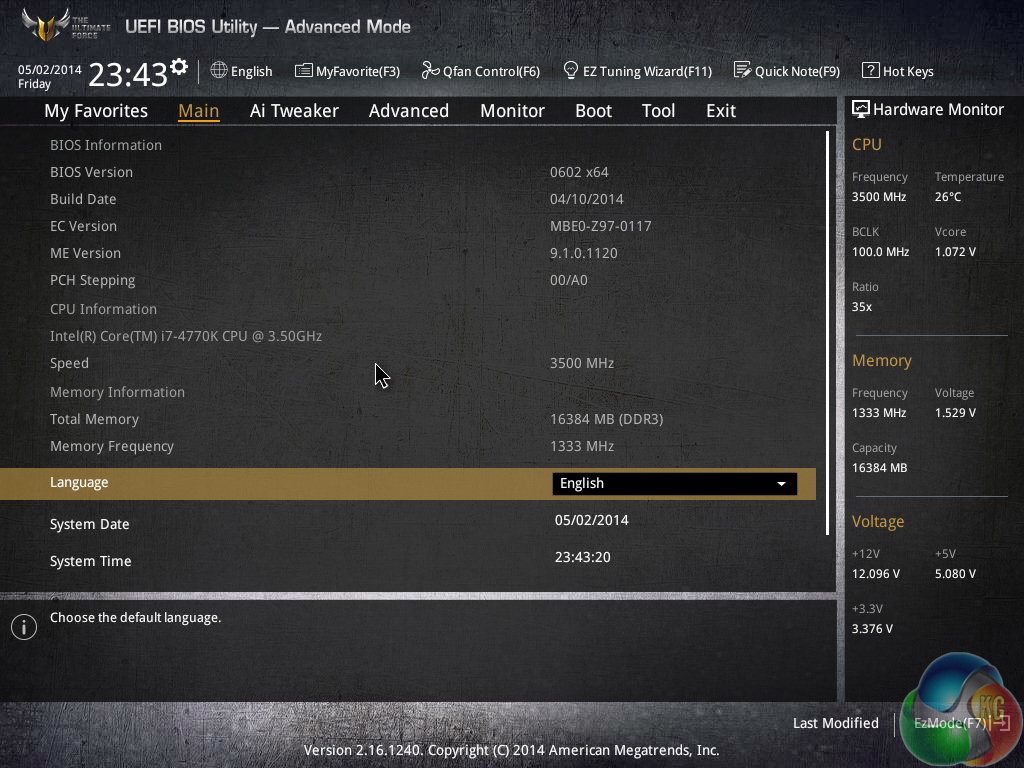 Thankfully MSI's layout choices are excellent. The angled USB 3.0 header is great for cable management, as is the apt distribution of fan headers, and expansion slot spacing couldn't be better.
The MSI UEFI is simple to use but it still has a number of layout choices which affect its appearance and begin to create a sense of cluttering. Feature-wise the UEFI is very good, especially the method of setting fan speeds and the convenient Board Explorer. A more generous OC Genie overclock would have been welcomed by many.
And then we reach the topic of appearance. There's not much to say in this section; a quick look at the pictures of MSI's Z97 Gaming 5 will implement a respect for just how attractive the board's red and black theme is. Whoever MSI's designers are, they deserve credit for doing an excellent job with the company's recent Gaming series motherboards.
MSI has informed us that the Z97 Gaming 5 will be available for £114.95 including VAT. We think that is an attractive price tag for a board of this calibre, although it does give MSI some very stiff competition in a fiercely contested marketplace. Quite frankly, the sub-£150 gaming motherboard market is a battlefield.
With its strong gaming-orientated feature set and gorgeous styling, MSI's Z97 Gaming 5 definitely has the potential to form the foundation of a cost-effective gaming system.
Discuss on our Facebook page, over HERE.
Pros:
Very attractive style.
Good set of features – Killer NIC, Audio Boost 2, gaming device ports, USB audio power.
Wise layout decisions.
XSplit Gamecaster premium 6-month license.
Debug LED and voltage check points.
Cons:
Frustrating M.2 installation method.
No optical port.
Some competing models offer M.2 and SATA Express support.
KitGuru says: A well-balanced gaming motherboard with a striking appearance and solid feature set.