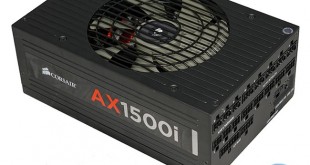 Have you just built a mining rig featuring four high end graphics cards or are you currently configuring a system incorporating dual AMD R9 295X2 graphics cards? Regular KitGuru readers will have seen our recent review of the Overclockers UK Infinity Vesuvius system – which could demand almost 1,200 watts at the socket. If you are building a similar system, then a 1,500 Watt power supply would be a wise investment.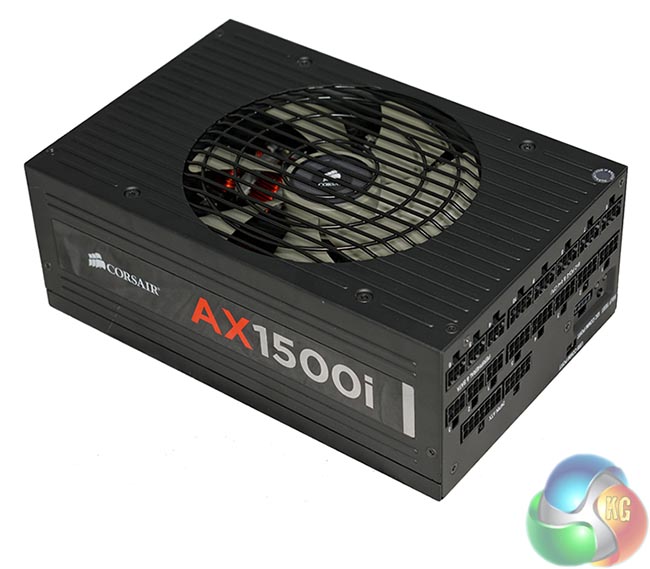 Corsair say that the AX1500i Digital ATX power supply can deliver up to 125 Amps on the +12V rail with an ambient temperature of 50c. The Corsair AX1500i Digital ATX is the only power supply that KitGuru has tested which has achieved 80 Plus Titanium Certification. To achieve such a high certification, the power supply has to operate with a minimum of 90% efficiency between 10% and 100% load, and with 94%+ efficiency at 50% load.
The AX1500i incorporates second generation digital architecture so it can deliver up to 1500 watts of power. This should enable the power supply to produce very tightly controlled voltage regulation over the full range of loads.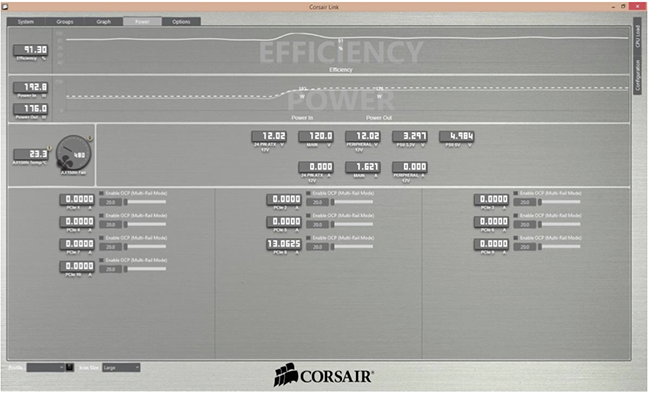 The Corsair AX1500i features Corsair Link support – enabling the customer to real time monitor efficiency and power usage. The user can also control protection and fan speed profiles direct from the desktop. You simply connect the power supply to a USB header on the motherboard to avail of the additional options.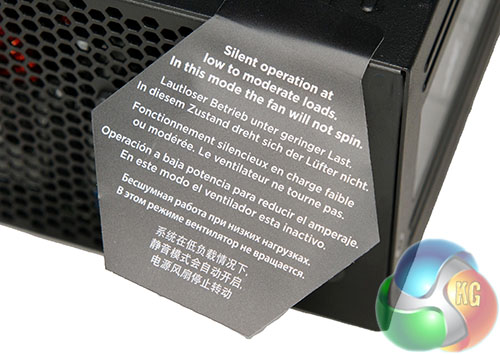 Corsair are also trying to ensure that noise pollution is kept to an absolute minimum. The power supply will not spin the fan at low to moderate loads. We will test this later, but Corsair claim loads up to 30% should not force the fan to spin at all. A quick check in my head measures this at around 450 watts – which if correct, is certainly impressive.
Key benefits:

Digitally-controlled power
State-of-the-art DSP-based power control technology providing outstanding DC voltage regulation, reliability and stability.
80 PLUS® Titanium Efficiency
Full DSP-control results in energy-efficiency over 94%, resulting in lower energy bills, and less heat and noise.
Ultra Low Noise Design
Thanks to its high efficiency and low heat output the AX1500i is able to operate in a silent, Zero-RPM Fan Mode up to 30% of the rated wattage (450W), allowing for the possibility of silent gaming. The fan speed ramps slowly above 30% load, so even fully-loaded PCs can be powered quietly.
Low Ripple and Noise: up to 3x better than the ATX Spec
Low ripple and noise equals high-quality power, allowing your performance-critical components, such as high-end graphics cards, to operate reliably for longer.
125 Amp Single +12V Rail
The AX1500i features a massive 125 Amp +12V rail, making it the idea PSU for ultra-high end SLI and Crossfire gaming PCs based around multi-core CPUs.
Corsair LINK interface
Thanks to the DSP-based design, the AX1500i can be accessed using the Corsair Link interface. This server-inspired diagnostic tool can record and monitor real-time efficiency, power usage, and adjust fan profiles. Uniquely, the AX1500i can also be configured as a multi-rail device with individual PCIe over-current protection (OCP) trip points.
Self Test Switch
The self test switch on the PSU confirms that all the DC output voltage rails are functioning correctly, and the fan is functional, providing a simple method of checking that the power supply is functioning correctly.
Fully Modular Cable System
The fully modular cable system provides total flexibility when building or upgrading your PC, since you use only the cables that you need. This reduced cable clutter also improves case airflow and cooling, and makes it much easier to build your high-end system and route cables.
Reliable
As with all AX PSUs, the AX1500i is built with premium components, such as high-temperature, 105°C Japanese capacitors, and is capable of continuous power delivery at a temperature rating of 50°C, ensuring maximum performance and reliability even in the most hot-running performance PCs.
Protected
The AX1500i features a comprehensive array of protection and safety features. This includes Over-Voltage Protection (OVP), and Over-Current Protection (OCP) on the 12V, 5V, and 3.3V rails, Over-Temperature Protection (OTP), and Short-Circuit Protection (SCP).
The Corsair Advantage
Corsair AXi Series PSUs are backed by a reassuring 7-year warranty and comprehensive customer support via telephone, email, forum and the Tech Support Express helpdesk.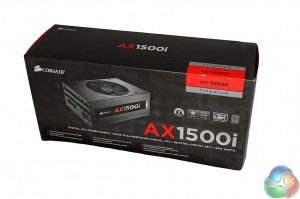 Our review sample arrived from America and the outer box was significantly damaged. Thankfully the inner box seemed to have escaped fairly unscathed. The box artwork follows the Corsair mantra – simple, nice use of fonts, and a two tone grey/red colour scheme. Tasty, in other words.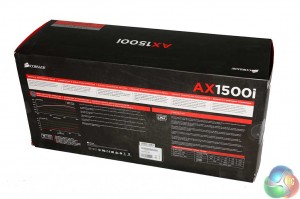 There is no shortage of technical data on the back of the box for those people browsing in a retail store.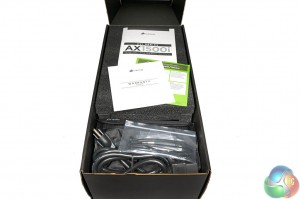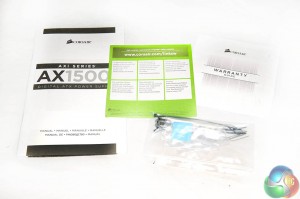 The Corsair AX1500i Digital ATX power supply is carefully protected between two hefty slabs of foam. The bundle includes literature on the product, mounting screws, cable ties, sticker and warranty information.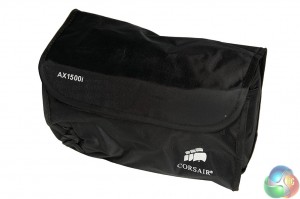 All of the cables are protected and stored inside a little black, branded bag. Ideal for storing the left over cables you won't be using.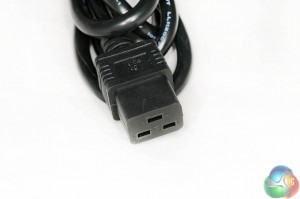 You can't use any ordinary power cable with the Corsair AX1500i Digital ATX supply. Corsair bundle a heavy duty 14-3 AWG power cable which can sustain a higher long term demand. SilverStone include a similar cable with their own 1500w power supplies.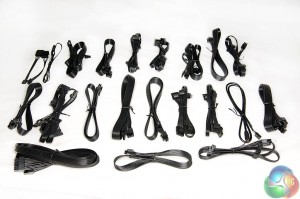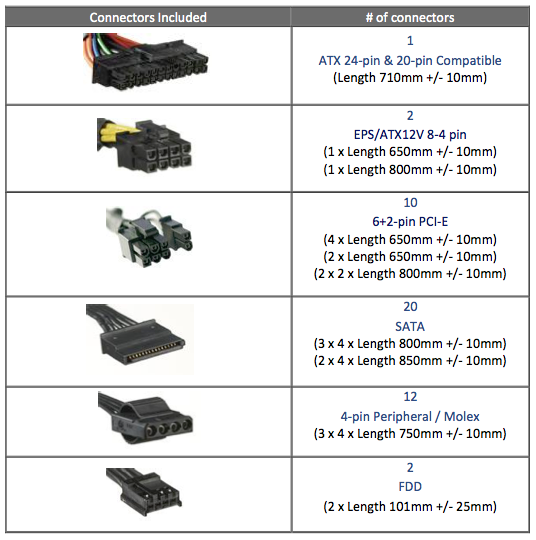 We certainly can't complain about a shortage of cabling! The AX1500i power supply ships with a total of ten 6+2 pin PCI-E cables, which will cover the most extreme of system builds. All of the cables are the newer 'ribbon' style, which are easier to route and hide. Perfecto.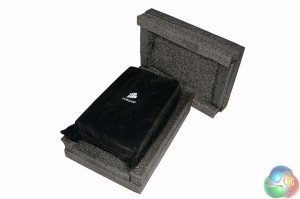 Finally, a closer look at the power supply itself. The Corsair AX1500i Digital ATX unit ships protected inside a felt bag, which is encased between two very thick foam blocks. Unless the courier plays basketball with the box, we can't imagine anyway for the power supply itself to receive damage during shipping.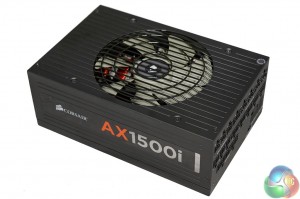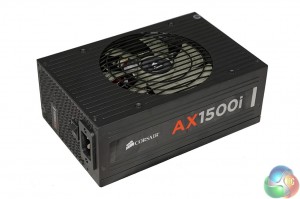 We love the appearance of the Corsair power supplies. Their sublime use of two tone colour labeling systems, with a stylish choice of font ensure they fit in well with any system build. It measures 225mm and is one of the biggest power supplies we have tested. You will need to be sure that your case can handle this behemoth chassis – AeroCool Dead Silence users need to look elsewhere.
The paint work is matte black and is painted very thickly on the chassis. This unit passed our screwdriver test with flying colours. We run the head of a Philips screwdriver down the side of the chassis with light to moderate force. How many times have you accidentally 'connected' with a power supply during a system build? Full marks to Corsair for the build quality of the AX1500i chassis.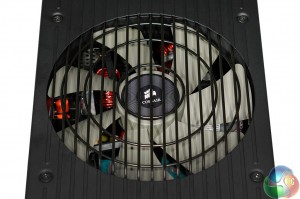 A large 140mm fan can be seen hiding behind the metal grill on the top of the chassis. Corsair branding is visible in the center. We will look at the fan in more detail when we crack open the unit shortly.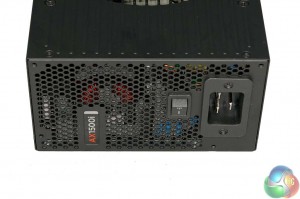 One side of the unit is vented to help enhance air flow. There is a heavy duty power connector on the side, alongside a power switch. Corsair include a small plate with the name of the product printed vertically.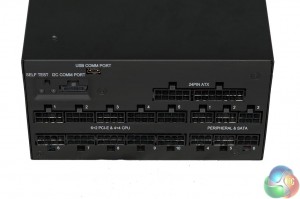 The Modular panel supports up to 18 cables. They are all clearly labelled. There are two Comm port connectors which support the Corsair Link cables we mentioned earlier in the review. There is a self test button in this section and LED indicators underneath.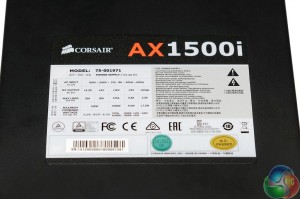 Corsair AX1500i Digital ATX Power Supply

DC Output

+3.3V

+5V

+12V

-12V

+5Vsb

Max Output

30A

30A

125A

0.8A

3.5A

Total Power
180W
1500W
9.6W
17.5W
1500W
The Corsair AX1500i can deliver 125Amps of power to the +12V rail. The +3.3V and +5V output can each supply 30A of power.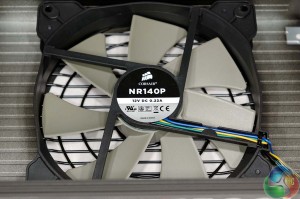 The 140mm fan is branded with a Corsair sticker (model number NR140P). We know this fan incorporates fluid dynamic bearings and our guess? It would be a Hong Hua design. The fan is rated to a maximum speed of 1,800 rpm / 0.22A (2.6 watts) at 12 VDC.
The fan is controlled via PWM and is set to remain inactive until a power demand of 30% or higher is required. This will in part however be effected by the ambient temperature. Therefore while people in a cool climate will have a silent running unit to around 450 watts, others may see some fan activity before this.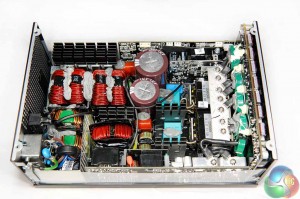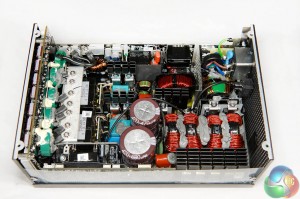 We weren't surprised to see that Corsairs partner for this design is Flextronics. While they are not as big a name as say Delta, Superflower or Seasonic all of their designs we have tested in the past have been exceptionally good.
The soldering on the board is superb, and the layout while very crammed, is clean and built to the highest standards.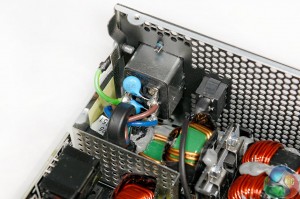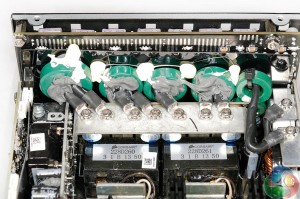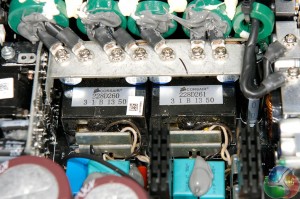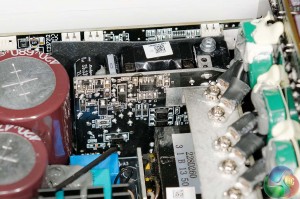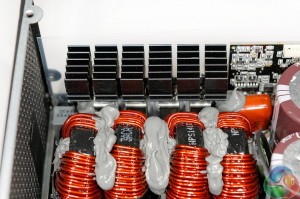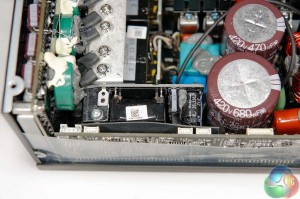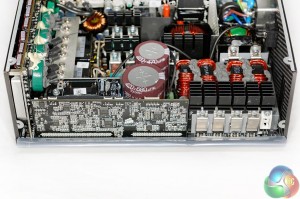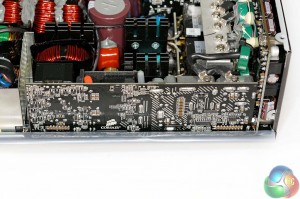 The power supply is DSP controlled, and features isolated interleaved fix duty half bridge LLC converters for both 12V and 5V rails and DC to DC for the 3.3V rail. The modular PCB is using an advanced 4 layer to ensure a better ground return plane, low voltage drops and lower resistance. When combined with circuit trace optimisation this can help reduce noise and improve ripple suppression.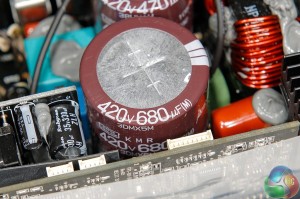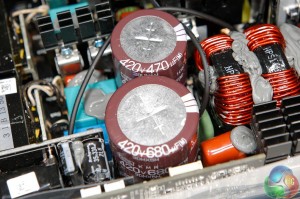 The Flextronics design is using the highest grade Japanese capacitors throughout. The Primary stage capacitors are 105c rated, from Nippon Chemi Con. One is 420V 680uF and the other 420V 470uF. You can see higher resolution pictures of the power supply on the next page.
On this page we present some super high resolution images of the product taken with the 24.5MP Nikon D3X camera and 24-70mm ED lens. These will take much longer to open due to the dimensions, especially on slower connections. If you use these pictures on another site or publication, please credit Kitguru.net as the owner/source.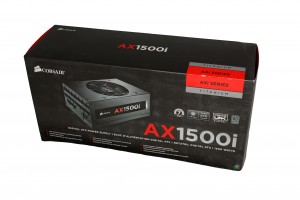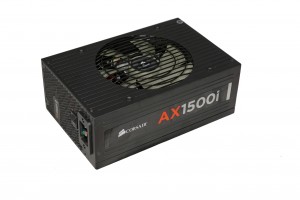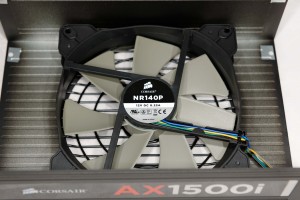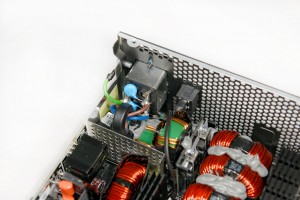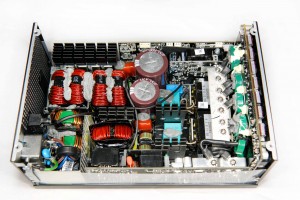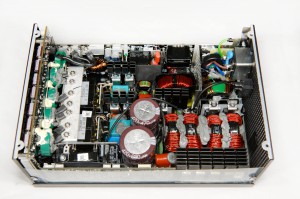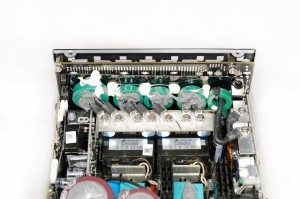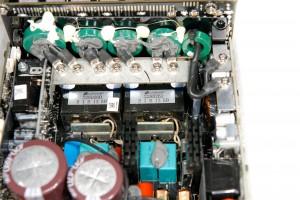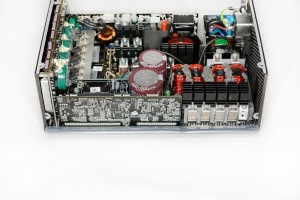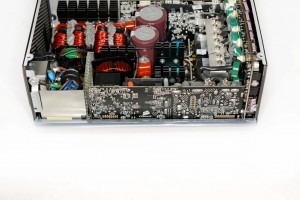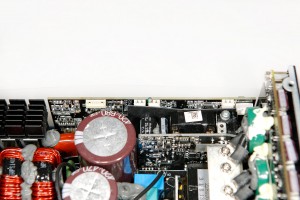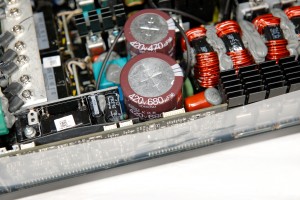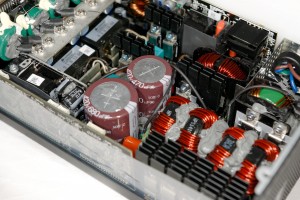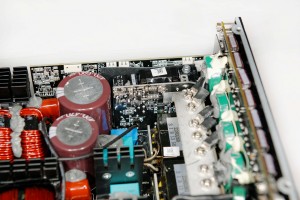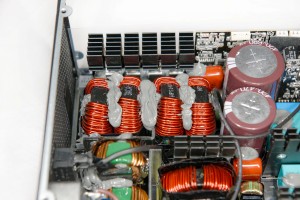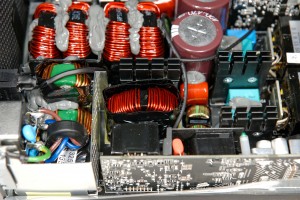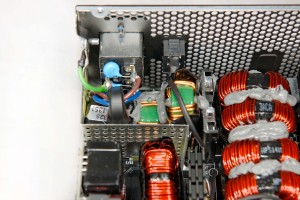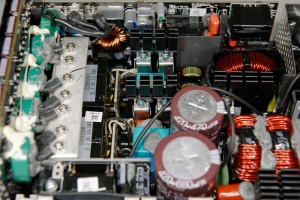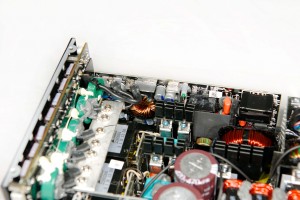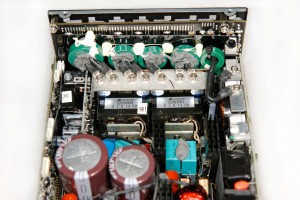 Additional technical assistance: Peter McFarland and Jeremy Price.
Correctly testing power supplies is a complex procedure and KitGuru have configured a test bench which can deliver up to a 2,000 watt DC load. Due to public requests we have changed our temperature settings recently – previously we rated with ambient temperatures at 25C, we have increased ambient temperatures by 10c (to 35c) in our environment to greater reflect warmer internal chassis conditions.
We use combinations of the following hardware:
• SunMoon SM-268
• CSI3710A Programmable DC load (+3.3V and +5V outputs)
• CSI3711A Programmable DC load (+12V1, +12V2, +12V3, and +12V4)
• Extech Power Analyzer
• Extech MultiMaster MM570 digital multimeter
• Extech digital sound level meter
• Digital oscilloscope (20M S/s with 12 Bit ADC)
• Variable Autotransformer, 1.4 KVA
12V output is combined for our testing.
DC Output Load Regulation

+3.3V

+5V

+12V

+5VSB

-12V

A

V

A

V

A

V

A

V

A
V

500W

7.60

3.33

8.80

5.03

36.02

12.01

1.5

5.00

0.30
-12.01

750W

12.61

3.32

14.12

5.02

52.03

12.00

2.0

4.98

0.30
-12.02

1000W

17.72

3.31

20.02

5.01

72.23

12.00

2.5

4.97

0.50
-12.03
1250W
18.82
3.30
24.05
5.00
90.12
11.98
3.0
4.94
0.60
-12.03

1500W

18.85

3.29

22.62

4.98

115.90

11.98

3.5

4.92

0.80
-12.04
Load regulation is absolutely stellar, all rails hold tight across the board.
Corsair AX1500i Digital ATX Power Supply

Maximum Load
1622W
We managed to get the PSU to achieve 1622W before it would shut down, delivering around 122W more than the rated specifications.
Next we want to try Cross Loading. This basically means loads which are not balanced. If a PC for instance needs 500W on the +12V outputs but something like 30W via the combined 3.3V and +5V outputs then the voltage regulation can fluctuate badly.
Cross Load Testing
+3.3V
+5V
+12V
-12V
+5VSB
A
V
A
V
A
V
A
V
A
V
1150W
3.0
3.33
2.0
5.02
92.0
11.98
0.2
-12.01
0.50
5.00
250W
20.0
3.29
24.0
4.97
5.0
12.02
0.2
-12.02
0.50
4.98
The power supply stormed through the the cross loading tests, falling well within safe parameters, even when hit with 92A on the +12V output.
We then used an oscilloscope to measure AC ripple and noise present on the DC outputs. We set the oscilloscope time base to check for AC ripple at both high and low ends of the spectrum.
ATX12V V2.2 specification for DC output ripple and noise is defined in the ATX 12V power supply design guide.
ATX12V Ver 2.2 Noise/Ripple Tolerance

Output

Ripple (mV p-p)

+3.3V

50

+5V

50

+12V1

120

+12V2

120

-12V

120

+5VSB

50
Obviously when measuring AC noise and ripple on the DC outputs the cleaner (less recorded) means we have a better end result. We measured this AC signal amplitude to see how closely the unit complied with the ATX standard.
AC Ripple (mV p-p)
DC Load
+3.3V
+5V
+12V
5VSB
500W
5
5
5
5
750W
5
5
5
5
1000W
5
5
15
5
1250W
10
5
15
5
1500W
10
10
20
10
These ripple results are some of the best we have seen to date, showing that Flextronics really do know how to make a high end power supply. Corsair claimed slightly worse figures than these in their own literature — very impressive.
Efficiency (%)

500W

94.35

750W

95.93

1000W

95.92

1250W

95.87

1500W
93.98
The efficiency ratings are superb, peaking at close to 96% between 50% and 60% load.
We take the issue of noise very seriously at KitGuru and this is why we have built a special home brew system as a reference point when we test noise levels of various components. Why do this? Well this means we can eliminate secondary noise pollution in the test room and concentrate on components we are testing. It also brings us slightly closer to industry standards, such as DIN 45635.
Today to test the power supply we have taken it into our acoustics room environment and have set our Digital Sound Level Noise Decibel Meter Style 2 one meter away from the unit. We have no other fans running so we can effectively measure just the noise from the unit itself.
As this can be a little confusing for people, here are various dBa ratings in with real world situations to help describe the various levels.
KitGuru noise guide
10dBA – Normal Breathing/Rustling Leaves
20-25dBA – Whisper
30dBA – High Quality Computer fan
40dBA – A Bubbling Brook, or a Refrigerator
50dBA – Normal Conversation
60dBA – Laughter
70dBA – Vacuum Cleaner or Hairdryer
80dBA – City Traffic or a Garbage Disposal
90dBA – Motorcycle or Lawnmower
100dBA – MP3 Player at maximum output
110dBA – Orchestra
120dBA – Front row rock concert/Jet Engine
130dBA – Threshold of Pain
140dBA – Military Jet takeoff/Gunshot (close range)
160dBA – Instant Perforation of eardrum
Noise (dBA)

500W

<28.0

750W

29.4

1000W

31.8

1250W

33.6

1500W
34.8
Below 500watts the fan wasn't spinning during our tests, and the noise rated as 'silent' (less than 28dBa which is the realistic limit of our meter). The fan spins up slowly and even at 750 watts, it is barely audible at all, completely drown out by a single CPU cooler fan. At 1000W the fan spins up a little more, and becomes audible around 1250 watts. At full 1,500 watt demand, the fan spins around 1,700 rpm, and measures 34.8dBa. This is still quiet and a remarkable result when considering it is delivering 1,500 watts!
Temperature (c)

Intake

Exhaust

500W

36

40

750W

38

43

1000W

41

48

1250W

45

53

1500W

48

57
The large fan copes with the heat inside the chassis, undoubtedly aided by the superb efficiency of the design.
| | |
| --- | --- |
| Maximum load | Efficiency |
| 1622W | 93.1 |
At 1667W, the efficiency level is still good, measuring 91.5%. Not a practical situation to be running 24/7, but worth noting.
The Corsair AX1500i Digital ATX Power Supply is quite remarkable. This is the first power supply we have tested that has achieved 80 Plus Titanium certification. Our tests show it did indeed pass Titanium rated efficiency levels, which is especially notable considering the 1,500 watt output.
Flextronics may not have a big name in the OEM sector, but if they keep producing designs to this level they will be surely start to get a lot more recognition by the high end enthusiast audience.
The Corsair AX1500i supply exhibits no weaknesses and passed all our tests with flying colours. Voltage regulation is simply remarkable and it handled our intensive cross loading test without a problem. Ripple suppression is also class leading – I don't think we have seen any results close to this especially for a unit delivering 1,500 watts of power.
While many people considering a 1,500 watt power supply would be willing to live with a fair amount of fan noise, one of the most remarkable aspects of testing the AX1500i this week was the complete lack of noise. Even when handling 1,500 watts of power, the large fan was only emitting between 34 and 35 dBa of noise. Many power supplies we have tested in the last year are louder when dealing with only 50% of this output demand.
While the technical data is the most important criteria when considering a power supply at this level, Corsair's presentation does deserve mention. The box artwork, bundle and accessories immediately instill a feeling of owning a quality, exclusive product. The Corsair link system is also a lovely addition, as you can monitor and adjust settings within Windows.
We have yet to receive confirmed UK pricing, but Corsair told us that USA pricing is set at $449.99. A quick currency conversion check today indicates a UK price of £267 pre VAT. Adding 20% UK vat (£54) put the final price around the £320-£325 mark. Ripoff Britain is just something we have to deal with.
It is a lot of money to spend on a power supply, but we would imagine if you just bought two AMD R9 295X2 graphics cards, or have four Nvidia GTX Titan Black GPU's, that another £320 won't cause a problem for the bank manager. 10 PCIe cables ensure support for the most hardcore of system configurations.
Discuss on our Facebook page, over HERE.
Pros:
Voltage regulation.
efficiency results are class leading.
self diagnostic feature.
Corsair Link.
Single +12V output up to 125A.
Ten PCI-E connectors.
7 year warranty.
fully modular.
built to the highest standards, both outside and in.
Cons:
None that we can think of – if you can afford it that is.
Kitguru says: The Corsair AX1500i has just issued a serious statement. The best high end power supply ever? It would be difficult to argue against.