There's a lot of R&D going into driverless vehicles right now, with the likes of Google, Baidu and many more traditional auto-makers all pushing to become the first to offer a truly driverless experience on the roads. As much as they're pushing for cars though, others believe the first self-piloted vehicles will be much bigger, like Daimler's automated 18 wheelers. While not quite ready for sale, they've just been given approval for testing on the relatively straight and empty roads of Nevada.
While a driver will still need to be present in the cab at all times during testing, it's thought likely that they will rarely need to step in and seize control of the trucks. They've already been tested as capable of driving near and across the much twistier Hoover Dam, only requiring assistance at some of the sharper or more complicated turns.
Another reason Nevada was chosen was thanks to its regular weather patterns. As long as the skies remain clear, the automated vehicles can read road markings to orient themselves, as well as utilising forward facing cameras to keep an eye out for other vehicles. The roads between major townships are also relatively free from populated areas, thereby reducing the risk to bystanders should something go wrong.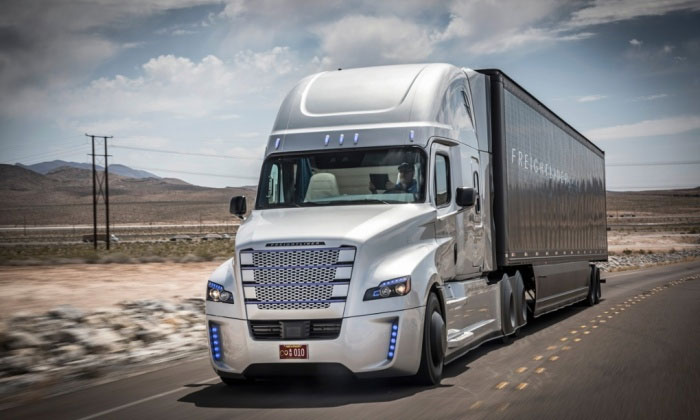 While in discussion about the technology, Daimler board member Wolfgang Bernhard said (via the Guardian), that he thought using long-distance haulage vehicles as a testbed for automation on the roads would be a good place to start, since they required less manoeuvrability than more consumer focused vehicles.
Even with this forward thinking however, Daimler doesn't think we'll see these lorries made commercially available until the mid-2020s, which is the same time that car manufacturers believe the first all-roads driverless cars will be ready too. Motorway only self-piloted cars on the other hand, could be ready for sale by as early as 2017.
Discuss on our Facebook page, HERE.
KitGuru Says: Even though one day I'm sure we'll miss the freedom that a car and an open road gives you, for day to day driving, automation is going to be a godsend.
Image source: Daimler