Facebook has been at the forefront of people using their real names on the internet since its inception. However as time has gone on, it's received more and more pressure from certain groups to allow for the occasional use of faux-names to cater to different lifestyle choices. To try and have the best of both worlds, Facebook will now allow users to verify names with a little more context.
"On Facebook, we require people to use the name their friends and family know them by. When people use the names they are known by, their actions and words carry more weight because they are more accountable for what they say, " the site clarified in a blog post. It was still firmly committed to this stance it said, but would add some caveats.
It's all about context, we're told. When it comes to reporting fake names, users will now be asked to provide a little information on why they think the name is fake. That context will extend to verifying names too, so those with special circumstances that might require a separate name to avoid persecution, could tell Facebook that that's why they aren't using their given birth name.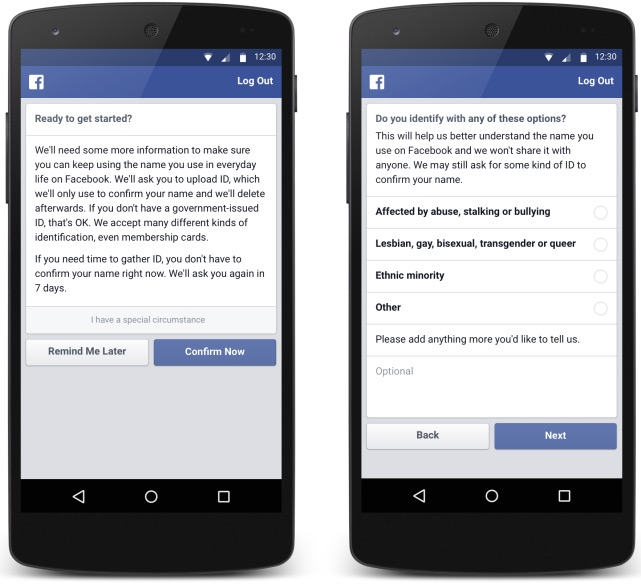 This is just the start though we're told. Facebook has plans for the new year where it will implement measures to limit the numbers that it requests verify their identity and there will be a new system where they can continue to access their account for seven days while the verification process takes place.
New security measures are also being put in place to make sure that any documents sent to Facebook to prove a person's identity (that might reveal them to a dangerous regime or organisation) are kept confidential. The whole experience will also be made more "compassionate," we're told.
All tools and changes will be trialled in the U.S. first, before being rolled out internationally.
Discuss on our Facebook page, HERE.
KitGuru Says: Facebook's job is not an easy one. It has to try and balance a service for over a billion people, many of whom live in drastically different societies and have massively different needs and desires.