Facebook has bought-out Oculus VR, there's no getting around it. Whether like Notch, you're mad and want nothing to do with it any more, or if you're one of the few who see the added financial backing from the social networking giant as a great leg up for virtual reality, nobody really knows how Facebook is planning to make any money from Oculus. However, we might have gotten a hint from yesterday's Facebook conference call about the announcement: it could to be through advertising.
Facebook has plans to make the Oculus Rift a piece of kit that can let users experience doctor visits in first person, watch sporting events, hang out with friends and all sorts of other activities, beyond just gaming. To help make accessing these as easy as possible, it wants to create a hub for all VR experiences, including games. It's there that you'll likely find the adverts, though what form they'll take is anyone's guess.
One of the big things that's obvious from the conference call too, is Oculus and Facebook's interest in developing a social experience through VR, where people meet and hang out. I could certainly see it offering a virtual facetime equivalent that could take VOIP communication to a whole new level.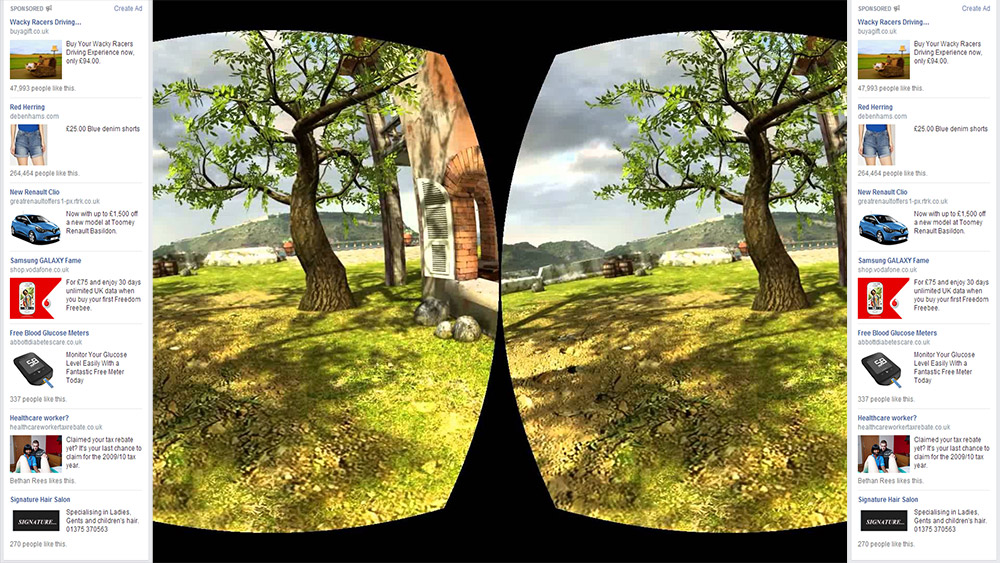 At least it doesn't sound like anyone's planning to do this. 
"We're clearly not a hardware company, we're not going to make a profit on the hardware long term," said Mark Zuckerberg towards the end of the call. "We view this as a software and services thing, where this becomes a network where people are communicating […] buying things and virtual goods […] there might be advertising in the world, but we'll figure that out further down the line."
However, another Facebook spokesperson did mention soon after, that Facebook hadn't made any concrete plans for monetisation and in the short term would focus on making the hardware affordable and more readily available to consumers. The company sees it as at least, a five year plan.
If you want to hear it straight from the horses' mouths, you can listen to the call here. Skip to 26:30 to hear the full answer to the question on monetisation.
KitGuru Says: While the idea of a central hub is a good one, since transitioning between Rift experiences at the moment can be a real pain, the advertising seems like a shame. That said, as long as it isn't Youtube style pre-content adverts, or banners down the side of the game screen, I could probably live with it. 
What about you guys?
[Thanks to
Oculus forum user Rawman
for the heads up]