The Streacom DB4 chassis is an innovative idea and a blueprint for future success.
Having an entirely passively cooled PC – there was not a single fan to be found in the pre-built system sent to me – is a very cool idea. We have seen it before, but not to this level – forget Celerons and Pentiums, the DB4 cools a proper Core i7-6700 CPU.
However, the thing is, it only cools such a CPU partially. Under 100% load, the CPU throttled back to 2.9GHz, 500MHz short of its base clock, with temperatures on all 4 cores hitting 100 degrees. Fair enough, while idling the temperatures are fine – but the DB4 does not really live up to its 65W TDP rating, given the i7-6700 has the same TDP yet it throttled back after hitting extremely high temperatures.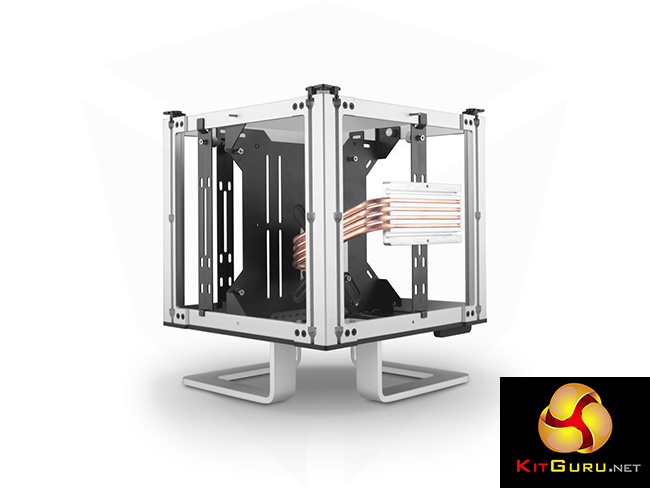 Nonetheless, this system could still work very well for a less-powerful CPU. A Core i3 being used by an office worker, for example, would not be stressed anywhere near 100% load, ensuring a cool yet quiet system.
The DB4 suffers in other areas, though – primarily, it is very impractical to access the motherboard I/O. This is because all connectivity ports are located on the underside panel, meaning you have to lift up the chassis to gain access.
Theoretically you could still plug in a USB drive without raising the case up, but it would be near impossible as you would be doing it blind, and in a confined space.
To be essentially required to lift up a case just to access the I/O panel is a big error, as it is just not practical. Nobody wants to lift up their whole PC just to plug in a USB drive.
Because of that, it is hard to recommend the Streacom DB4. It does present a promising glimpse of the future – where a similar case could succeed at keeping a CPU in check at 100% load, for example. In it's present guise, however, the DB4 has a couple of big issues which need to be ironed out before it can be considered a success.
Update 24/02/2017, 14.42: Streacom got in touch with us to say that using thermal paste instead of thermal pads in the DB4 results in much improved performance. However, we are unable to verify this at this stage, so we must stand by our original review.
You can pick one up from Quiet PC for £269.99 HERE. Alternatively, fully-built systems that use the DB4 are available from £999 HERE.
Pros
Entirely passive.
Compact.
Sturdy aluminium construction.
Cons
Does not live up to its 65W TDP.
Very impractical to access I/O panel.
KitGuru says: While it is impressive to have an entirely fanless chassis, the DB4 is its current form needs some tweaking to be considered a real success.