Removing the side panel of the case is very easy indeed thanks to the plastic-coated thumbscrews that Aerocool have chosen to use.  These are much easier to grip than standard thumbscrews … making it significantly easier to remove them.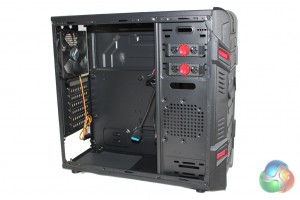 The inside of the case is painted entirely in black, which will make it easy to colour co-ordinate component selections.  This is good to see on a case at this price point.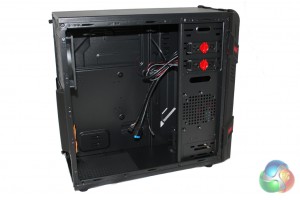 The drive bays are located over on the right hand side of the system.  There is room for two 3.5″ drives and one 2.5″ drive, meaning you are quite restricted in your choice of storage configuration.  We wouldn't think the target audience would be installing an array of hard drives in this case.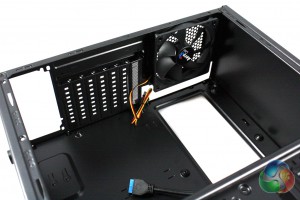 There is a large cut out area in the motherboard tray to facilitate CPU cooler installation, although we would usually recommend attaching it to the motherboard before installing it into the case.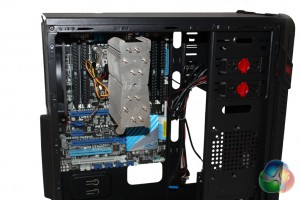 Installing the motherboard into the case is a very simple process.  Stand-offs aren't required in this particular model, meaning you can put the motherboard straight in and screw it down into place.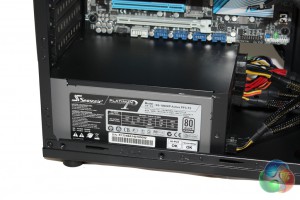 There is plenty of room for large power supplies in the base of the case, as well as a large space in the drive bay area which could be used to tidy up non-modular power supply cables.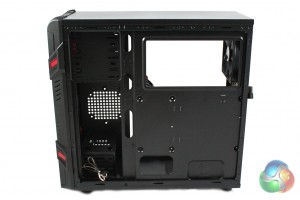 Unfortunately, there isn't a great deal of room behind the motherboard tray for cable routing but this cannot really be expected at this price point.  There are a few holes cut into the motherboard tray for the 24-pin power connector and to power the graphics card, as well as a small amount of room behind for these cables.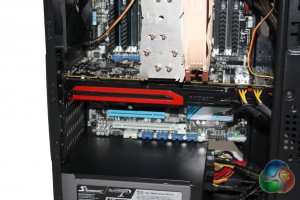 Installing the graphics card into the system is straightforward, although it can be a little fiddly, due to the location of the drive bays.  The expansion slot covers aren't replaceable, so you need to make sure you only remove the correct ones.