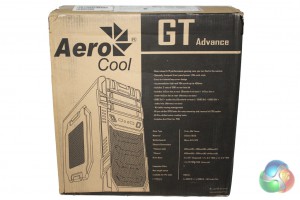 The GT Advance is supplied in a fairly simple brown cardboard box which is decorated in a simple black livery.  This livery features a large image of the case alongside a list of the key features and specifications.  The box isn't particularly high quality, but it should provide an adequate level of protection for the case within.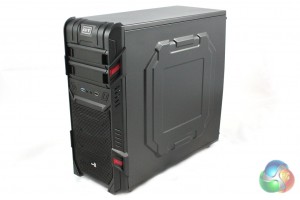 It's clear that Aerocool have designed this case with gamers in mind as it has a distinctive design, incorporating LED lighting and various stylistic design elements.
The construction of the case is a combination of SECC steel and plastic, which is what we would expect at this price point.  The steel used isn't particularly thick, but the case feels fairly sturdy.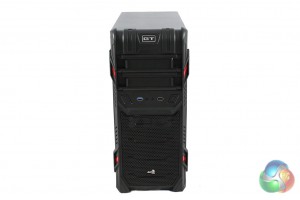 There is a large intake vent in the front of the case, below the two 5.25″  expansion bays.  This intake vent is populated with a 120 mm fan to suck cool air into the front of the case.  The front panel connections are located around half way up the front of the case, and consist of one USB 3.0 connector, one USB2.0 connectors and headphone and microphone jacks.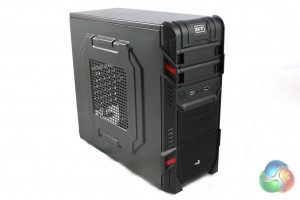 The top of the case consists of a solid panel of metal, as there are no air vents in the roof.  We wouldn't think this will be an issue for the target market of this case as adding fans into the top would be an additional cost.
Aerocool have cut a large vent into the side panel of the case for ventilation, though, which also features mounting points for a 200 mm fan.  We doubt that many users will populate this vent, but it should provide a decent level of ventilation for graphics cards.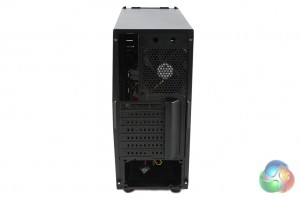 Moving round to the rear of the case, we find a fairly standard layout, consisting of a 120 mm exhaust fan vent and seven expansion slots.  As you might expect from a budget-focused case, the covers aren't replaceable.  So once you've removed them, they cannot be replaced.