I was impressed by the Antec Nineteen Hundred however it rapidly became clear this case is aimed at a select group of system builders. The enormous size of the case and in particular the height are simultaneously the main feature and the biggest problem.
On the one hand you can install any motherboard and combination of graphics cards with ease. On the other hand you'll have to buy extension cables for your power supply and the cabling for the case fans could do with some attention. Having said that I was impressed by the way the six 120mm case fans keep the system cool with the minimum of noise.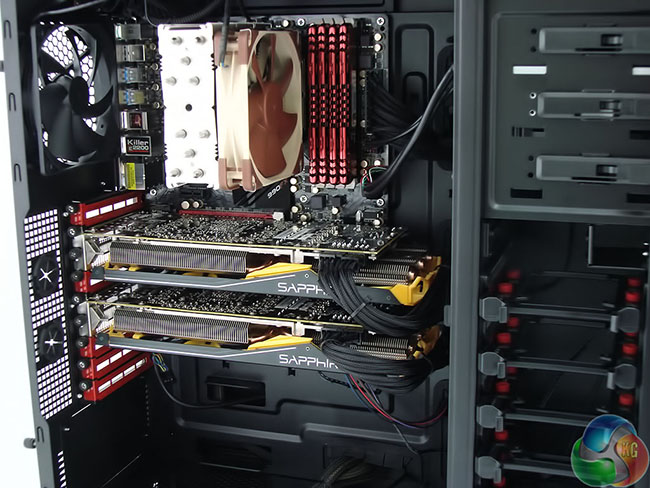 I really don't understand why Antec has supplied a dozen 3.5-inch drive bays. No doubt someone, somewhere will use this feature but how many gamers want more than the tiniest number of data drives that use spinning rust? Far better, surely, to ditch some of the drive bays and open up some space around the lower power supply.

Using steel construction for the Nineteen Hundred was a sensible and pragmatic decision by Antec as the case is impressively solid and doesn't suffer from panel buzz or resonance.
Discuss on our Facebook page, over HERE.
Pros:
Massive amounts of space for E-ATX hardware.
Huge number of drive bays.
Superb cooling.
Low noise levels.
Supplied with six 120mm fans.
Smart appearance.
Solid construction, no sharp edges, quality steelwork.
Option of dual power supplies.
Cons:
Package should include power cable extensions.
3.5-inch drive bays are fixed in place.
Installing a lower power supply is fiddly.
Restricted to 120mm fans.
Cable management could be improved.
KitGuru says: A stylish full tower case that delivers epic cooling, however there is scope for improvement.