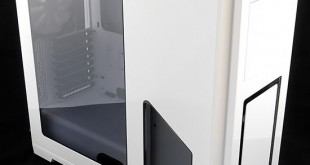 The new Enthoo Luxe tower case fills a gaping chasm in the Phanteks range between the £199.99 Primo and the £89.99 Pro (£79.99 without window). Priced at £129.99, the Luxe delivers a set of features that are similar to the Pro, however there are a couple of significant changes to the specification as the Luxe includes a lighting system and also has an extra fan. In addition the cosmetics have been given a significant overhaul and while there are obvious similarities the Luxe looks quite different to the Pro.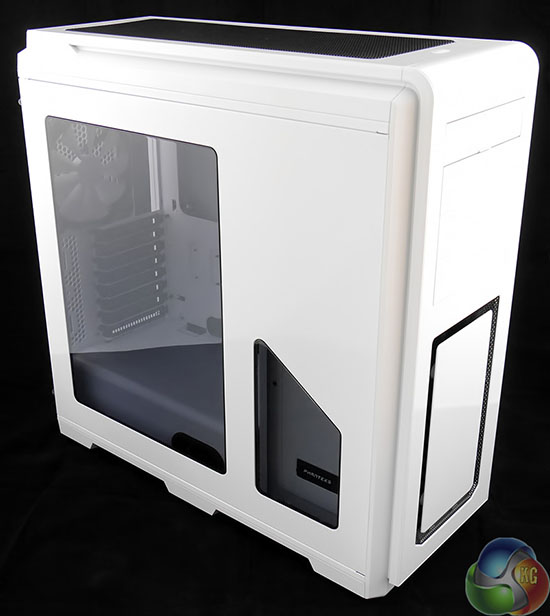 Specifications:
Motherboard support: E-ATX, ATX, Micro-ATX.
Expansion slots: 8.
Included fans: 1x 200mm front intake, 2x 140mm rear/top exhaust.
Fan mounts:

Front: 2x 120/140mm or 1x 200mm roof.
Top: 3x 120/140mm or 1x 200mm roof.
Rear: 1x 120/140mm
Bottom: 2x 120 or 1x 140mm
Hard drive tower: 2x 120mm
120mm radiator mounts: up to 240mm front, up to 360mm roof, 120mm rear, up to 240mm bottom
140mm radiator mounts: up to 420mm roof, 140mm rear, 140mm bottom
5.25″ drive bays: 3
Internal drive bays: 6x 3.5/2.5″, 1x 2.5″.
Dimensions: 560mm H x 550mm D x 235mm W.
Key features:
Removable PSU cover
Removable 3.5-inch drive bays
Pre-installed hook and loop cable ties
Compatible with a huge array of fans and liquid cooling systems
Two Drop-n-Lock SSD brackets
Dust filters at the top, front and bottom
PWM hub
Supplied with 200mm front fan and two 140mm fans at the rear and top