For stress testing we use a mixture of Prime95 and FurMark to create the maximum heat output. Prime95′s 'Small FFTs' setting allows us to stress our CPU. FurMark's 'GPU Burn-in' mode creates the maximum amount of load our GPU is ever likely to see.
Test System:
Processor: 3.9GHz Intel Core i7-4770K
Motherboard: ASRock Z87 Extreme4
CPU cooler: Noctua NH-D15 and Corsair H100i
Memory: Avexir 1600MHz RAM
Graphics card: Sapphire Radeon Tri-X R9 290 4GB
Power supply: Akasa Freedom Power 1000W
Storage drives: Sandisk Extreme SSD and Seagate Barracuda HDD
OS: Windows 7 Professional 64-bit.
Thermal Performance Test Procedures:
The Phanteks Enthoo Luxe's fan configuration is: 1x 200mm front intake, 1x 140mm rear exhaust fan (one 140mm fan removed, Corsair H100i with 2x 120mm fans installed).
The fans are operating at full speed.
We allow the system to idle for 15 minutes and record the stable temperatures.
We allow the system to operate under extreme stress for 15 minutes and record the stable temperatures.
Assess cooling.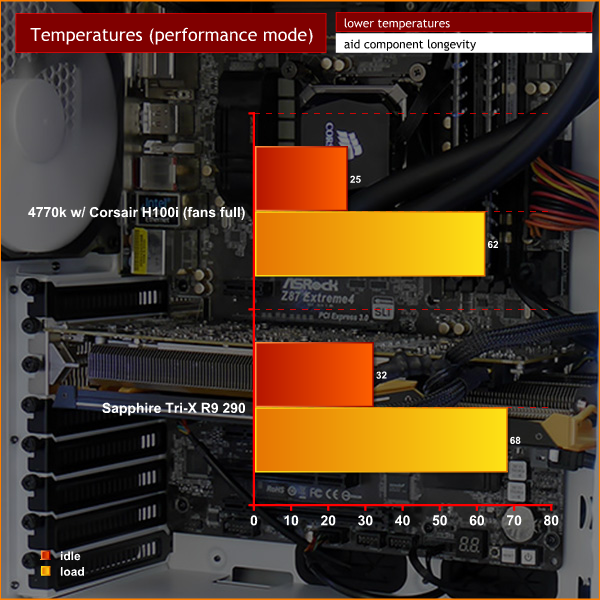 The Enthoo Luxe does a superb job, but I wouldn't have expected anything less with a huge 200mm case fan at the front, a 140mm fan at the rear, two 120mm fans on the liquid cooler, a hefty fan in the power supply and dual fans in the graphics card.
Added to that the case is heavily perforated and has excellent air flow. The final touch is that the power supply is shrouded which means the air flows around the CPU and graphics card with the minimum of interruption.
You can use the Enthoo Luxe loaded with full-on gaming hardware and be confident it will run at pleasingly low temperatures.
Acoustic Performance Test Procedures:
We placed our Digital Sound Level Meter one metre away from the case.
The case fans are set to maximum speed.
The CPU cooler's fans are deactivated.
The Phanteks Enthoo Luxe's default fan configuration is: 1x 200mm front intake, 2x 140mm rear exhaust fans however I removed one of the 140mm rear fans when I installed the Corsair H100i liquid cooler.
Acoustic Performance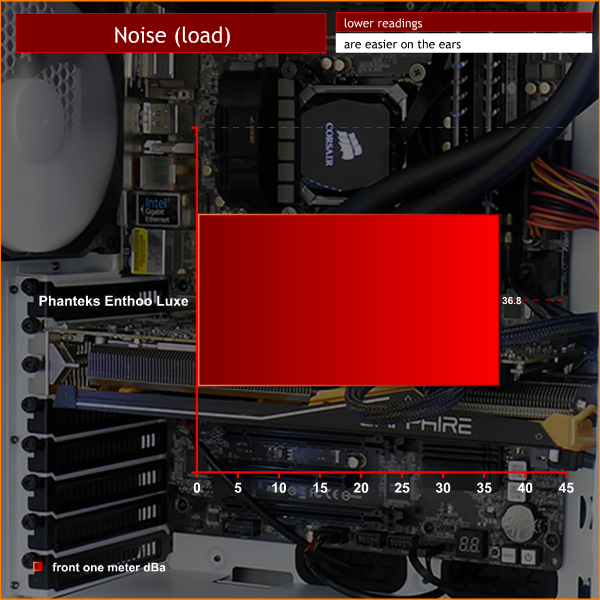 Noise levels are not quite as low as I would have liked, however this a direct trade-off with cooling. For one thing the Luxe is heavily perforated, and where you have air flow you also have noise. The other negative is that Phanteks hasn't used any noise deadening material in the side panels.
Having said that, the noise levels are well within tolerable limits and in no way count as a problem.