Coming in as a successor to the legendary Hyper 212 EVO, the Cooler Master Hyper 212 LED certainly has big boots to fill.
Things get off to a very good start, though, as Cooler Master have tweaked the mounting mechanism – it is now much simpler. I remember installing the original 212 EVO a few years ago in my first PC and it was very frustrating. Not so with the 212 LED – the instructions are clear and simple, making the installation process a doddle.
Performance with the CPU at stock speeds is superb, too. A peak temperature reading of 53 degrees from our i7-4790K is excellent – beating out a 240mm watercooler from Antec, for example.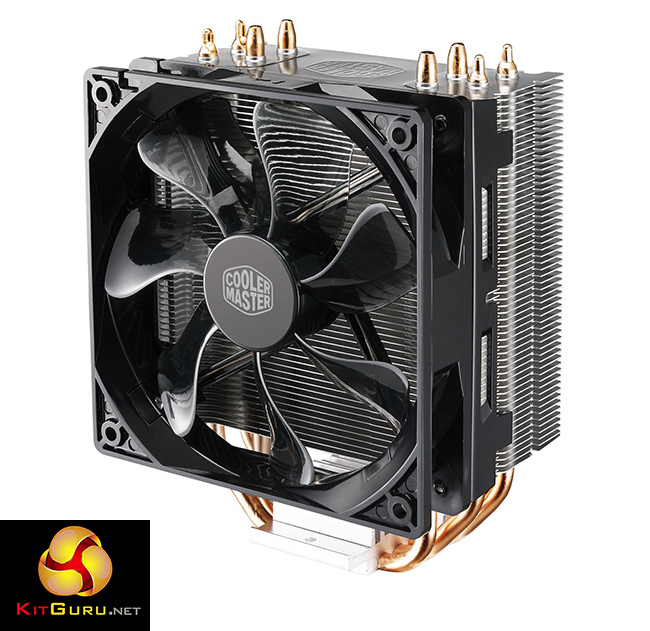 When we overclocked the CPU to 4.5GHz, we found the relative performance is not as good, though – but it is still very respectable. Nonetheless, the Arctic Freezer i32 does offer slightly better raw performance if you want to overclock your CPU with an air cooler.
Noise levels are exceptional, however – at idle I simply could not hear the fan spin, and under load it is still very quiet.
As such, we can wholeheartedly recommend the new Cooler Master Hyper 212 LED air cooler. It is especially excellent if you do not plan to overclock your CPU, with an easy mounting mechanism and low noise levels. It is slightly bettered by the Arctic Freezer i32 if you do want to overclock, though, so bear that in mind. But for a cheap, good-looking and thoroughly decent air cooler, you could do a whole lot worse than the 212 LED.

You can pick one up from OverclockersUK for £30.95 HERE.
Pros
Easy to install.
LED fan is funky.
Extra fan clips are included for push/pull.
Excellent stock-speed performance.
Very quiet.
Cons
The Arctic Freezer i32 would be a better option if you want to overclock your CPU.
KitGuru says: For anyone who does not want to overclock their CPU, the Hyper 212 LED is an excellent cooler. If you do want to overclock, though, you would be better off with the Arctic Freezer i32.