The Cooler Master MasterFan Pro RGB fans come in dark grey boxes with a large product photo visible on the front. For this review we were sent 1x 120mm Air Flow model, and 1x 140mm Air Flow model.
Inside each box, we find 4x fan screws – but that's it for accessories.

The fans themselves look quite ordinary when they are taken out of the box. The translucent fan blades are set in a black housing, while you can also see the bearing in the middle of the fans.
The actual LEDs are also placed around the middle of the fan, not in the corners. We will obviously take a good look at all of the effects and lighting options available on the next page.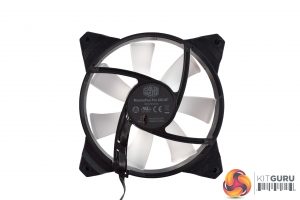 On the underside of each fan, the most interesting thing is a small switch placed directly behind the fan's central hub. This switch allows you to change between red-only, blue-only and RGB LED modes – so if you just want to set your fans to red or blue, you can do that via the small switch instead of using any software.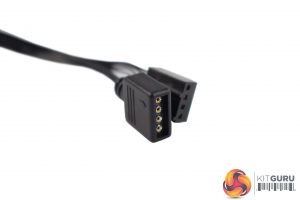 Each fan has a single 60cm cable which splits into two connectors: one female 4-pin RGB header, and then one standard 4-pin fan header.
Alongside the fans themselves, Cooler Master also sent us their proprietary fan controller. You can use the fans with your motherboard's own RGB software – the fans support all of the different standards like Aura, Fusion and Mystic etc – but there is also the option to control the RGB LEDs with this hub for an extra £29.99. This is obviously ideal for those who do not have any RGB headers on their motherboard and have to go a different route.
Our controller arrived in a plain white box, though retail products will undoubtedly ship in different boxes, and it is essentially a small hub which connects everything together.
It is powered by a single SATA connector – something I would take over Molex every day of the week – and it sports 4x 4-pin headers which is how the fans connect to the controller.
There is also a single 3-pin header which is used by the USB cable.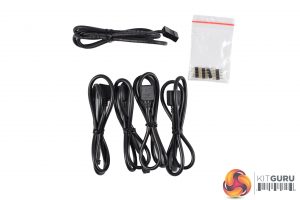 All the cables you need are included in the box: 4x fan cables, 1x internal USB cable and 4x RGB pin connectors.