The Cooler Master MasterFan Pro RGB series is a new collection of RGB fans designed to offer good performance, low noise levels and – of course – flashy RGB lighting.
As you can see in our video, the RGB lighting is very successful when using Cooler Master's own control box. There is the option to control the fans via a motherboard RGB header (and all motherboard manufacturers are supported), but Cooler Master's own controller and software does a very good job.
In terms of performance, I put them up against Corsair's ML Pro series, and the difference between the two is essentially negligible. That is a good thing, though, as it means you are getting solid performance and the added bonus of RGB lighting. The MasterFan Pro RGB fans are nice and quiet, too, thanks to their max speed of just 1100rpm.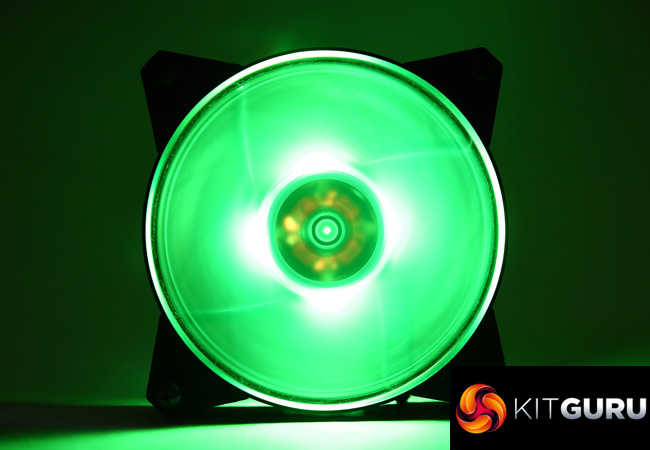 The only thing really that could count against these fans is actually the competition. I am looking at NZXT in particular, as its own Aer RGB fans tie in with the excellent Hue+ RGB lighting controller, and I do feel if you go down that route you are buying into more of an established eco-system as you could easily add in extra RGB LED strips down-the-line thanks to the Hue+ controller, while NZXT's own RGB AIO liquid coolers are also controlled using the same piece of software.
However, there is pricing to consider. Cooler Master's RGB fans cost £19.99 for 120mm variants and £24.99 for 140mm models, while the controller is £29.99. In comparison, NZXT's fans are about £30 a pop, while the Hue+ controller is £50. If you are looking to get some RGB action 'on the cheap', then there is no doubt Cooler Master's fans will appeal.
As such, we can conclude this review. The Cooler Master MasterFan Pro RGB series is very successful and offers a relatively low-cost entry into the world of RGB fans. It also has the benefit of being compatible with RGB motherboards so you can control the lighting direct from your own motherboard and do away with Cooler Master's own software.
If you are looking to just add in a couple of fans, I have no hesitation in recommending the MasterFan Pro RGB series. My only thought is those looking to go the whole hog and have LED strips, RGB fans and even RGB liquid coolers may want to consider NXZT's plethora of products, as you are definitely buying into a more mature and feature-rich platform.
You can buy the MasterFan Pro RGB fans from Overclockers UK HERE. Prices start at £19.99.
Discuss on our Facebook page, over HERE.
Pros
Good-looking LEDs.
Compatible with different motherboard manufacturers' own software.
Cooler Master's own software is easy-to-use and comprehensive.
Cheaper than other alternatives.
Nice and quiet.
Cons
NZXT's rival platform offers control for extra LED strips and even RGB liquid coolers.
KitGuru says: The Cooler Master MasterFan Pro RGB series is very successful. The fans themselves look good, the software is easy to use and you can even control the LEDs using your RGB motherboard. They are also very good value, though I would say NZXT's offerings are still worth considering as it is currently a more mature RGB platform.