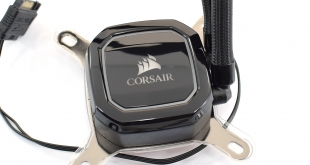 Over the last few years, Corsair has released a wave of 'smart' liquid coolers which give you control over things like pump speed, RGB lighting and fan profiles all via software. The H100x we are looking at today, however, is comparatively 'dumb' – there is no software control, no RGB lighting and nothing to play around with. In essence, it is a simple liquid cooler that 'just works'.
Many enthusiasts will know that Corsair's most recent coolers – the likes of the H100i V2, the H115i Pro and the H150i Pro – are manufactured by Asetek, an OEM which also produces coolers for Fractal Design, ThermalTake, EVGA, NZXT and more. The Corsair H100x, however, is made by CoolIt which makes it more interesting than it might otherwise appear.
Corsair hasn't said anything about why the H100x is not made by Asetek, but given this cooler costs just £79.99 – which is practically bargain basement by Corsair's standards – an educated guess would be that by partnering with CoolIt for the H100x, Corsair can offer a 'simpler' product without the bells and whistles of its bigger brothers, for less money.
Specification
Coldplate Material: Copper
Tubing Material: Low Permeation Rubber
Radiator Material: Aluminum
Radiator Size: 275mm x 120mm x 27mm
Fans Included: 2 x SP120 PWM Fans
Fan Speed: 600rpm – 1700rpm
Fan Airflow: 57.2CFM
Fan Static Pressure: 2.08 mm H20
Fan Noise Level: 28.3 dBA
Warranty: 5 Years
Intel socket compatibility: Intel LGA 1151, Intel LGA 1150, Intel LGA 1155, Intel LGA 1156, Intel LGA 1366, Intel LGA 2011, Intel LGA 2011-3, Intel LGA 2066
AMD socket compatibility: AMD AM2, AMD AM3, AMD AM4, AMD FM1, AMD FM2
Be sure to check out our sponsors store EKWB here