Temperatures
All temperature charts are sorted with lowest load temperatures at the top.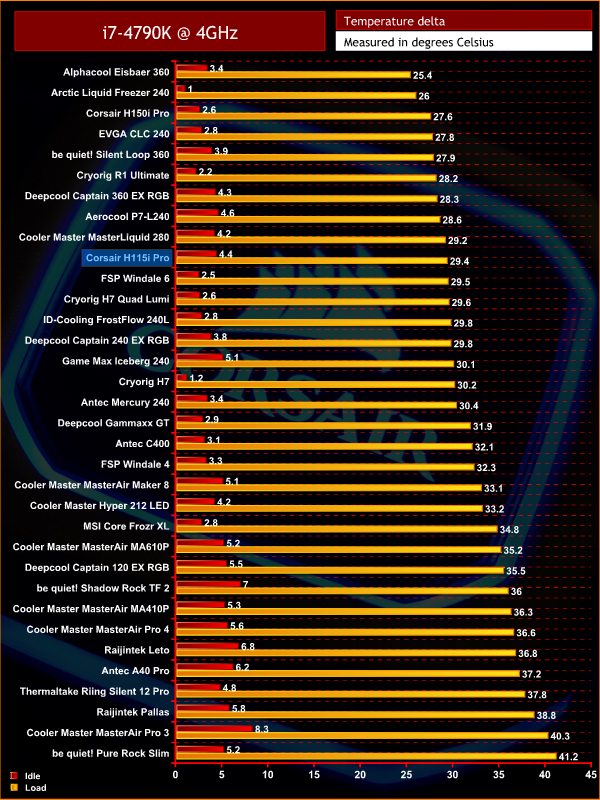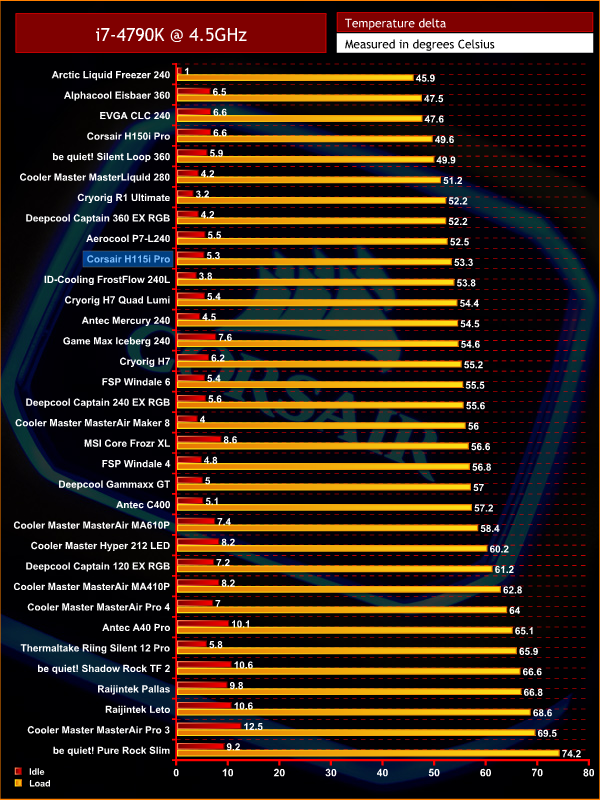 As with the H150i Pro, it is worth saying that we did not test the cooler with the fan's connected to the pump's fan cable. For the sake of consistency, we connected the fans to our motherboard, as we have done with every other CPU cooler since we standardised our testing process.
On the whole, the H115i Pro performs well, but it isn't quite as impressive as its big brother. At stock clocks it is bested by the Cooler Master MasterLiquid 280 and the EVGA CLC 240, and when we overclocked our CPU it also fell behind the Aerocool P7-L240.
It is still a very solid cooler and will do the job for any CPU on the market right now. However, competition is stiff and the H115i Pro does fall behind slightly.
Acoustics
Where the H115i Pro really shines, though, when we get to noise levels. As we mentioned, the new 140mm ML-series fans have a max speed of 1200rpm, when the H150i Pro's fans have a max speed of 1600rpm. This made a noticeable difference, as even under 100% load, it was hard work to actually hear the fans spinning above the background noise. It is mighty impressive, especially considering that Corsair's Hydro coolers have previously held a reputation for being a bit raucous. In actual fact, I would say the H115i Pro is probably the quietest liquid cooler that I can remember using.
The cherry on top is the all-new 'Zero RPM' mode which simply stops the fans from spinning until the coolant temperature reaches 40C. This mode is only available when using the pump's integrated fan cable, and the Zero RPM profile also needs to be set using the Corsair Link software, but it means – coupled with the very quiet ML-series fans – that you can really limit the noise coming from the liquid cooler.