When we first looked at Cryorig's H7 air cooler back in March this year, it walked away with our 'Must Have' award and a 9/10 score. You can bet we were excited to get our hands on the H7 Quad Lumi, then, given it features an improved fan, an extra heatpipe for increased cooling capacity and , of course. RGB lighting.
If you are not too keen on the RGB lighting trend that has taken the PC market by storm, it is unlikely the Cryorig H7 Quad Lumi will be for you. The original H7 remains our top recommendation for those looking for an air cooler on a budget, though, so be sure to check that out if RGB isn't your thing.
However, for those who love RGB LEDs, the Quad Lumi will no-doubt appeal strongly. It actually uses NZXT's CAM software to control the light show, rather than relying on a motherboard 4-pin RGB header, so anyone with a unused motherboard USB header can get the best from the cooler. For a full look at the lighting, why not watch our demo video?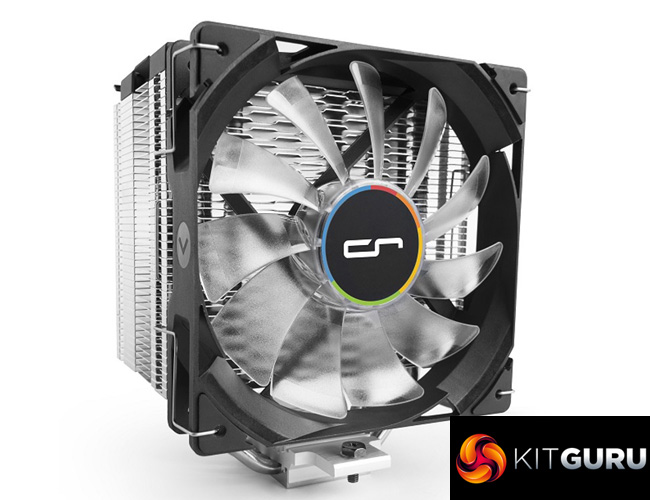 Heatsink Specification:
Dimension ( with fan ): L98 mm x W123 mm x H145 mm
Weight ( with fan ): 713 g
Weight ( without fan ): 585 g
Heat pipes: 6mm heatpipe x 4 units
Fin: T = 0.4 mm ; Gap = 2.2 mm
Front Fin Pcs: 40 pcs
Copper Base: C1100 Pure copper nickel plated
RAM Tolerance Height: Limitless
TDP: 160 W
Fan Specification:
Dimension: L120 mm x W120 mm x H25.4 mm
Weight: 128 g
Rated Speed: 330 ~ 1600 RPM ±10 %
Noise Level: 10 ~ 25 dBA
Air Flow: 49 CFM
Air Pressure: 1.65 mmH2O
Ampere: 0.25 A
Be sure to check out our sponsors store EKWB here