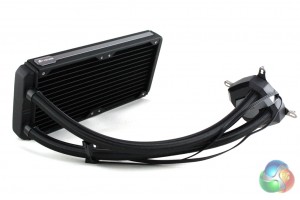 The Hydro H100i GTX follows the same basic design as the H100i, featuring a 240mm radiator (25mm thick) and a low profile CPU block pump unit. The similarities between the GTX and the standard H100i finish there, though. It would appear that the GTX uses a completely different OEM design to the H100i, with design clues hinting that it is based on an Asetek design rather than the original's CoolIT Systems design.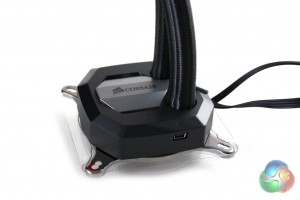 With the goal of simplifying the installation process, Corsair have chosen to pre-install the Intel retention plate. This is likely to make the installation process a little more complicated for those users who are looking to build an AMD based system, however it should not be a deal breaker.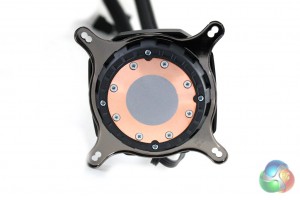 The cold-plate itself is made from copper to facilitate heat transfer. Corsair have chosen to pre-apply the thermal paste, again with the aim of simplifying the installation process.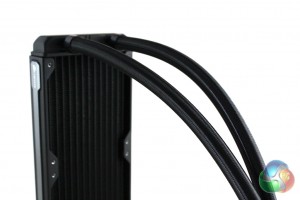 Corsair have chosen to use braided tubes to connect the CPU block and radiator which feel very good quality indeed. They are a good deal stiffer than the rubber tubes that we have seen previously, however they feel much more durable.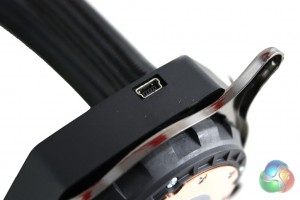 There is a mini-USB connector in the side of the CPU block which allows us to connect the cooler to our motherboard using a USB header. This enables the Corsair Link functionality of the cooler. We will go through this in more detail later on in the review. There are two fan sockets protruding from the block which let you connect the two fans to the cooler to enable Corsair Link functionality. It is worth noting that these would require fan splitters if you plan to add a pair of extra fans in a push-pull configuration.
Corsair Link can be downloaded from the Corsair website and takes the form of a software utility which lets us configure various aspects of the performance of the cooler.  We are able to choose between quiet, balanced and performance modes for the fan, in addition to a fixed percentage (of max speed) or a custom curve, as well as quiet and performance modes for the pump.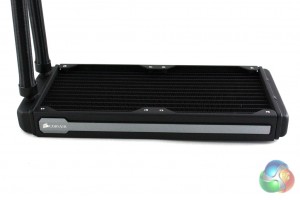 The 240mm radiator is very similar to those we have seen in the past from Corsair. The only slight difference is the addition of a piece of grey trim which boasts the Corsair logo. This improves the radiator from an aesthetic point of view, and we understand that these are interchangeable and can be customised with different colours. Unfortunately Corsair do not include any other coloured trim with the unit.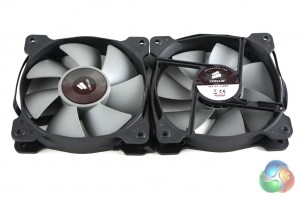 Corsair include two SP120L fans with the cooler which are very good quality. They are very similar to the SP120 fans which Corsair sell separately, albeit slightly cheaper versions with added PWM functionality. These are 120mm models which spin up to 2,435 RPM.