Advanced Micro Devices this week formally confirmed that it would not produce any of its chips using 20nm process technology at Taiwan Semiconductor Manufacturing Co. Instead, the company will focus on development of its chips to be made using various FinFET process technologies. As a result of the cancellation, the company took $33 million charge.
AMD officially announced two new system-on-chips processors code-named "Amur" (featuring ARMv8-A cores) and "Nolan" (featuring Puma+ x86 cores) back in 2014. The two chips belonged to the project "Skybridge" initiative and were expected to integrate identical building blocks (e.g., same graphics core, memory controller, I/O interfaces and so on) and functionality. The SoCs were designed primarily for tablets and low-cost/low-power laptops. Earlier this year chief executive of AMD already indicated that the chips would not go into production.
"I the past I talked about 20nm node that we did some designs on," said Lisa Su, chief executive officer AMD at the company's financial analyst day. "We have started some initial designs, we have run some silicon, but those parts are probably not going to go into production because we think we can get much more bang for the buck out of FinFET technologies going forward."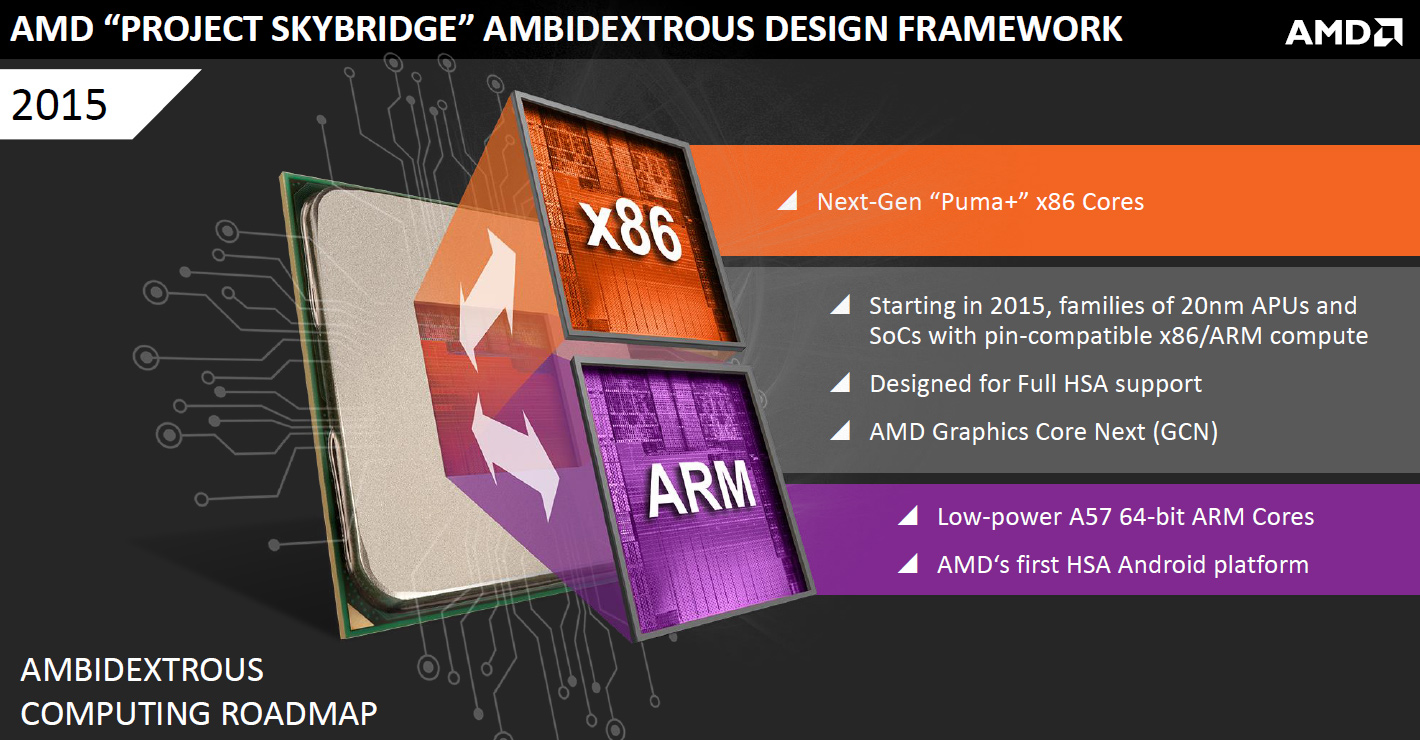 In its update for investors issued earlier this week AMD said that it would take "a one-time charge of approximately $33 million associated with a technology node transition from 20nm to FinFET." In particular, the company will write off money it spent on design and tape-out(s) of chip(s) that will never go into production.
AMD indicated that it has no intention to produce code-named "Amur" and "Nolan" chips (at least, in the form they are currently known) using a more advanced process technology, but said that it will use a FinFET process to manufacture other chips. A spokesperson for AMD implied that the company was developing several products, which were intended to be made using Taiwan Semiconductor Manufacturing Co.'s CLN20SOC fabrication process.
"We decided to take a product that was moving through 20nm and instead take it to FinFET," said Drew Prairie, a corporate communications spokesman for AMD. The representative added that these were not necessarily design(s) that the company had previously publicly disclosed.
AMD did not reveal when it plans to roll-out its first chips to be made using GlobalFoundries' 14nm FinFET manufacturing technology or TSMC's 16nm FinFET fabrication process. However, it is evident that the cancellation of "Amur" and "Nolan" means that AMD will have nothing new to offer for tablets based on Microsoft Corp.'s upcoming Windows 10 in the coming months.
TSMC has designed its 20nm (CLN20SOC) manufacturing technology primarily for mobile system-on-chips. The fabrication process is tailored for low-power ARM-based application processors and lacks a number of crucial elements required to make highly-custom x86 general-purpose cores as well as advanced graphics processing units. As a result of such decision by TSMC, AMD will not produce a single chip using the CLN20SOC, whereas Nvidia will use it for only one SoC, the Tegra X1.
Discuss on our Facebook page, HERE.
KitGuru Says: As expected, the company decided to write off money it spent on development of chips that may not be competitive and focused on development of more advanced processors. While the move makes sense, it remains to be seen how AMD plans to sustain its revenue without new products.