Advanced Micro Devices has not updated its server and high-end desktop microprocessors for well over two years now, which is why market shares of AMD Opteron and AMD FX central processing units are negligible. However, a lot may change next year, when AMD roll-out its next-generation CPUs based on its code-named "Zen" microarchitecture, according to a financial analyst.
"We believe that AMD has a strong design team working on the new 'Zen' processor core due out next year," wrote Gus Richard, an analyst with Northland Capital Markets, in a note to clients, reports Tech Trader Daily. "We believe that this will be a significant improvement over its current product offering, and may enable AMD to once again be a viable second source to Intel in the data center. "
AMD has not revealed a lot of information about "Zen" yet, but what is known is that the company's upcoming high-performance x86 processor cores offer 40 per cent higher instructions per clock performance compared to "Excavator" x86 cores. This means that AMD's next-gen central processing units will be 40 per cent faster compared to existing CPUs at the same clock-rate.
According to unofficial information, desktop microprocessors based on "Zen" micro-architecture will integrate up to eight cores, whereas server-class chips will feature even more cores. The CPUs are expected to be made using 14nm FinFET process technology at GlobalFoundries.
Since the new AMD Opteron and FX processors are going to hit the market only in the second half of 2016, they will have a significant impact on the company's revenue and earnings only in 2017. However, Mr. Richard believes that the popularity of AMD's new server chips will grow rather rapidly because operators of datacenters are willing to invest in hardware that competes against Intel, which is dominating the market.
"We hear that web scale data center operators are frustrated with Intel's control of server architecture and high prices," said Mr. Richard.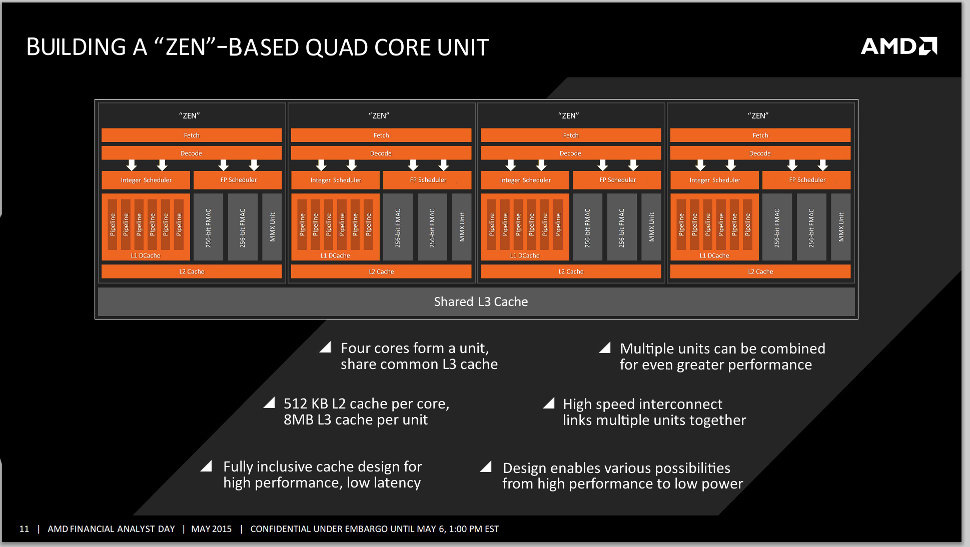 The analyst estimates that sales of AMD Opteron processors based on "Zen" architecture could hit around $1 billion in 2017. Last quarter AMD earned $1.03 billion in total, so addition of "Zen" is projected to be dramatically important for the company.
"We estimate that with roughly 10% market share or $1 billion in datacentre revenue, gross margin in calendar year 2017 would increase to the high 30% range and earnings per share could reach roughly $0.50," said the analyst. "This would be in line with AMD's three to five year target model."
Discuss on our Facebook page, HERE.
KitGuru Says: AMD has tremendous troubles with its microprocessors, accelerated processing units and some other products today. If the company executes its "Zen"-related plans well, it may become rather successful. However, one of the problems is that it not enough to offer just one award winning processor. AMD needs to introduce a competitive lineup and then follow-up with equally competitive family a year later. Will AMD be able to do it? Only time will tell!