Intel's Comet Lake-S processors still don't have a set launch date, but that hasn't hindered people from publishing information about the upcoming CPUs. Specs and approximate pricing have already been leaked and speculated on. Now a Chinese site has published reviews of Intel's Core i7-10700, i5-10600K, i5-10500 and i5-10400.
Reviews like these are best to take with a pinch – or more – of salt. However, there might be a grain of truth in them and they may give an idea about what can be expected from a future release. The reviews were posted by hkepc and are – as can be expected by a Chinese site – all written in Chinese. There are however a couple  of graphs presented in the reviews that might be of interest.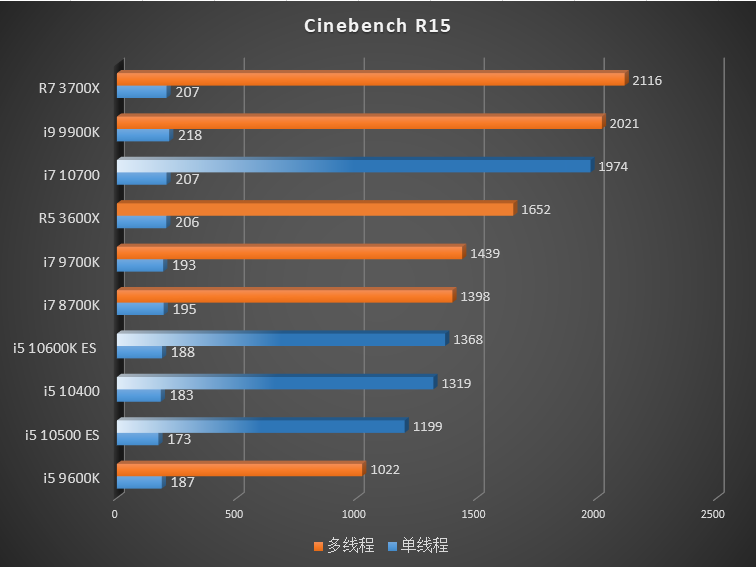 Image credit: hkepc
The first graph compares several processors' performance in Cinebench R15 – Cinebench R15 being a "real-world cross platform test suite that evaluates your computer's performance capabilities". '多线程' or the orange parts of the graph represents multi-thread performance, whereas '单线程' represents single thread performance.
Of particular interest is that i7-10700 outperforms i7-9700K by more than 30% – considering both are octa-core CPUs, this is a sizeable performance increase for the 10th Gen chip.

Image credit: hkepc
We can also see 3DMark Time Spy CPU scores, which do look better for the i7-10700 as it is effectively on par with the Ryzen 7 3700X. You can see all of HKEPC's benchmarks HERE.
Discuss on our Facebook page HERE.
KitGuru: These numbers are still far from final, but can give us a hunch of what might come. What do you think Intel will be able to accomplish with its upcoming Comet Lake-S processors?