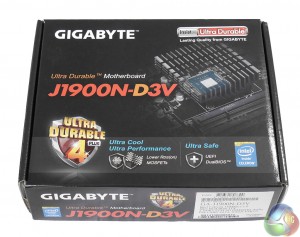 The front of the package for the Gigabyte J1900N-D3V is unusual and shows the Celeron J1900 SoC as you look through the aluminium heatsink. This is especially curious as the J1900 is shown at one corner of the heatsink when it actually sits in the centre.

Frankly I doubt that anyone who is unfamiliar with the J1900N-D3V would have the faintest idea what Gigabyte was attempting to depict. I hope potential customers won't expect a transparent heatsink as they will be sorely disappointed.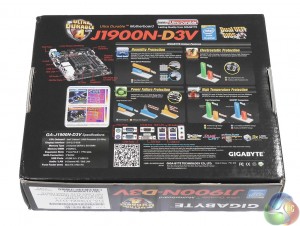 On the back of the package we have a number of coloured bar charts and some explanation about the Ultra Durable 4 Plus features.
This isn't quite as successful as it might be as the box is so small (220mm x 180mm) that you will struggle to read many of the words. This is a shame as the focus on Ultra Durable 4 sets out the stall for J1900N-D3V as it is all about reliability and durability.
This is quite different to Ultra Durables 3 and 5 which focus on superior components for the sake of quality and performance. Ultra Durable 4 is more concerned with high humidity in Asian countries and environmental considerations of that type.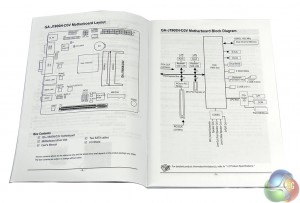 You don't get much in the way of a package of extras with the J1900N-D3V however you do get everything you need. The user guide is fairly basic, there is a driver disc, I/O shield and two SATA cables (one straight and one right angled).
Take a tour around the board…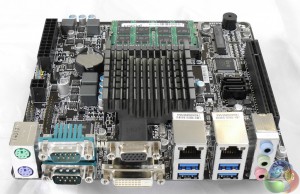 The I/O panel is a strange mixture of the old and the new. There are two PS/2 ports, two Serial ports, DVI-D, VGA, four USB 3.0, dual Gigabit Ethernet and a set of three audio jacks. This is just about adequate for a desktop PC but most people have no need of dual Ethernet and Serial ports have been an irrelevance for at least ten years.
If you are thinking of building the J1900N-D3V into a Media Centre PC you will note the absence of HDMI and would perhaps appreciate S/PDIF output or other audio options. In fairness to Gigabyte there is a mid-board S/PDIF header although you will need to sort out your own cabling and connectors.
To my mind the likeliest market for the Gigabyte J1900N-D3V is for control systems in factories or other industrial settings where they still use Serial control, or perhaps for a controller for digital signs or an information kiosk.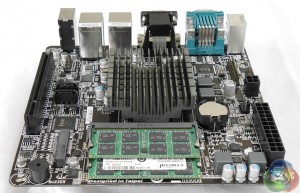 System memory consists of two slots of low voltage laptop DDR3L-1333MHz. Officially the Gigabyte supports up to 8GB of dual channel memory but during my time with this motherboard I had no problem installing 16GB of RAM and seeing it correctly recognised by the BIOS and Windows. You can forget about overclocking as the speed of the memory is locked at 1333MHz.
It makes sense to budget £60 for an 8GB (2x4GB) DDR3L-1600 memory kit to go with this motherboard.
To the left of the memory slots you can see an M.2 Mini PCI Express 2.0 slot which is limited to a card about 28mm long. This means it is too short for an SSD but just right for adding Wi-Fi or Bluetooth.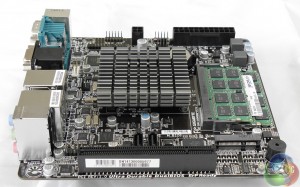 We often see Mini-ITX motherboards with a single expansion slot that supports a PCI Express graphics card. The Gigabyte J1900N-D3V instead has a legacy PCI slot which will be of no interest to the home PC fraternity but this could be very handy if you want to add, for example, a Parallel port to run your old printer.
Just above the PCI slot there are two SATA 3Gb/s connectors which is all you need for a small form factor PC as there isn't likely to be enough space for more than two drives in a small form factor case.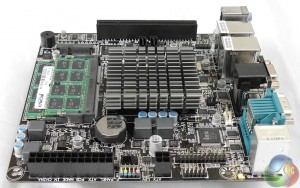 Along one side of the motherboard there are the two ATX power connectors with the latches on the inner face. This helps when you install a motherboard in a tiny case as you will be able to release the latches on the cables.
There is a single mid-board header for two USB 2.0 ports which could be handy if the four USB 3.0 ports on the I/O panel are insufficient for your needs.
While Gigabyte has kept the footprint of the J1900N-D3V to the tiny 170mm x 170mm we expect from Mini ITX the 40mm I/O panel looks taller than necessary as the power and SATA connectors are vertical and there has been no obvious effort to reduce the height of the board.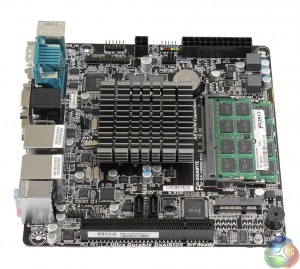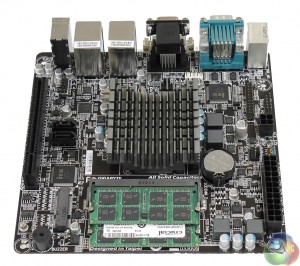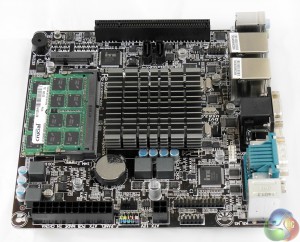 If you look to the left of the finned heatsink you might just be able to see a three pin header labelled 'CPU fan' which suggests that Gigabyte considered using an active cooling solution for this model.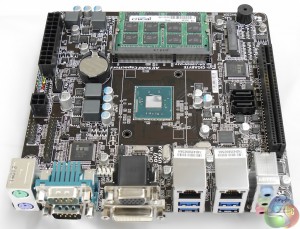 The heatsink is held in place with two steel screws, which is far more satisfactory than the plastic pop pins you often see. With the heatsink removed the Celeron J1900 is revealed in all its glory and looks no larger than a typical chipset, which makes it hard to believe that it is actually a System on Chip.
Intel Celeron J1900 SoC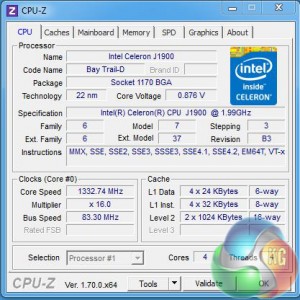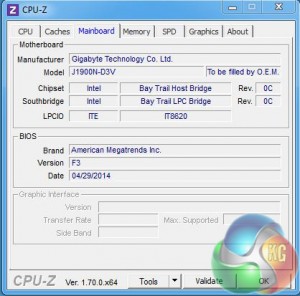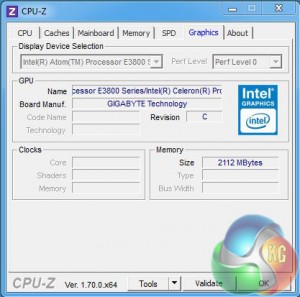 Intel Bay Trail System on Chip
Intel gives full details of its Celeron J1900 here, however it isn't especially clear that this Celeron is actually a quad core Bay Trail Atom that uses x86-64 architecture with a base speed of 2GHz and a maximum burst speed of 2.41GHz on a single core.
The Intel HD Graphics core has four execution units that run at 688MHz with a maximum dynamic frequency of 854MHz. As far as I can tell this is the same core that was found in many Ivy Bridge processors except, of course, with this take on Celeron J1900 you don't have the option of plugging in a graphics card.
Two other points grab my attention about Celeron J1900. The first is the 10W TDP which is very low and well suited to passive cooling. The second point is that Intel lists the tray price for J1900 at US$82 (when you buy 1,000 processors) which works out to about £50. Either Intel is charging Gigabyte a good deal less than US$82 or Gigabyte is effectively giving us the J1900N-D3V free of charge.