We built three systems – two as a direct 'price comparison' and another AMD A10 7850K system to use as a more expensive 'baseline' that more people will be familiar with.
| | | | |
| --- | --- | --- | --- |
| System | Gigabyte AM1M-S2H | Gigabyte J1900N-D3V | MSI A88X-G45 Gaming |
| Processor | AMD Athlon 5350 | Embedded Celeron J1900 | AMD A10 7850K |
| Memory | DDR3 1600mhz | DDR 1333L | DDR3 2400mhz |
| Chipset | System On Chip | System On Chip | AMD A88X |
| HDD | Samsung 840 EVO | Samsung 840 EVO | Samsung 840 EVO |
| Graphics | AMD Radeon HD 8400 | Intel HD Graphics | AMD Radeon R7 8 cores |
| Operating system | Windows 7 Pro 64 bit | Windows 7 Pro 64 bit | Windows 7 Pro 64 bit |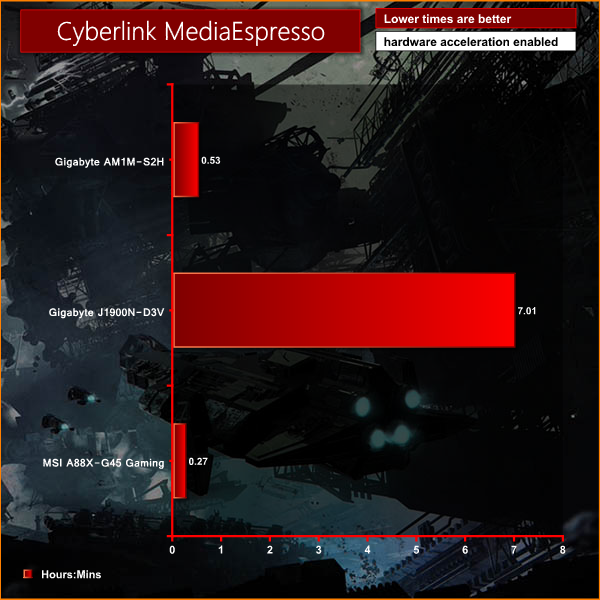 I didn't expect much in the way of performance from the Gigabyte J1900N-D3V system and it is clear from the graphs that the Celeron J1900 has no chance of being a 'benchmark king.' The memory bandwidth in Sandra looks perfectly OK at 10.45GB/sec and is pretty much double Kabini at 5.82GB/sec, which is explained by Intel using dual channel and AMD opting for single channel.
That is pretty much the end of the good news as the Celeron J1900 wouldn't complete PC Mark 8 and delivered poor scores in 3D Mark. If you look at the Physics elements of 3D Mark you'll see that Celeron J1900 and Kabini are pretty much neck-and-neck and about half the performance of the AMD A10-7850K that I included as another comparison.
When it comes to graphics performance the Celeron J1900 trails behind the Kabini as the Intel HD Graphics have about half the performance of Radeon HD 8400 or one sixth the level of Kaveri.
Now that's fair enough; no-one is proposing that J1900N-D3V would make a useful gaming PC and I pretty much expected the CPU part of the Celeron would be competent while the graphics would prove to be the weaker part of the package. That is exactly what I saw in 3D Mark.
Make no mistake about it, the refusal to complete PC Mark 8 was a bit of a concern, but I also had a strange experience when I ran MediaEspresso. Converting a 3.3GB MKV file to run on an iPhone 4 is a heavy workload and the A10-7850K Kaveri with its 95W TDP took 27 minutes to complete the job. By contrast the Kabini Athlon 5350 took 53 minutes to finish the same job – which is almost exactly twice as long and pretty much what you expect from a low powered and cheap APU.
What I didn't expect was that the Gigabyte J1900N-D3V and Celeron J1900 was scheduled to take over seven hours to run the same test. I say 'scheduled' as I left the test running for three hours and the predicted time remained constant at 7 hours and 1 minute – so I cancelled the test as the point had been proved.
By any standards the processor in the J1900 is a limp piece of silicon but performance that is eight times slower than the Kabini was utterly unexpected.
Noise levels
This is easy. The J1900N-D3V is passively cooled so provided you use an SSD rather than a hard drive it will be silent. You might think that I have forgotten the fan in the power supply but as you'll see in a moment there is a way around that particular problem.
Power draw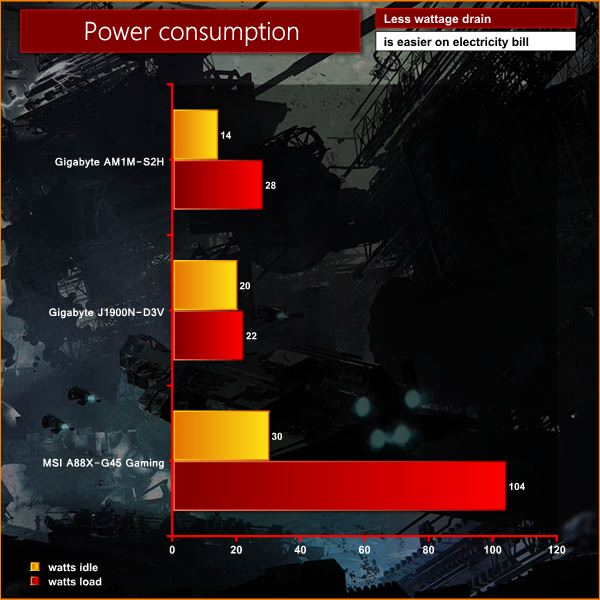 Low power draw is a major strength of Celeron J1900 and hence of this Gigabyte. The power draw at the mains socket was 20W at idle and only rose to 22W under load, which is pretty amazing. During testing I occasionally saw the power draw blip up to 27W.
By contrast the Kabini drew 14W at idle and 28W under load which is also pretty good going but enough of a difference to warrant an active cooler.
What would you do with it?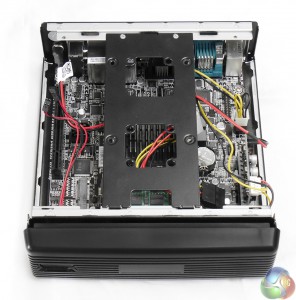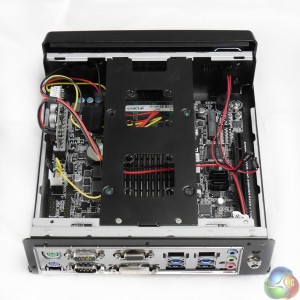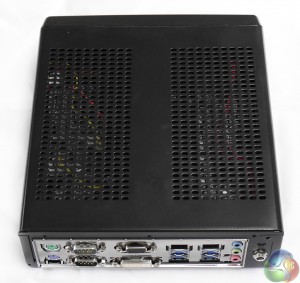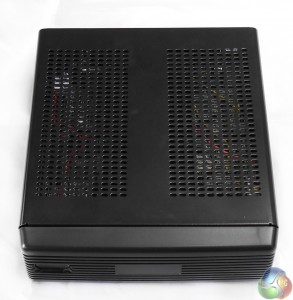 This is a good question and key to the buying decision if you are looking at the Gigabyte J1900N-D3V. The only way this motherboard makes sense is in a tiny, silent, PC that is preferably VESA mounted on the back of the screen. Clearly it cannot perform heavy CPU or GPU workloads but is perfectly adequate for mundane tasks such as watching videos on YouTube and shopping on Amazon.
Building this motherboard into an ATX tower case and using a regular ATX power supply would be pointless.
My personal preference is to use a tiny chassis such as the Mini Box M350 enclosure in conjunction with a picoPSU and an external power brick.
Clearly this puts a huge emphasis on the silence of the J1900N-D3V. There are other passively cooled small form factor motherboards on the market, so the legacy support for Serial devices will also have to appeal to you, or perhaps you insist on Intel hardware to make support and maintenance easier.