I must admit – I was a little apprehensive going into the overclocking tests for the 5960X. Problems with a different motherboard throughout initial testing meant that a quick switch of boards was required shortly before launch date. This constricted the amount of time that I could put into getting a feel for the processor's overclocking traits.
So it gives me pleasure to say that the processor's overclocking capability did not disappoint in the slightest. There's no denying that Asus' well-tuned UEFI on its X99 Deluxe motherboard was of particular assistance.
Aiming for a 'quick and dirty' overclock, we increased the CPU VCore to 1.30V, Cache voltage to 1.250V, SA to 1.200V, CPU Input Voltage to 1.900V, PCH voltage to 1.1V, and VCCIO voltages to 1.10V. We enabled PLL overvoltage, level 1 LLC, and maintained the cache ratio at its default 30x multiplier.
We backed our 3000MHz G.Skill Ripjaws4 memory down to 2666MHz to ensure that its high frequency did not hamper our overclocking attempts.
Starting off hesitantly with core multiplier levels, we quickly saw the chip surpass the 4GHz frequency barrier. That's not easy task for an eight-core chip. We were able to jump all of the way up to 4.5GHz with very little effort, although Prime95 highlighted instability. The same instability was observed at 4.4GHz so we backed down to the safety of 4.3GHz.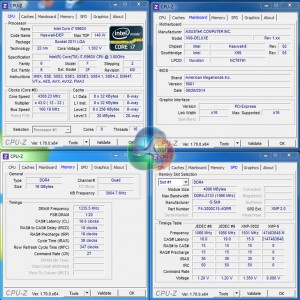 4.3GHz was perfectly stable for 3 hours of Prime95 stress testing as well as multiple runs of our entire benchmark suite. As will be explored in our upcoming motherboard reviews, we are confident that the chip can push higher than 4.3GHz with more tweaking of things like the base clock and power limits.
Put simply, reaching 4.3GHz was a very easy task. Getting past this level, with our chip at least, requires more effort. Such behaviour is similar to what was shown by Haswell-based chips on the mainstream platform.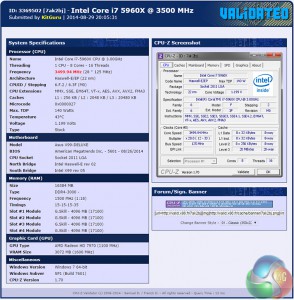 Our CPU-Z validation can be viewed here.
This is the overclocked configuration that we will be using throughout our testing.